Gdynia Industry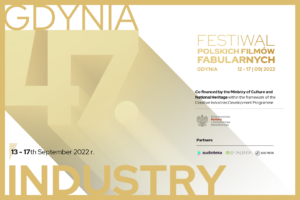 13th–17th September 2022
∇ Mercure Gdynia Centre
Gdynia Industry is a comprehensive programme of activities aimed at film industry representatives and designed to support the development and self-regulation of the audio-visual industry and network it with other creative sectors. Gdynia Industry activities not only serve to define problems but also search for systemic solutions, consult with external entities and exchange experiences with those operating similarly abroad. Much emphasis is on education, defined as the expert development of entities operating on the audio-visual market, attracting leaders and talents, implementing optimal solutions and generating innovation. In this way, Gdynia Industry, taking up the most important current topics and problems of the industry, looks for creative solutions, suggests directions for development and sets trends.
RULES FOR ADMISSION:
Panels and debates are open to everyone. The Industry and Guest accreditation holders are given priority.
Admission to networking meetings requires prior registration or an invitation. More details in the descriptions of particular events.
PROGRAMME:
SCHEDULE: 
---