Accreditations for the 47th Polish Film Festival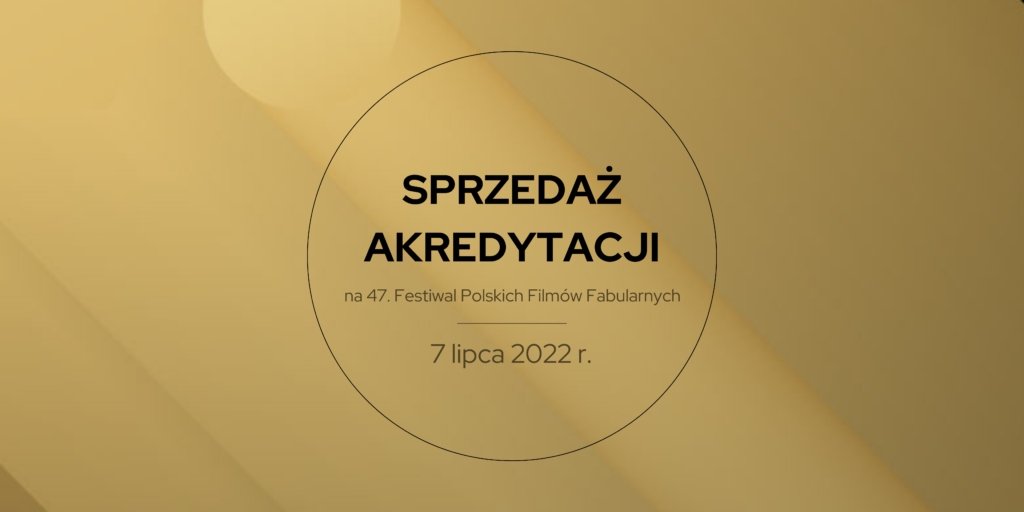 Sale of accreditations starts on 7th July at https://system.festiwalgdynia.pl.
GENERAL INFORMATION
An accreditation is a personalised identifier entitling its holder to:
enter all film screenings (prior online seat reservations required)
receive a Festival packet containing festival materials;
participate in Festival accompanying events, with the exception of closed events with personal invitations required for participation;
make reservations for press screenings and press conferences – Media accreditation;
participate in Gdynia Industry events – Media and Industry accreditations; An Observer accreditation holder can participate in such events only if there are any seats available.
ACCREDITATION PRICE
The price of one Media, Industry and Observer accreditation is PLN 450.00
The price of one student Industry accreditation is PLN 150.00.
 TYPES OF ACCREDITATIONS
INDUSTRY ACCREDITATION – granted to representatives of film industry such as producers, distributors, to representatives of film institutions, film events and other individuals who are professionally involved in film industry in Poland or abroad.
STUDENT INDUSTRY ACCREDITATION – granted to partner film school students at a promotional price on the basis of a valid student card.
MEDIA ACCREDITATION – granted to representatives of the media (radio, press, television, the Internet) and photojournalists.
OBSERVER ACCREDITATION – granted to individuals who are not professionally involved in film and/or media industries.
RULES FOR ACCREDITATION SALE
To purchase an accreditation, choose the right type of accreditation and send your application at https://system.festiwalgdynia.pl.
Accreditation application is confirmed by e-mail within 4 days.
Once the application is accepted, payment for accreditation must be made within 72 hours of application confirmation via the online payment option available on the website (DotPay payment) clicking "My orders" and choosing "Pay". It is also possible to make payment via online bank transfer to the Organiser's banking account, upon prior e-mail notification (akredytacje@festiwalgdynia.pl).
Accreditation purchase is confirmed by e-mail within 4 days of its booking on the Organiser's banking account.
Accreditation is personalised, which means it is issued based on the first name and the last name specified in the application.
An accreditation may be used only by an individual in whose name the accreditation was issued. Transfer of accreditation to other person results in deduction of 10 points. Should the situation repeat, the Organiser reserves the right to withdraw the accreditation.
To place an accreditation order, all required fields must be filled in and a recent portrait photo of a maximum size of 2 Mb and minimum proportions of 400×400 pixels must be enclosed in PNG, GIF or JPG format. The photo will be used to identify the owner of the accreditation.
The Organiser reserves the right to terminate the sale at any time without cause.
The Organiser does not accept returns of purchased accreditations
A transaction fee in the amount of PLN 10 will be added to the accreditation price (refers to DotPay payments) The fee is not refundable.
COLLECTION OF ACCREDITATIONS
Purchased accreditation can be collected only by an individual in whose name it was ordered, upon presentation of an ID card or any other document with a photo. Accreditations can be collected at the Festival front desk in the Musical Theatre at pl. Grunwaldzki 1:
11th September 2022, 3:00 p.m.–9:00 p.m.
12th-17th September 2022, 8:30 a.m.–9:00 p.m.
RULES FOR ACCREDITATION USE AT THE FESTIVAL
Each type of accreditation entitles its holder to enter all film screenings held in the Musical Theatre in Gdynia (Large, New and Chamber Stage), in Helios cinema and the Gdynia Film Centre, prior to which the holder is required to make online seat reservations.
Each type of accreditation is programmed with 34 points (1 point corresponds to 1 film screening).
An accreditation does not entitle its holder to make seat reservations for the Festival opening and closing ceremonies.
Only the Media Accreditation entitles its holder to make seat reservations for press screenings.
An accreditation holder may book no more than one seat for a film screening within given time (the so-called screening block).
Seat reservations for film screenings can be made from 7:30 a.m. on the day preceding the screening until the screening time. The first day of the Festival is an exception. Seat reservations can be made from Monday, 12th September 2022, from 7:30 a.m.
An accreditation is supplied with a bar code for holder's identification and reservation verification purposes. Permanent staff equipped with bar code readers will work shifts at the entrances to all screening rooms. Additionally, accreditations will be verified at each entrance to the Musical Theatre.
Failure to cancel reservation up to 15 minutes prior to screening time and failure to attend a film screening will automatically result in deduction of 4 points from the accreditation.
The Festival does not issue duplicates of accreditations. Exceptions are made for justified cases.