Golden Lions of the 46th PFF for Fears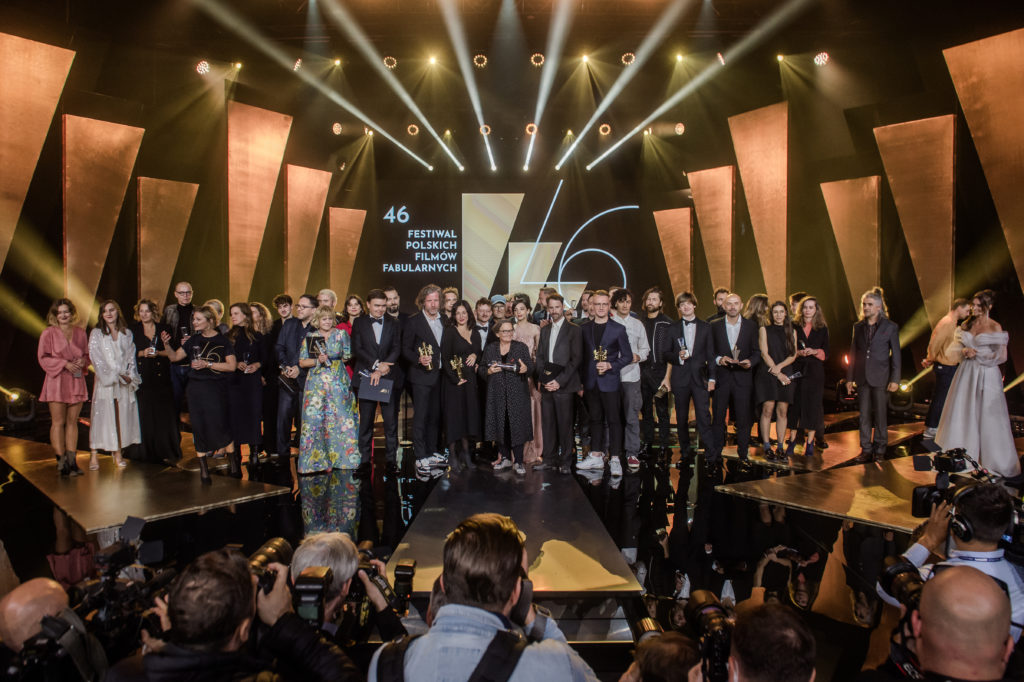 The winners of the Golden and Silver Lions and the individual awards in the Main Competition, and the winners of Microbudget Film Competition and Short Film Competition have been announced at the Closing Gala of the 46th Polish Film Festival on Saturday, the 25th September 2021 in the Musical Theatre.
The awards in the Main Competition were granted by the Jury of the 46th Polish Film Festival, composed of:
Andrzej Barański – Chairman
Robert Bolesto
Bogdan Dziworski
Joanna Kulig
Dorota Roqueplo
Agnieszka Smoczyńska
Mikołaj Trzaska
.
The GRAND PRIZE of the 46th Polish Film Festival in Gdynia the GOLDEN LIONS for best film FEARS went to directors ŁUKASZ RONDUDA and ŁUKASZ GUTT, and producers KUBA KOSMA and KATARZYNA SARNOWSKA.
The SILVER LIONS of the 46th Polish Film Festival for LEAVE NO TRACES went to director JAN P. MATUSZYŃSKI and producers LESZEK BODZAK and ANETA HICKINBOTHAM.
The GOLDEN CLAW of the 46th Polish Film Festival for the boldness of form and content in Visions Apart category for MOSQUITO STATE, went to director FILIP JAN RYMSZA and producers WŁODZIMIERZ NIDERHAUS, FILIP JAN RYMSZA, ALYSSA SWANZEY
Individual awards went to:
directing MY WONDERFUL LIFE: Łukasz Grzegorzek
screenplay OPERATION HYACINTH: Marcin Ciastoń
directing debut OTHER PEOPLE: Aleksandra Terpińska
cinematography FEARS: Łukasz Gutt
music PRIME TIME: Teoniki Rożynek
art direction LEAVE NO TRACES: Paweł Jarzębski
sound MOSQUITO STATE: Mateusz Adamczyk, Sebastian Witkowski, Zofia Moruś
film editing OTHER PEOPLE: Magdalena Chowańska
make up OPERATION HYACINTH: Daria Siejak
costume design THE GETAWAY KING: Marta Ostrowicz
actress in a supporting role THE TENANT. YOU CAN'T BURN US ALL: Sławomira Łozińska
actor in a supporting role PRIME TIME: Andrzej Kłak
actress in a leading role AUTUMN GIRL: Maria Dębska
actor in a leading role OTHER PEOPLE: Jacek Beler
professional acting debut SONATA: Michał Sikorski
Audience Award granted by the audience voting in Festival cinemas went to Bartosz Blaschke for SONATA.
Also the winners of the other two competitions have been announced at the Closing Gala of the 46th PFF.
Microbudget Film Competition Jury composed of:
Magnus von Horn – Chairman
Agata Szymańska
Jan Naszewski
decided to grant the Award for Best Film in the Microbudget Film Competition to director Tomasz Habowski for SONGS ABOUT LOVE
Short Film Competition Jury composed of:
Małgorzata Szumowska – Chairwoman
Agnieszka Podsiadlik
Tim Redford
decided to grant the Lucjan Bokiniec Award for Best Film in the Short Film Competition to director Alicja Sokół for BROTHER THE FISHERMAN.
Platinum Lions for lifetime achievements founded by the Polish Filmmakers Association went to Agnieszka Holland.
The 46th Polish Film Festival was held on 20th-25th September 2021 in Gdynia.
Festival Organisers: Ministry of Culture, National Heritage and Sport, Polish Film Institute, Polish Filmmakers Association, the City of Gdynia, Local Government of the Pomerania Province
Co-organisers: Telewizja Polska, Adam Mickiewicz Institute, National Centre for Culture
Main Sponsor: Grupa Lotos
Strategic Partner: BMG Goworowski Official Dealer of Mercedes–Benz
Main Partner: Dr Irena Eris
Nationwide Media Patrons: Telewizja Polska, Radiowa Jedynka, Trójka – Program Trzeci Polskiego Radia, Rzeczpospolita, Miesięcznik Kino, Filmweb, Onet, Vogue Polska, Zwierciadło, Super Express
Local Media Patrons: Telewizja Gdańsk, Radio Gdańsk, Dziennik Bałtycki, Trojmiasto.pl
The Producer of the Festival is the Pomeranian Film Foundation in Gdynia.
*Emilia Mira Haviarová due to illness has not arrived to Gdynia and has not participated in the works of the Main Competition Jury.