Jury of the 46th PFF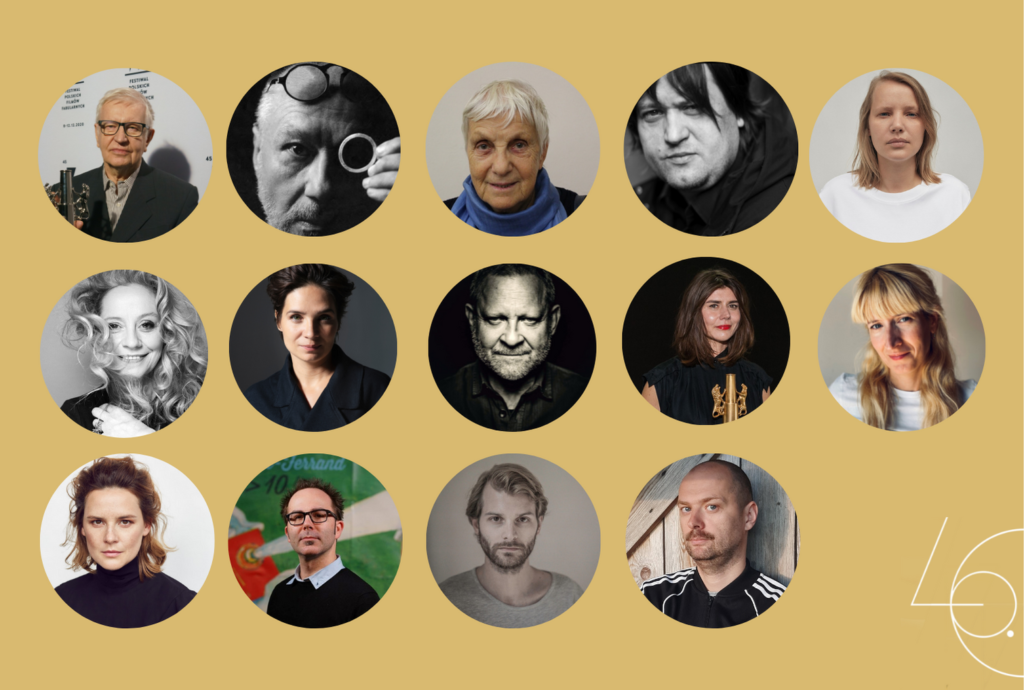 We already know the jurors who will decide on awarding the Grand Prize of the 46th Polish Film Festival – Golden Lions for Best Film, and other awards in the three film competitions in Gdynia.
MAIN COMPETITION JURY
Andrzej Barański (Chairperson), Bogdan Dziworski, Robert Bolesto, Emilia Mira Haviarová, Joanna Kulig, Dorota Roqueplo, Agnieszka Smoczyńska, Mikołaj Trzaska
SHORT FILM COMPETITION JURY
Małgorzata Szumowska (Chairperson), Agnieszka Podsiadlik, Tim Redford
MICROBUDGET FILM COMPETITION JURY
Magnus von Horn (Chairperson), Jan Naszewski, Agata Szymańska
Biographical notes
MAIN COMPETITION JURY
Andrzej Barański – Chairperson
Film director and screenwriter. He received the Platinum Lions award for lifetime achievement at the PFF in 2020. Born 1941. Studied at the Silesian University of Technology in Gliwice, and in 1973 graduated from the Lodz Film School. His graduation film was a short Księżyc (The Moon). Initially, he worked on educational films working briefly for the Educational Film Studio (WFO), later he focused on feature films. Author of: Woman from the Provinces, By the River Nowhere, A Bachelor's Life Abroad, Two Moons, Horror in Happy Swamp, Several People, Little Time, The Heritage, among others.
Bogdan Dziworski
Cinematographer, director, screenwriter. Born 1941. Full professor of film art and photography at Krzysztof Kieślowski Film School at the University of Silesia in Katowice. Member of the Polish Filmmakers Association, Association of Polish Art Photographers ZPAF, Polish Society of Authors and Composers (ZAiKS). Decorated with the Golden Medal for Merit to Culture – Gloria Artis. He made films like: Through and Through (cinematography), The Cross and the Axe (directing and cinematography), Modern Pentathlon (directing and cinematography), Permanent Objections (cinematography), Skiing Scenes with Franz Klammer, The Fencer (directing and cinematography), A Few Stories About Man (directing), Szapito (directing), Serbian Epics (cinematography), Tripping with Zhirinovsky (cinematography). His photographs are archived at AWA – The Arctic World Archive.
Robert Bolesto
Writer, playwright, screenwriter. Born 1977 in Kętrzyn. In 2001 he made his debut in Rzeczpospolita daily (weekend supplement Plus Minus) with his short story Gorący dzień. He published short stories in Lampa monthly and articles in Machina and an online magazine Dwutygodnik. His stage debut was a drama entitled 147 dni (2005) directed by Krzysztof Rekowski in Zygmunt Hübner Powszechny Theater in Warsaw, whereas he made his cinema debut as a co-writer of Krzysztof Skonieczny's feature film Hardkor Disko (2014). Author of screenplays of films such as: Agnieszka Smoczyńska's The Lure, Jan P. Matuszyński's The Last Family, Łukasz Ronduda's A Heart of Love.
Emilia Mira Haviarová
Born 1938 in Slovakia. Up until 1992, Programme Director of the Czechoslovak Film Institute in Prague. After the political changes in 1991 she moved to the Culture Department of the Ministry of Foreign Affairs of Czechoslovakia, between the years 1992-1997 she was the 1st Secretary of the Embassy of the Czech Republic in Moscow. She was dealing with culture and education. In 1997 she retired, currently she is involved in organising international festivals. Consultant to the CEO of Barrandov Studio, Prague in the area of cinematography of Central and Eastern Europe, Caucasus, Russia.
Joanna Kulig
Film and theatre actress. Born 1982. Graduate of the Academy for the Dramatic Arts in Krakow. At the 2007 Polish Film Festival she received the Mayor of Gdynia Award for Best Acting Debut in Grzegorz Pacek's film Wednesday, Thursday Morning, whereas in 2012 she won Best Actress in a Supporting Role for her part in Małgorzata Szumowska's Elles. She played in films directed by Paweł Pawlikowski: The Woman in the Fifth, Ida and Cold War (awarded for Best Directing at the 2018 Cannes Festival and nominated for an Academy Award. For her role of Zula the actress received the European Film Award in 2018), but also in Maciej Bochniak's Disco Polo or Anne Fontaine's The Innocents. At the beginning of this year she finished her work on the set of a French film Kompromat directed by Jérôme Salle, alongside Gilles Lellouche.
Dorota Roqueplo
Graduate of École Internationale des Arts de la Mode in Paris. Recognised to be one of the best Polish costume designers. She works in film, theatre, opera and advertisement productions. Multiple-time winner of the Eagle award and individual awards for costume design at the Polish Film Festival in Gdynia for films like Provocateur (dir. Krzysztof Lang), My Nikifor (dir. Krzysztof Krauze, Joanna Kos-Krauze), The Welts (dir. Magdalena Piekorz), The Mill and the Cross (dir. Lech Majewski), Warsaw 44 (dir. Jan Komasa), Influence (dir. Łukasz Barczyk) and Magnesium (dir. Maciej Bochniak). Member of the Polish Film Academy, the European Film Academy and the Academy of Motion Picture Arts and Sciences.
Agnieszka Smoczyńska
She graduated in Culture Studies and Directing from the Radio and Television Faculty of the University of Silesia in Katowice. Awarded numerous times for her short feature films. In 2015 she made her debut with The Lure which won her Best Debut at the Polish Film Festival in Gdynia and an Eagle award in the Discovery of the Year category, together with dozens of awards around the world, including in Porto, Sophia, Montreal, Vilnius and at the Sundance Film Festival where the film received a Special Award for its 'unique vision and design'. She took part in the European Cinema: Ten Women Filmmakers to Watch programme. Winner of the Global Filmmaking Award funded by the Sundance Institute. Her second feature film, Fugue, had its premiere in Cannes as part of the prestigious Critics' Week section. In theatre she made her debut with a holy-hop-dog musical Święta Kluska. Currently she is working on her English-language debut Silent Twins, starring Letitia Wright – distribution rights have been acquired by the Focus Features film studio.
Mikołaj Trzaska
Saxophone and clarinet player, composer. He studied at the Faculty of Painting and at the Multimedia Studio of the Academy of Fine Arts in Gdańsk. As a musician he grew on yass – an art and social movement which rebelled against the ossified Polish jazz milieu at the turn of the eighties and nineties. Together with Tymon Tymański, and a group of other musicians free of any doctrinairism, they changed the face of Polish jazz music. He was the co-founder of the most important yass formation, that is the legendary Miłość band, and the leader of the equally creative band, Łoskot. After the yass period, he recorded a few focused and calmer albums together with the Oleś brothers section. He also accompanied poets – Świetlicki and Andruchowycz, he creates musical and literary projects with Andrzej Stasiuk. He composes music scores for Wojciech Smarzowski's films (Kuracja, The Dark House, Rose and Traffic Department), his music can also be heard in the films directed by Babis Makridis and Janis Nords. Above all, however, he finds fulfilment in radical modern free jazz.
SHORT FILM COMPETITION JURY
Małgorzata Szumowska – Chairperson
One of the most prominent Polish directors of today. She has received numerous awards at international and Polish film festivals. At the Berlin IFF her film Body won her the Best Director award in 2015, while Mug won the Grand Prix in 2018 . In 2019 she made her first English language feature, The Other Lamb, premiered at the Toronto IFF. Her next project, Never Gonna Snow Again, Poland's Oscar candidate, had its premiere at the 2020 Venice IFF. She is currently working on the post-production of her next feature, Infinite Storm, starring Naomi Watts.
Agnieszka Podsiadlik
Polish theatre and film actress. In the 2003/2004 season Grzegorz Jarzyna invited her to take part in Risk Everything, a play performed at the Main Railway Station in Warsaw. Soon after she became one of the most recognised actresses of the TR Warszawa theatre. She made her screen debut playing the character of Klara in a teleplay Maidens' Vows directed by Krystyna Janda. In 2010, for her roles in Magdalena Łazarkiewicz's film Dance Marathon and in Krzysztof Łukaszewicz's Lincz, she received two nominations for the Golden Duck – an award of the Film monthly. She played in films that gained recognition at international festivals, including It Looks Pretty from a Distance by Anna and Wilhelm Sasnal, Secret and How to Disappear Completely by Przemysław Wojcieszek or Małgorzata Szumowska's Mug which won the Silver Bear at the 2018 Berlin IFF. She collaborated with Kuba Czekaj on his two films. The first one, Baby Bump, won a Special Mention of the Queer Lion Award at the 2015 Venice IFF, whereas the second one, The Erlprince, was presented at significant world festivals. Their most recent joint project is an international production Lipstick on the Glass, in which she plays the main character. She starred in popular TV productions, such as Agnieszka Holland's Ekipa, Kasia Adamik's Głęboka woda, Leszek Dawid's The Pact and an HBO production about to be premiered, Warszawianka, directed by Jacek Borcuch.
Tim Redford
Graduated in Arts Management. He worked as Project Manager for Signals Media Arts in Colchester, United Kingdom, before moving to Santiago de Compostela, Spain, to take up the position of Director of Curtocircuito International Short Film Festival, which he managed for eight years. He has been co-executive director of Clermont-Ferrand International Short Film Festival since 2015, in charge of the International Competition & African Perspectives' programme. He's part of the coordination team of the submissions' platform Shortfilmdepot.
MICROBUDGET FILM COMPETITION JURY
Magnus von Horn – Przewodniczący Jury
Born 1983 in Gothenburg, Sweden. For nearly twenty years he has lived and worked in Poland. Graduate of the Lodz Film School where he currently lectures at the Directing Department. Already his short films granted him an international presence: Echo (2010) had its premiere screening at the Sundance Film Festival, whereas Without Snow (2011) – at Locarno IFF. His feature-length debut, The Here After, had its premiere at the 2015 Cannes IFF in the Director's Fortnight section and won two Guldbagge Swedish Film Awards. His second film Sweat, developed during TorinoFilmLab, qualified for the Official Selection of Cannes 2020, and was awarded Silver Lions at the PFF.
Jan Naszewski
Founder of the New Europe Film Sales company. He studied Linguistics and European Studies in Edinburgh, then worked in media companies in London. After he came back to Poland in 2010, for a few years he worked as an organiser of industry meetings at the New Horizons IFF and he was developing New Europe. Lecturer of prestigious international programmes, such as EAVE, ACE, Berlinale Talents or TorinoFilmLab. Long-standing expert of the European programme MEDIA and the Polish Film Institute. In 2014 the prestigious magazine Screen International chose him for the exclusive Future Leader of Sales and Distribution group. In 2018, together with Ewa Puszczyńska and Klaudia Śmieja, he founded NEM Corp. – a creative structure for collaboration between New Europe Film Sales, Madants and Extreme Emotions companies.
Agata Szymańska
Graduate of the Radio and Television Faculty of the University of Silesia in Katowice. In 2009 she founded her own production company Filmpolis specialising in auteurial films. She produced It Looks Pretty from a Distance and Parasite both directed by Anna Sasnal and Wilhelm Sasnal. In 2015 she started her collaboration with producer Magdalena Kamińska with whom she established an independent production company Balapolis. Their filmography includes feature and documentary films, and also international co-productions. Balapolis produces unconventional and trailblazing films, it also has experience in film distribution. Agata Szymańska is active on the Polish and international film market, developing her company and projects as a lead producer and co-producer. Member of the Producers Guild of Poland.
Organisers: Ministry of Culture, National Heritage and Sport, Polish Film Institute, Polish Filmmakers Association, The Mayor of the City of Gdynia, Governor of the Pomerania Province
Co-organisers: National Centre for Culture, Telewizja Polska, Adam Mickiewicz Institute
Main Sponsor: Grupa Lotos
Strategic Partner: BMG Goworowski – Official Dealer of Mercedes-Benz
Main Partner: Dr Irena Eris
Nationwide Media Patrons: Telewizja Polska, Radiowa Jedynka, Trójka – Polish Radio Three, Rzeczpospolita, Kino monthly, Filmweb, Onet, Vogue Polska, Zwierciadło, Super Express
Local Media Patrons: Telewizja Gdańsk, Radio Gdańsk, Dziennik Bałtycki, Trojmiasto.pl
Producer of the Festival is the Pomeranian Film Foundation in Gdynia.
The 46th Polish Film Festival takes place on 20th–25th September 2021 in Gdynia.