Jury of the 48th PFF competitions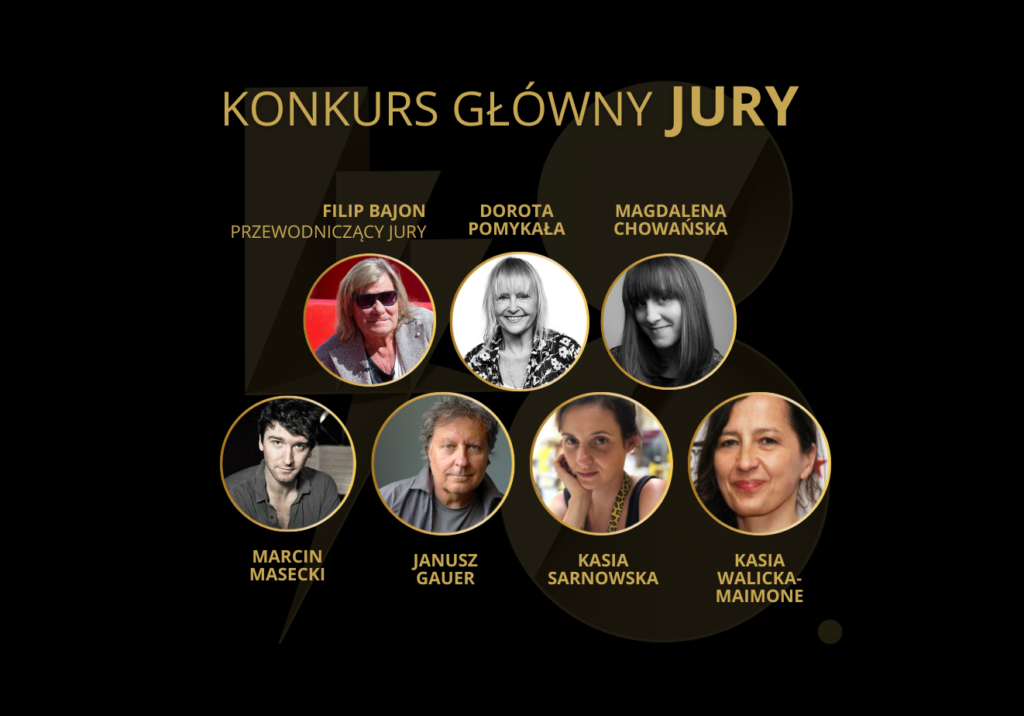 We're happy to announce the juries of the three competitions of the 48th Polish Film Festival!
MAIN COMPETITION
Filip Bajon – Chairman
Dorota Pomykała
Magdalena Chowańska
Marcin Masecki
Janusz Gauer
Kasia Sarnowska
Kasia Walicka-Maimone
SHORT FILM COMPETITION
Agnieszka Dziedzic – Chairwoman
Olga Bołądź
Michał Szcześniak
MICROBUDGET FILM COMPETITION
Jan P. Matuszyński – Chairman
Krzysztof Terej
Kaja Krawczyk-Wnuk
BIOGRAPHICAL NOTES:
Main Competition Jury:
Filip Bajon – Chairman of the Main Competition Jury
Film and theatre director, screenwriter and prose writer. Graduate of the Direction Department of the Lodz Film School. Author of more than twenty feature films, several documentaries and television series. Winner of numerous awards, including for Aria for an Athlete, 1901. Children on Strike, Shilly-Shally, The Magnate, Poznan 56, and The Butler. In the years 2015–2019, director of Kadr Film Studio. Member of the Board of the Polish Filmmakers Association. Lecturer at Krzysztof Kieślowski Film School of the University of Silesia in Katowice and the Lodz Film School, where between 2008–2016 he was the Dean of its Direction Department
Dorota Pomykała
Theatre and film actress. Since graduation, she has been with the National Stary Theatre. She has also performed on the stages of Nowy in Łódź, Rozmaitości and Polonia in Warsaw, Bagatela and Julisz Słowacki Theatre in Kraków and of many others. She made her cinema debut in Agnieszka Holland's Provincial Actors (1978). Winner of numerous film and theatre awards in Poland and abroad (incl. Special Mention of the Danish Film Academy for Best Actress). Last year has brought her the most significant statuettes for the role of Mira in Anna Jadowska's Woman on the Roof. She brought awards from festivals such as the Tribeca Film Festival in New York, OFF Camera in Kraków and Polish Film Festival in Gdynia. For her performance, she received the Eagle award in 2023.
Magdalena Chowańska
Film editor. She graduated in Film and Television Production Organisation from the Faculty of Radio and Television of the University of Silesia in Katowice, and in Film Editing from the Lodz Film School. Member of the Polish Film Academy, European Film Academy and Polish Association of Editors. She made many awarded short and feature-length films. In 2015 she made her debut with the feature-length film Baby Bump (dir. Kuba Czekaj). She is known for having worked on films such as Supernova (dir. Bartosz Kruhlik), Dark, Almost Night (dir. Borys Lankosz), Love Tasting (dir. Dawid Nickel) and Other People (dir. Aleksandra Terpińska) which won her an individual award for Best Editing at the 2021 Polish Film Festival in Gdynia and a nomination for the Eagle award.
Marcin Masecki
Pianist, composer, arranger, conductor, curator, teacher. His activities encompass a broad stylistic spectrum, and his masterful way of mixing genres and breaking down barriers  between high art and entertainment are his identification marks. He regularly tours with jazz and classical repertoire. He is a permanent curator of Warsaw music life. Winner of the Eagle award for his music score in Return to Legoland directed by Konrad Aksinowicz. He was the arranger, composer and music consultant for Paweł Pawlikowski's Cold War. He also created the scores for Łukasz Czajka's Of Animals and Men, Michał Marczak's Fuck for Forest, and Dariusz Gajewski's Strange Heaven.
Janusz Gauer
Cinematographer, graduate of the Direction of Photography Department of the Lodz Film School. He also did a post-graduate course at the Netherlands Film Academy in Amsterdam. Director of photography in such feature films as: Juliusz Machulski's Deja Vu and V.I.P., Jacek Bromski's Kuchnia polska, the first Polish opera film by Krzysztof Tchórzewski The School of Lovers, and for five television series, including Adam i Ewa, Samo życie and Barwy szczęścia. Member of the Polish Film Academy, Polish Society of Cinematographers and Polish Filmmakers Association.
Kasia Sarnowska
Screenwriter and producer. Author or co-author of screenplays of films such as All Our Fears (dir. Łukasz Ronduda, Łukasz Gutt), (Nie)znajomi (dir. Tadeusz Śliwa), Chemo and Narzeczony na niby (dir. Bartosz Prokopowicz). In addition to festival achievements (incl. the Golden Lions at the 2021 Polish Film Festival in Gdynia), her films attracted over two-million viewers in Polish cinemas. Together with Kuba Kosma she runs Serce studio whose intention is to tell engaging stories respecting the audience. Currently, she is working on Julia Kolberger and Anna Kasińska's first films, and new films by Tadeusz Śliwa, Piotr Stasik and Łukasz Ronduda.
Kasia Walicka-Maimone
Costume designer for theatre and film. She was born in Poland but now lives in the USA. She recently designed costumes for the HBO series The Gilded Age and I Know This Much Is True, as well as Scott Cooper's The Pale Blue Eye. She also created costumes for Wes Anderson's latest film, The Wonderful Story of Henry Sugar. The two have already collaborated on Moonrise Kingdom. Among the titles to her credit are Capote, Foxcatcher and Moneyball (dir. Bennett Miller); Bridge of Spies and Player One (dir. Steven Spielberg); A Quiet Place and A Quiet Place Part II (dir. John Krasinski); and Deepwater Horizon (dir. Peter Berg). Her work could also be seen in Philip Glass' theatre plays Les Enfants Terribles and The Sound of a Voice.
Short Film Competition Jury
Agnieszka Dziedzic – Chairwoman of the Short Film Competition Jury
Founder of Koi Studio, at present – creative producer at Aurum Film. For her first film Little Crushes (dir. Aleksandra Gowin, Ireneusz Grzyb) she won the Best Debuting Producer Award. Graduate of the prestigious training programmes: EAVE, EAVE Puentes and ACE. In 2023 she was nominated for the Female Voice award granted during the Mastercard OFF Camera festival, and she received Best Producer award at the Krakow Film Festival for the Radical Move documentary (dir. Aniela Gabryel). Her most recent films include Dangerous Men (dir. Maciej Kawalski), Delegation (dir. Asaf Saban) and a co-production Stepne (dir. Maryna Vroda) awarded at the 2023 Locarno IFF.
Olga Bołądź
Polish film, TV series and theatre actress, and director. Graduate of the State College of Acting in Kraków. She also studied at the Faculty of Movement at Institut del Teatre in Barcelona and at Stella Adler Academy of Acting & Theatre in Los Angeles. She has played in productions like: Life, Above All (dir. Anna Plutecka-Mesjasz), Secret Wars, Women of Mafia, Botoxx (dir. Patryk Vega) or Time of Honor. In 2020 her short film Alice and the Frog won two awards at the Polish Film Festival in Gdynia.
Michał Szcześniak
Director and screenwriter. Currently preparing a feature film about Stanisław Grzesiuk, Grzesiuk, król życia, whose screenplay, written together with Bartosz Janiszewski, was awarded at the Script Wars festival and won first prize in the SCRIPT PRO contest. His new documentary, Między nami są sytuacje, is at its final production stage. In 2015 his film Starting Point was short-listed for the Academy Award. His tragicomedy Patrz: wolna wola won the Grand Prix of the contemporary play Kontest Competition of the Minister of Culture, whereas his screenplay A Boat won the NISI MASA Short Film Script Contest. He also won awards for directing a TV play Porwać się na życie, a comedy written by Robert Urbański.
Microbudget Film Competition Jury
Jan P. Matuszyński – Chairman of the Microbudget Film Competition Jury
He graduated in Directing from the Faculty of Radio and Television of the University of Silesia in Katowice and completed a documentary course at Wajda School. His feature films The Last Family and Leave No Traces became true phenomena honoured with numerous awards in Poland and around the world. Leave No Traces qualified for the Main Competition at the 2021 Venice IFF and got its makers the Silver Lions award at the 2021 Polish Film Festival in Gdynia. Director of TV series such as The Border and The King of Warsaw, the latter based on a novel by Szczepan Twardoch. Currently working on his film Minghun that is to be premiered in 2024.
Krzysztof Terej
Film producer, business associate and board member of Watchout Studio since 2014. Producer of Polish box-office hits Gods (dir. Łukasz Palkowski) and The Art of Loving: Story of Michalina Wislocka (dir. Maria Sadowska) and the international project The Coldest Game (dir. Łukasz Kośmicki), starring Bill Pullman. Supervising producer of Prime Time (dir. Jakub Piątek) which had its official premiere at the Sundance Film Festival in January 2021 and made its debut on Netflix in spring. Producer of the first Polish film about zombies, It Came from the Water (dir. Xawery Żuławski). Expert of the Polish Film Institute, member of the European Film Academy and the Producers Guild of Poland.
Kaja Krawczyk-Wnuk
She graduated in Film Studies from the Jagiellonian University and in Film and TV Production from the Lodz Film School. Member of the Polish Film Academy and the European Film Academy. Leading writer of the TV series True Law and producer of the first Polish HBO series, Without Secrets. Co-writer of the film Overclockers, which received a special mention in the 2018 SCRIPT PRO contest. Author of the screenplay adapted for Jan P. Matuszyński's film Leave No Traces (based on a documentary published by Cezary Łazarewicz), presented in 2021 in the Main Competition of the Venice IFF and awarded with Silver Lions at the Polish Film Festival in Gdynia. Winner of the first edition of the Script Fiesta festival for best Polish feature film screenplay.