Lem in Film at the 46th PFF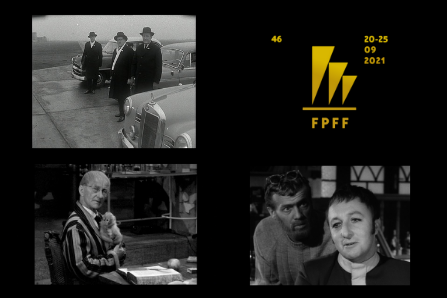 2021 is the Year of Stanisław Lem. For this occasion, the programme of the Polish Film Festival in Gdynia will include film adaptations of the author's works.
A few days before this year's edition of the Festival, on the 12th September 2021, we will celebrate the 100th anniversary of the birth of Stanisław Lem, one of the most prominent Polish and world-famous writers, essayists, futurologists and philosophers of the 20th century.
– His works were often an inspiration for filmmakers: beginning with an East German film adaptation of The Astronauts titled The Silent Star, through the Czechoslovakian Voyage to the End of the Universe, Marek Piestrak's Inquest of Pilot Pirx (in the face of Andrzej Żuławski's On the Silver Globe being stopped by censorship, first Polish science-fiction cinema film), Żebrowski's Hospital of Transfiguration, to the masterpiece of the world cinema Solaris by Tarkowski, its later version made by Soderberg, The Futurological Congress by Folman or the Hungarian His Master's Voice. Lem's works still inspire filmmakers, spurring further film adaptations, and our reality slowly catches up to the seemingly unthinkable ideas of the writer – says Tomasz Kolankiewicz, Artistic Director of PFF.
The programme of the out-of-competition screenings of the 46th PFF includes a section of short television retro science-fiction films from the 60s:
Roly Poly (1968) dir. Andrzej Wajda
Professor Zazul (1965) dir. Marek Nowicki, Jerzy Stawicki
The Friend (1965) dir. Marek Nowicki, Jerzy Stawicki
– These films paved the way for Polish science-fiction cinema. Years after, they were covered by the noble patina and, thanks to interesting roles of actors like Bogumił Kobiela and Stanisław Milski, they became true gems of the short film form – emphasizes Tomasz Kolankiewicz.
Festival audience will also be able to see Cosmogonic, which was produced in VR by Paweł Szarzyński, a Polish animator and visual artist. It is the first film adaptation of Stanisław Lem's work of this kind. The screenplay, inspired by a short story Uranium Earpieces from the Fables For Robots (1965) collection, was written by Lauren Dubowski in cooperation with the director. During the creation of the characters, the producers were inspired by Daniel Mroz's drawings, which gained a new dimension because of 3D animation. Thanks to the VR headset, the viewer will be able to get inside the titular hero's head: an aged robot-engineer, who will be voiced by Arkadiusz Jakubik in the Polish language version. VR screenings will be held in the Musical Theatre foyer.
The producer of Cosmogonic is Marta Szarzyńska (Kinhouse Studio). Co-producers: Adam Mickiewicz Institute, National Centre for Culture, Mazovia Warsaw Film Fund and Aura Films. Co-financed by the Ministry of Culture, National Heritage and Sport and the Polish Film Institute.
The 46th Polish Film Festival takes place on 20th–25th September 2021 in Gdynia.