MONDAY | 47th PFF | 12th September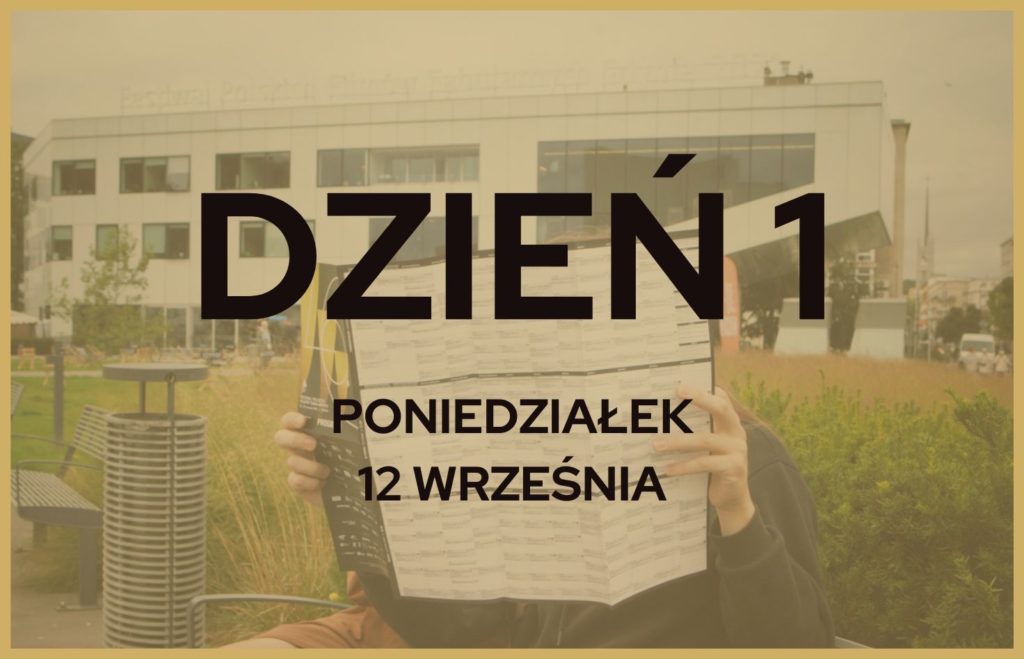 The first day of the 47th Polish Film Festival is upon us!
At www.festiwalgdynia.pl you will find the festival programme and information on accompanying events, meetings and exhibitions.
You can pick up your accreditation today at the Festival Reception desk in the Musical Theatre at Plac Grunwaldzki 1 from 7:30 a.m.
What's on the programme for today?
Monday, 12.09
• screenings of films from the Main Competition:
Apokawixa, directed by: Xawery Żuławski
Brigitte Bardot Forever, directed by: Lech Majewski
Bread and Salt, directed by: Damian Kocur
Silent Land, directed by: Aga Woszczynska
Fools, directed by: Tomasz Wasilewski
Illusion, directed by: Marta Minorowicz
Infinite Storm, directed by: Małgorzata Szumowska
Johnny, directed by: Daniel Jaroszek + press conference
Young Eagles, directed by: Krzysztof Lukaszewicz + press conference
Below the Surface, directed by: Jacek Bławut + press conference
Backwards, directed by: Jacek Lusiński
Dad, directed by: Anna Maliszewska
The Wedding Day, directed by: Wojciech Smarzowski
• screenings of all films from the Microbudget Film Competition
• screenings of all films from the Short Film Competition (in 6 blocks)
• Missing PFF – screenings of films:
The Weather Forecast, director: Antoni Krauze / introduction by Miłosz Stelmach before the screening
The Wolf, director: Marek Piestrak / after the screening a meeting with Marek Piestrak
Fun and Games, directed by: Tadeusz Junak / after the screening a meeting with Ryszard Lenczewski
• KFF Catching Waves: The Hamlet Syndrome, dir. by Elwira Niewiera and Piotr Rosołowski
• Films from Gdynia: Marian Kołodziej. The Artist's Secret, dir. by Anna Maria Mydlarska + meeting
• exhibitions: Backstage. Behind the Scenes of the PFF Closing Ceremony, photographs by Anna Rezulak and the Works of Zofia Różycka Ciapkowo Dog.
• Gdynia for Children
• TVP S.A. Digital Reconstruction Zone
• Festival Opening Ceremony
The 47th Polish Film Festival takes place between 12th and 17th September 2022.