Polonica at the 48th PFF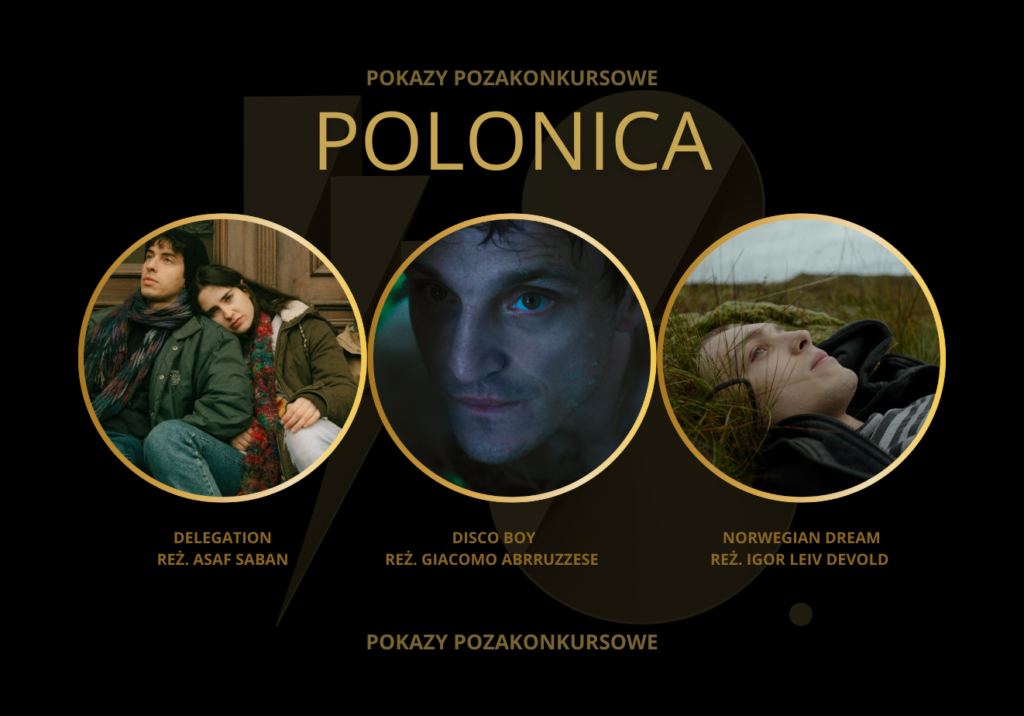 Besides the Main Competition, Polonica is the oldest part of the Festival. To qualify, a film has to meet the essential condition criterion of Polish contribution. Domestic filmmakers participate in European and worldwide productions with great success. The section's programme reflects that – it's diverse and rich with surprising titles.
For years the films presented in the Polonica section have formed a perfect complement to the Gdynia's competitions programme. This part of the Festival is important to me also because it's perfect for highlighting the international relations of the Polish cinema. This year the viewers will be able to see three films in this section, whose inclusion brings me much joy. Giacomo Abbruzzese's Disco Boy was already on everybody's lips during this year's Berlinale, where it received a Silver Bear for photography. Another title from Berlinale – Asaf Saban's Delegation which shows the topic of Holocaust in an interesting and fresh perspective of young people from Israel. A full-fledged, convincing world was also built by Igor Leiv Devold in his debut film Norwegian Dream where he has confidently led the actors, including Hubert Miłkowski who played the leading role brilliantly. This year's Polonica section looks very promising – points out the Artistic Director of the Festival Joanna Łapińska.
And so in the section we'll see the Polish-Israeli-German film Delegation (dir. Asaf Saban) showing a story of Israeli teenagers who confront their youthful carelessness with their ancestor's tragedy. It's a tale of a divide between the great tragedies of history and the little tragedies of everyday life. The second movie is a hypnotising debut from Giacomo Abbruzzese, Disco Boy, presenting a emotion-filled story of Aleksei who's running from his past and joins the French Foreign Legion for a promise of a French citizenship. The third one is a drama Norwegian Dream directed by Igor Leiv Devold which tells the story of Robert who goes to Norway to pay off his debt. And when his factory goes on strike, he faces a dilemma – save his family and become a blackleg or join the protesters.
List of films in Polonica section:
Delegation, directed by: Asaf Saban, Polonica: director of photography Bogumił Godfrejów, music Maniucha Bikont, production design Ewa Mroczkowska, costume design Monika Grzeszczyk, production manager Marcin Kupiecki, producer Agnieszka Dziedzic
Disco Boy, directed by: Giacomo Abbruzzese, Polonica: cast Robert Więckiewicz, Michał Balicki, producer Maria Blicharska, production Podkarpacki Fundusz Filmowy
Norwegian Dream, directed by: Igor Leiv Devold, Polonica: written by Justyna Bilik, cast Hubert Miłkowski, Edyta Torhan, Jakub Sierenberg, Izabella Dudziak, Jakub Nosiadek, Piotr Czarniecki, Hanna Klepacka, director of photography Patryk Kin, edited by Tomasz Mączka, sound Michał Fojcik, production manager Patrycja Kycia, production Solo Film
The 48th Polish Film Festival in Gdynia will take place on 18th–23rd September 2023