The Big Five at the 48th PFF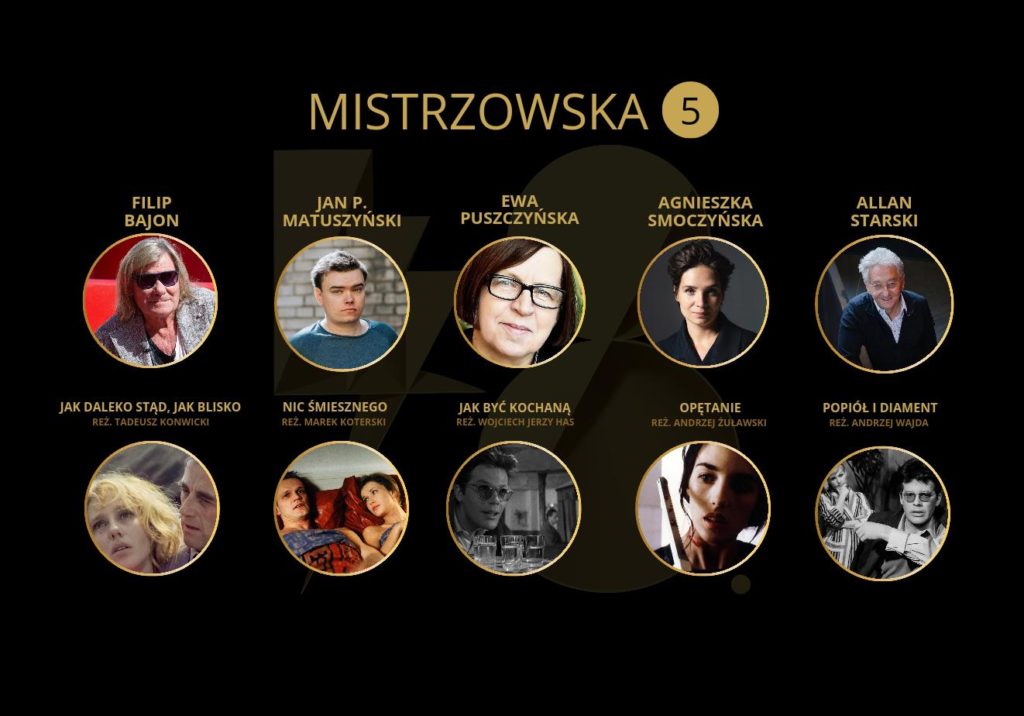 In this new cycle – The Big Five – five filmmakers will reveal which Polish films are especially close to their hearts – films that have shaped who they are today and never cease to amaze them. This year, the Big Five comprises Ewa Puszczyńska, Filip Bajon, Agnieszka Smoczyńska, Allan Starski, and Jan P. Matuszyński. The screenings will be a unique opportunity to revisit the ever-green classics – the beating heart of our cinema. Each presentation will star a film and a filmmaker. After the screening, we will find out what made the filmmaker choose the particular film, what kind of audience member they are, and what shaped their perspective on cinema. The conversation will bring film buffs together, filmmakers and the audience alike, for all filmmakers are audience members. They watch films with passion and vulnerability, though we rarely get to ask them about films other than the ones they make.
Agnieszka Smoczyńska has chosen Possession dir. Andrzej Żuławski, Filip Bajon How Far, How Near dir. Tadeusz Konwicki, Ewa Puszczyńska How to Be Loved dir. Wojciech Jerzy Has, Jan P. Matuszyński Nothing Funny dir. Marek Koterski, and Allan Starski Ashes and Diamonds dir. Andrzej Wajda.
Filip Bajon: "Film How Far, How Near is a poetic summary of a very tragic period in Polish history, which, one might think, forces a journalistic approach. Konwicki's genius is reflected in the way he recognises the world he shows through his own vision. It makes the film's language visualise long gone worlds and grant them a fascinating esthetic value and uniqueness. This language lets him create the worlds anew and make them prevail. A key to these worlds is obviously multiculturalism."
Jan P. Matuszyński about Nothing Funny "I'm constantly amused by this film. Contrary to the title's suggestion."
Ewa Puszczyńska about How to Be Loved "I'm amazed by how literary the film is. The film that is the essence of filmmaking."
Agnieszka Smoczyńska: "Possession is to me an intimate nightmare about the decay of the world and love. The director pulls us into his vision of the world and uses horror elements to ask about the nature of evil."
Allan Starski: "I saw Ashes and Diamonds for the first time in 1958. I was 15, I dreamt of the world behind the 'iron curtain'. I watched Fanfan la Tulipe and Italian cinema. And then, a revelation! A Polish film, a great one and immediately iconic! Cybulski, sunglasses, exhilarating narration! And Andrzej Wajda's great courage! Since then, I've been coming back to this film many times. In my conversations with Andrzej, while showing it to my younger colleagues. While discussing camerawork, set design and symbolic shots. It has always been an inspiration and a fascination for me! This is the kind of film I love cinema for!"
"I'm glad that such esteemed filmmakers accepted their invitations to The Big Five. It's not often that I have an opportunity to ask people from the industry about anything else than their own films. But they're very much a part of the audience, one of great passion and attention. I can't wait the screenings and meetings. I'm curious of the worlds I might discover along the way." – says Joanna Łapińska, the Artistic Director of the Festival.
The Big Five:
Filip Bajon – How Far, How Near, directed by: Tadeusz Konwicki | meeting after the screening hosted by Fr Andrzej Luter
Jan P. Matuszyński – Nothing Funny, directed by: Marek Koterski | meeting after the screening hosted by Robert Więckiewicz
Ewa Puszczyńska – How to Be Loved, directed by: Wojciech Jerzy Has | meeting after the screening hosted by Mariusz Wilczyński
Agnieszka Smoczyńska – Possession, directed by: Andrzej Żuławski | meeting after the screening hosted by Xawery Żuławski
Allan Starski – Ashes and Diamonds, directed by: Andrzej Wajda | introduction before Allan Starski's film, hosted by Piotr Kurpiewski
The 48th Polish Film Festival in Gdynia will take place on 18th–23rd September 2023