Costumes from the film On the Silver Globe. Exhibition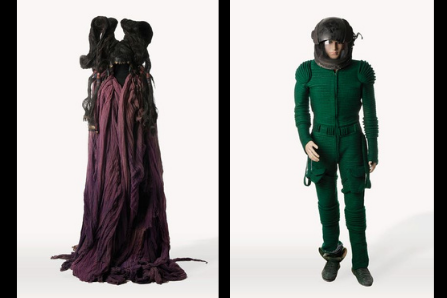 Students Forum of the Gdynia Film Centre will present at the Festival the incredible costumes from Andrzej Żuławski's film On the Silver Globe designed by Magdalena Tesławska and Krzysztof Tyszkiewicz. The costumes have been inspired by garments typical for exotic or primitive tribes and they reflect man kind's regress to its archaic beginnings.
The designer's original approach seemed very avant-garde in the late 1970s. Cosmic characters required technical costumes. Krzysztof Tyszkiewicz used authentic flight suits and covered them with pleated textile and small elements. Magdalena Tesławska took a painterly approach. There are sun-bleached patches on the clothes, and the fabric is worn out with painted mud stains here and there.
This dark aesthetic surrounded by peculiar fauna and flora provided Żuławski's film with impressive visual consistency (even animals wore costumes, for instance, turkeys were adorned with peacock feathers, and eels had wings attached).
Exhibited costumes come from the collection of Audiovisual Technology Center, the successor and continuator of Feature Films Studio in Wrocław.