PLANET PLACEMENT. NEED FOR CONTENT ON SUSTAINABILITY VS SUSTAINABLE PRODUCTION – CONFERENCE
14 września | 09:20 - 17:30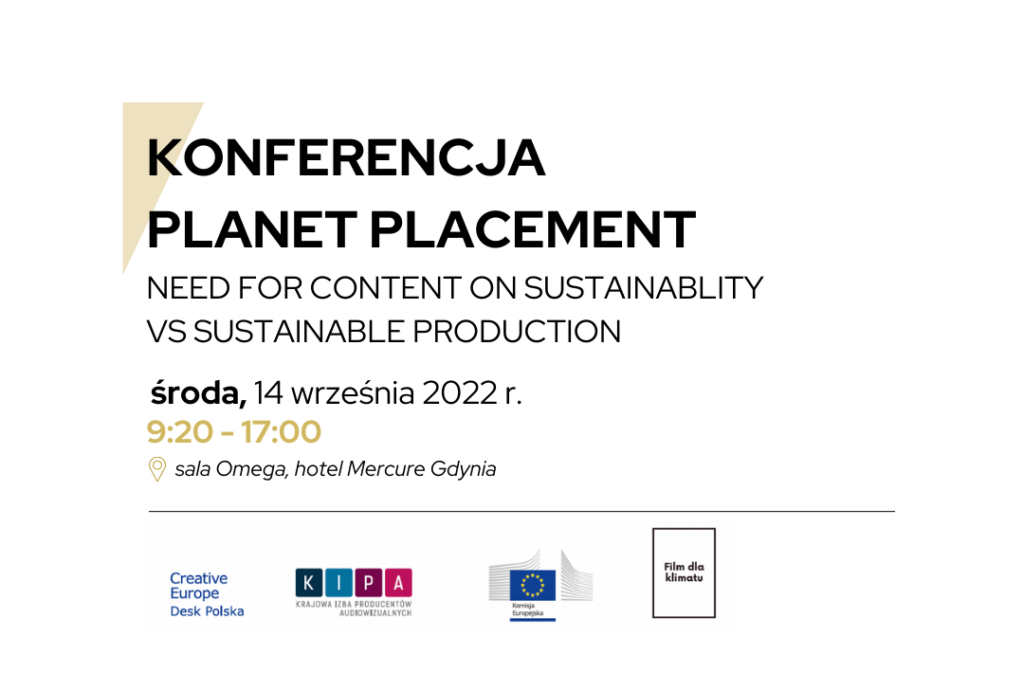 Do feature films and documentary forms have the potential to help prepare humanity for the prospect of living on an increasingly uninhabitable planet? Films often depict pessimistic scenarios of the future. How can we influence individuals through the media so that their actions allow us to avoid such an outcome? The conference Planet Placement intends to create a space for debate on how to responsibly show environmental risks in cinema and on the silver screen and sustainably produce audio-visual content.
The conference will introduce the Polish film sector to the activities carried out by the European Commission and aiming at reaching climate neutrality in the audio-visual industry, including the exchange of best practices and development of universal tools, green norms and future production standards. The event is one of the European Commission's endeavours within the European Green Deal, which takes into account the enormous influence of the audio-visual industry the attitudes of Europeans towards climate change.
ORGANISERS: Regional Representation of the European Commission in Wrocław, Polish Film Festival, Creative Europe Desk Poland, Polish Audiovisual Producers Chamber of Commerce
SUBSTANTIVE SUPPORT: Film for Climate initiative
PROGRAMME:
9.20 am – 9.30 am | Opening of the conference. An invitation to continue signing the Film for Climate manifesto by the Artistic Director of the Festival, Tomasz Kolankiewicz, Vice-President of  the Polish Audiovisual Producers Chamber of Commerce, Monika Głowacka and a representative of the European Commission
9.30 am – 10.00 am | Key note speech – How to motivate environmental action? Talk with Filip Springer and Dyba Lach
10.00 – 11.30 | Climate change as a theme for an audio-visual production. Popularity of environmental themes or the risk of greenwashing?
Panelists: Grzegorz Dukielski, Piotr Biedroń, Kaja Klimek, Leda Galanou, Thanos Stavropoulos
Moderator: Patrycja Wanat
11.30 am – 11.45 am | Coffee break
11.45 am – 1.15 pm | Planet Placement – how to present climate content in audio-visual productions
Panelists: Genevieve Margrett, Zsófia Szemerédy, Birgit Heidsiek, Edwin Bendyk
Moderator: Artur Zaborski
1.15 pm– 2.15 pm | Lunch
2.15 pm – 3.45 pm | Greenfilming versus production challenges. Climate awareness versus creativity and production limits?
Panelists: Agnieszka Woszczyńska, Nevina Setta, Paulina Zacharek, Agnieszka Kowalewska-Skowron, Tomasz Morawski
Moderator: Patrycja Wanat
3.45 pm – 4.00 pm | Coffee break
4.00 pm – 5.30 pm | Industry initiatives and streaming policies. Greenfilming as a regulatory framework
Panelists: Davide Vaccaro, Monika Głowacka, Julia Tordai, Birgit Heidsiek
Moderator: Artur Zaborski