Promotion of the Book Chełmska 21. 70 lat Wytwórni Filmów Dokumentalnych i Fabularnych w Warszawie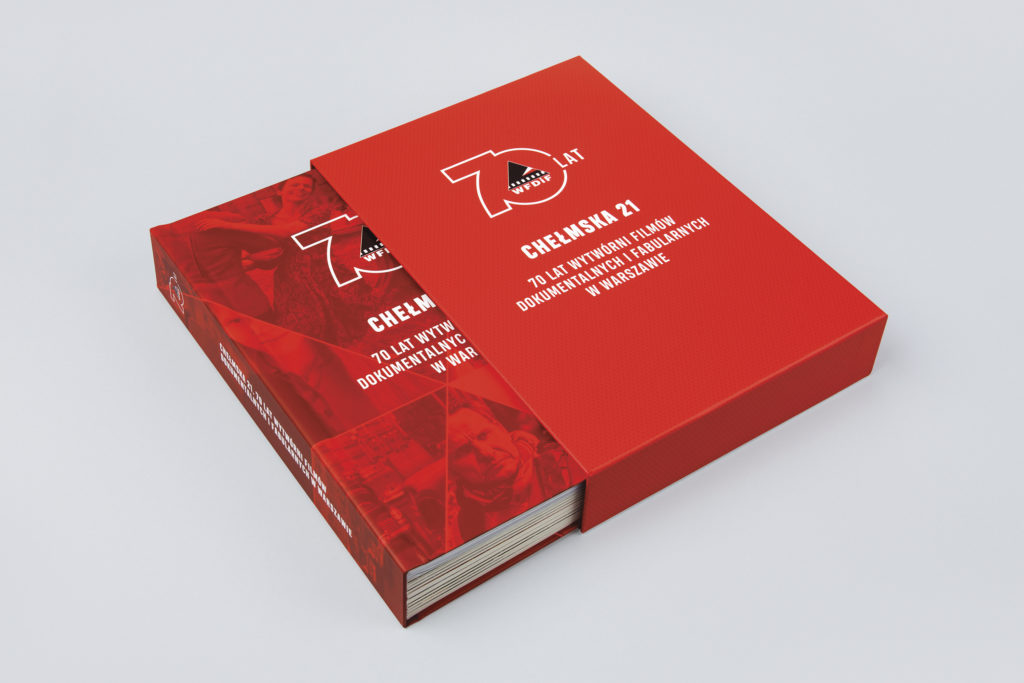 Promotion of the Book Chełmska 21. 70 lat Wytwórni Filmów Dokumentalnych i Fabularnych w Warszawie [Chełmska 21. 70 years of the Documentary and Feature Films Studio in Warsaw]
140 pages of a fascinating read and 70 masterpieces of Polish cinema
To commemorate the 70th anniversary, Polish film historian and film culture researcher, Prof. Małgorzata Hendrykowska, wrote about the Documentary and Feature Films Studio of 1949-1989,whereas film publicist and academician, Dr Anna Wróblewska, wrote about the studio post-1989 until today. The author and her editor, Marcin Zawiśliński, collected the memories of filmmakers for whom Chełmska 21 was, or still is, their second home. The story about the studio is accompanied by a selection of 70 films on DVDs, both documentaries and features, awarded at the most important festivals in Poland and abroad.
The collection includes the most famous, digitally restored titles representing the Polish school of documentary directed by Krzysztof Kieślowski, Andrzej Munk, Kazimierz Karabasz, Jerzy Bossak, Jerzy Hoffman, Edward Skórzewski, Władysław Ślesicki, Paweł Kędzierski, Irena Kamieńska and Włodzimierz Borowik.
Among the feature films, there are DEBUTS, such as Monday by Witold Adamek, The Lure by Agnieszka Smoczyńska, Mall Girls by Katarzyna Rosłaniec and The Girl from the Wardrobe by Bodo Kox. MUCH-AWARDED FILMS BY FAMOUS DIRECTORS, including General Nil by Ryszard Bugajski, Rose by Wojciech Smarzowski, Little Rose by Jan Kidawa-Błoński, The Eccentrics: On the Sunny Side of the Street by Janusz Majewski, Karbala by Krzysztof Łukaszewicz, 7 Emotions by Marek Koterski, There and Back by Wojciech Wójcik, Case Unknown by Feliks Falk and Louise's Garden by Maciej Wojtyszko. The set also sports two adaptations of modern Polish plays from the cycle Teatroteka and selected films from the series Historia w ożywionych obrazach [The history in moving pictures].
Set off on the extraordinary journey into film!
The book is co-financed by the Polish Film Institute.
Published in partnership with the Polish Society of Authors and Composers.