PODCASTS
Close-up on Sound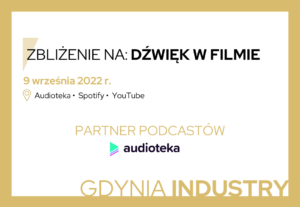 Close-up on Sound
This year, for the third time, Gdynia Industry is making a Close-up, a series of broadcasts focusing on the intersection between the world of film and creative industries. We will be listening intently to sound and sound design. For many years, there has been a conviction that Polish audio-visual productions are poorly audible. Together with the most important people responsible for sound in films: sound engineers, sound post-production specialists, producers and directors, we will consider why this is such a problem. Is education to blame (most sound engineers are trained at music
academies and not film schools), or are mistakes made at the stage of pre-production? Or should we blame the Polish language itself? We will also learn about sound reconstruction during the digital restoration of the most important Polish films – all of the above in the form of podcasts released during the Festival.
EPISODES:
◊ WHAT CAN'T YOU HEAR?
Michał Oleszczyk & Nikodem Wołk-Łaniewski
About the history of sound in film and not only……
◊ MASTERCLASS
About sound and script, selection of forms and technology of a scene sound editing – by Radosław Ochnio. Mastercalss based of the fragments of book '50% Filmu' [50% of Film] to be published soon.
◊ WHAT CAN YOU HEAR ON THE SET? WHAT CAN YOU HEAR ON THE SCREEN?
A Debate on Sound in Polish Films. Marta Habior, Marcin Lenarczyk, Monika Krzanowska and Przemysław Przestrzelski hosted by Katarzyna Borowiecka
◊ SOUND RECONSTRUCTION
for film restoration in cooperation with TVP in conversation with experts Wacław Pilkowski, Marcin Kijo and Krzysztof Kasiński.
Episodes will be available on this year's podcast partner Audioteka and on the festival's Spotify and YouTube channels.