303 Squadron twice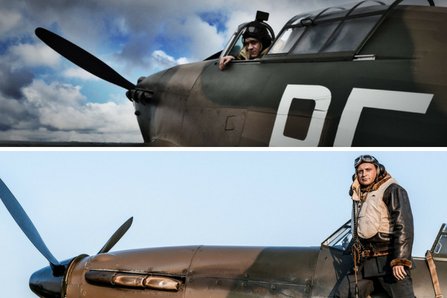 Showing on the screen the unusual story of the Polish pilots who became famous for the air campaign in Britain in 1940 was the idea of many filmmakers. Two films touching upon this topic have just entered the silver screen in cinemas. Both productions will be available for watching in Gdynia during the 43rd Polish Film Festival.
"Hurricane: Squadron 303"directed by David Blair is a story about the legendary No. 303 "Kosciuszko" Polish Fighter Squadron. It's 1940. Luftwaffe attacks RAF starting the Battle of Britain. British citizens and authorities observe German invasion of Europe with increasing fear. That's when the excellent Polish pilots and veterans, ready to fight even outside of Poland, come to the rescue – Jan Zumbach, Witold Urbanowicz, Mirosław Ferić and Witold Łokuciewski, a.k.a. Tolo, among them. Initial mistrust of the Englishmen soon turns into awe. Hurricane is a blockbuster portrait of the incredible No. 303 Fighter Squadron – the most successful air force unit in the Battle of Britain thought to have shot down over 120 German aeroplanes, more than any other aircraft.
The same topic has been touched upon by the makers of the film "303 SQUADRON" directed by Denis Delic. A film based on Arkady Fiedler's bestselling book and the true story of Polish pilots, heroes of the Battle of Britain. Jan Zumbach, a.k.a. Donald, recovers from a plane crash in a sanatorium when World War II breaks out, forcing him to leave the country. A similar fate awaits the heroic flight instructor Witold Urbanowicz. Both of them move to Great Britain, to carry on the fight against the enemy in RAF. Soon enough, their heroic deeds catch the attention of commanders and inspire 303 Squadron – the elite and predominantly Polish air force unit. At first underestimated and mocked, the team quickly wins respect thanks to the outstanding patriotism and bravery of its members.
The Festival special screenings of both films (on Tuesday 18th September, in the Gdynia Multikino) will be accompanied by meetings with filmmakers: Marcin Dorociński, Jacek Samojłowicz, Marcin "Kot" Baskowski and actors: Piotr Adamczyk, Maciej Cymorek, Marcin Kwaśny, Nikodem Rozbicki.
One day later, on Wednesday 19th September, in "Kameralna" Room of the Musical Theatre in Gdynia, a scientific conference on the contemporary Polish historical film will be held. A debate "Polish cinema in the context of the 100th anniversary of independence" has also been planned.
The 43rd Polish Film Festival will be held from 17th to 22nd September 2018.