"50 Years Later" and the 100th Anniversary of Walerian Borowczyk's Birthday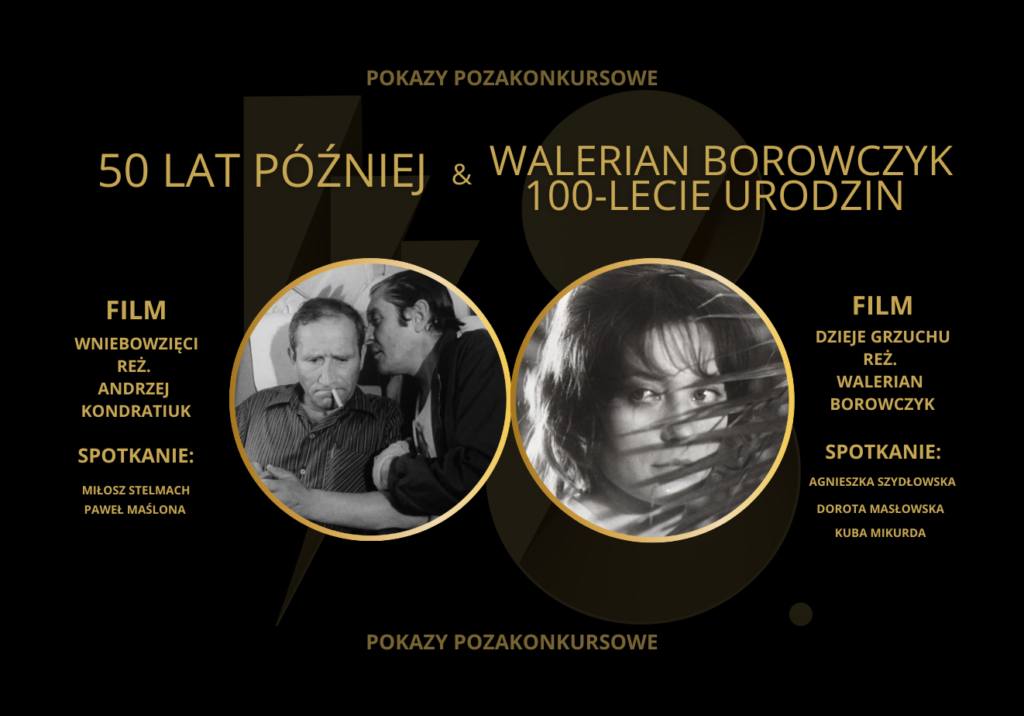 Two events for two jubilees: "50 Years Later", a screening of Andrzej Kondratiuk's The Ascended and the 100th Anniversary of Walerian Borowczyk's Birthday – one of the most extraordinary and controversial creators in the history of cinematography.
Borowczyk – an author of narrative and animated films, visual artist, screenwriter, set designer and writer – is now recognised as one of the greatest individualists of cinema. He's appreciated for his artistic independence, his courage as a director, his provocative content and the unique esthetic of his films. During the celebration of the 100th anniversary of the director's birthday at the 48th PFF there is a screening planned of his only feature film created in Poland, an adaptation of The Story of Sin with an expressive female lead. The screening will be accompanied by a meeting with a journalist Agnieszka Szydłowska, a writer Dorota Masłowska and a film critic and director Kuba Mikurda, who filmed a documentary about Borowczyk.
The "50 years later" section is an introduction to the celebration of the 50th edition of Polish Film Festival in Gdynia, which will happen in just 2 years. After fifty years from the premiere we'll watch Andrzej Kondratiuk's The Ascended with the unforgettable duet of Himilsbach and Maklakiewicz. The films tells a story of two mature men for whom the tides turn when they hit the jackpot in a lottery and buy tickets for their first plane flight. They enjoy soaring through the sky so much that they squander the rest of their winnings on plane trips. After the screening, chief editor of the quarterly journal "Ekrany" Miłosz Stelmach and director Paweł Maślona will talk about the history and today's reception of The Ascended.
 Joanna Łapińska, the Festival's Artistic Director, comments: "While discussing Borowczyk's work, one rarely mentions The Story of Sin, which is an interesting, thought-provoking film you can passionately argue about today. Whereas The Ascended, in my opinion, deserves a new, fresh look. And that's what we want to do in Gdynia: give Andrzej Kondratiuk's film a second life, exactly half a century after its premiere." 
___
The 100th Anniversary of Walerian Borowczyk's Birthday: screening of The Story of Sin directed by: Walerian Borowczyk | meeting with Agnieszka Szydłowska, Dorota Masłowska and Kuba Mikurda
"50 Years Later": screening of The Ascended, directed by: Andrzej Kondratiuk | meeting with Miłosz Stelmach and Paweł Maślona.
The 48th Polish Film Festival in Gdynia will take place on 18th–23rd September 2023