A competition for a Legal Culture spot!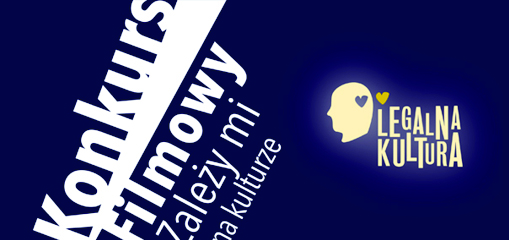 "Using the legal sources of culture, you support culture" is the message of the fourth edition of the competition for a spot promoting the use of the legal sources of culture organized by the Legal Culture Foundation and the Gdynia Film Festival. The settling will take place during the 40th Gdynia Film Festival, which will be held from 14th until 19th September 2015.
The idea behind the competition is to show the constantly multiplying legal sources of the digital culture and to make the viewers aware of the fact that access thereto is simple and the money spent thereby reach the creators, giving them the energy and ardour to create more.
Authorship films of one-minute length or less can be submitted by individuals or legal persons as well as creators' teams. Film copyright cannot be limited in any way, neither can the film breach the copyright and personal property of third parties. All the materials used in the film – music, films, pictures, books, illustrations, games etc. – have to come from the legal sources.
The works submitted will be evaluated by the jury of the Young Cinema Competition of the 40th Gdynia Film Festival. The following awards will be granted:
1st Prize: PLN 8,000
2nd Prize: PLN 4,000
3rd Prize: PLN 2,000
The detailed substantial assumptions of the competition, the mode of film submission and the technical requirements are included in the Rules and Regulations of the Competition available at www.legalnakultura.pl.
The deadline for submitting films is on 17th August 2015. The films will be presented to the Festival's audience. The results of the competition will be announced during the Young Gala in the Musical Theatre in Gdynia on 18th September 2015.