A premiere of "Nude Area" by Urszula Antoniak at the 39. GFF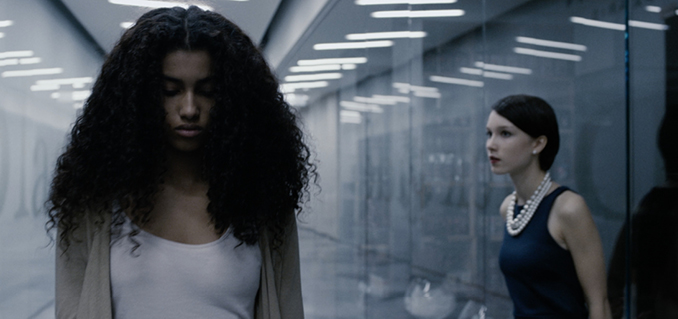 During the 39. Gdynia Film Festival, there will be held, for the first time in Poland, an official screening of the newest film by Urszula Antoniak "Nude Area". The author is considered as one of the most interesting personalities of the contemporary European cinema. The Polish producer of the film is Apple Film Production.
The screening will be held on Friday, 19 September 2014 at 18.00. After the screening, a meeting with Urszula Antoniak and the editor Milenia Fiedler will be held by Sebastian Smoliński.
The first film by Antoniak, considered as one of the most interesting personalities of the contemporary European cinema, "Nothing Personal" (2009), was awarded at the Festival in Locarno and nominatem for the European Film Award. The next one, "Code Blue" (2011) was shown during the Festival in Cannes in the section Quinzaine des Réalisateurs.
"Nude Area" presents the first love between two 15-year-old girls: a Dutch and a Muslim. Their love discourse takes place without words, in looks and gestures.
"Love doesn't develop like a story. We only know its first and last chapter. Love starts with love and finishes with our accepting its loss. What is between is tenderness and cruelty, anticipation and fulfilment, ecstasy and disappointment," the director says about the film.
The main roles are played by two debut actresses: Sammy Boonstra and Imaan Hammam. The author of photography is Piotr Sobociński Jr, already awarded, among others, at the Camerimage Festival and nominated for an Eagle, which is an award of the Polish Film Academy.
"Sammy Boonstra and Imaan Hamman, cast in "Nude Area", are not actresses but, as Bresson would put it, "models taken from life". Since the finishing of the film, Imaan has been extremely successful as a model. Her photographs appeared in the American and Italian "Vogue". "Nude Area" is a rather unusual combination of Dutch and Polish crew. For the first time, I had the opportunity to work with a Polish author of photography – Piotr Sobociński, an editor – Milenia Fiedler and Polish sound directors – Tomek Dukszta and Maciej Pawłowski. The postproduction of the image was also made in Poland, in DIFactory. Artistically, it was a fascinating experience," says Antoniak.
"Nude Area" is a Polish-Dutch co-production of Apple Film Production and Topkapi Films. The film was made in co-production with Canal+ with the support of the Polish Film Institute and the Dutch Film Fund. Photography was made in the Netherlands and in Poland, in Warsaw and Cracow, with the support of the Cracow Film Fund.
Michał Oleszczyk, the Artistic Director of the Gdynia Film Festival, emphasises that he personally took care of the possibility of holding the special screening in the Friday evening, so as Antoniak's new film can be heard and start its screen life in Gdynia: "Urszula Antoniak takes a special, separate place in the Polish and European cinema. Her talent for combining sensuality with intellectual reflection and strong emotions is unique, and "Nude Area" is a narrative experiment of great value in the worldwide artistic cinema. The way in which the director spins her tale – without words, based completely on the film potential for arousing senses, has raised my admiration. I highly recommend it to everyone to familiarise yourselves with this unique voice of one of our most outstanding directors."
The special screening of "Nude Area" by Urszula Antoniak will take place on Friday 19 September 2014 at 18.00, Multikino