A Special Screening of the film "Smolensk" by Antoni Krauze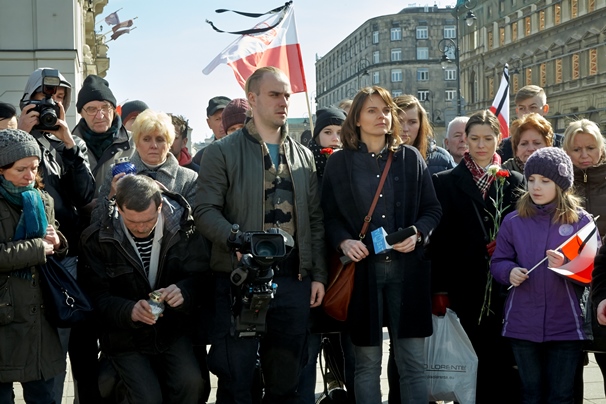 One of the special screenings of the 41st Gdynia Film Festival will be a screening of the film "Smolensk" by Antoni Krauze. The screening of the film will be held in Multikino on 21st September 2016 at 5.00 pm.

Antoni Krauze, the author of the numerously awarded historical drama "Black Thursday", reveals the backstage of the tragedy which shocked the whole of Poland. The music for the film was composed by Michał Lorenc.

10th April 2010, the government plane Tupolev 154 on board with the President of the Republic of Poland, Lech Kaczyński, and accompanying members of the official delegation headed for Katyn, crashes in Smolensk. All passengers die instantly. The tragedy stirs a commotion. Nina (Beata Fido), a journalist with a large commercial TV station, is trying to get to know the cause of the catastrophe.

"The Smolensk tragedy has become the most important event in the Third Republic of Poland, the most tragic moment in the Polish history since the time of WWII. It has become an event which affects the Poland of today and the life of Poles in an unusually strong way. An event which has divided us very deeply. This is why an attempt at facing this topic is not only a great challenge but also a citizen's duty to the author," the director Antoni Krauze says.
"I decided to organize a special, out-of-competition screening of <Smolensk> by Antoni Krauze with full conviction a few weeks ago, when it turned out that the finished film will have its premiere on 9th September," says Michał Oleszczyk, the Artistic Director of the Festival. "In the history of Poland of the last half-century, there is no event as traumatic as the Smolensk plane crash. Therefore, I think that the first feature film tackling the subject should be shown at the most important Polish festival. Until now, Polish cinema used to treat Smolensk in a metaphorical way, indirectly: films such as <Prosto z nieba> by Piotr Matwiejczyk or <Onirica. Field of Dogs> by Lech Majewski were the first attempts at touching upon this very difficult topic. Another artistic attempt is undertaken now by the renowned director Antoni Krauze. It is certainly worth talking about it in Gdynia. The meeting after the screening will be held by Łukasz Adamski (<W Sieci>), a critic valued for independence and courage of his judgements. I hope that the Gdynia Film Festival will help all of us in leading a relevant conversation on a topic that is still a challenge to the Poles as a democratic community of citizens".
Maciej Pawlicki (Picaresque) is the film producer. Kino Świat is the Polish distributor of the film. The film will be screened in the cinemas from 9th September 2016.