"Afterimage" by Andrzej Wajda received with applause in Toronto!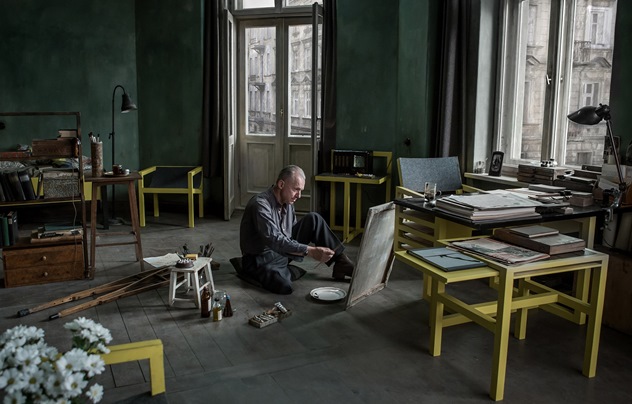 "It is his strongest, most furious film since years ago," Piers Handling, the Director of the Toronto Festival, said, when introducing the world premiere of "Afterimage" by Andrzej Wajda. The Hollywood Reporter has noted that "Afterimage", as each of Wajda's films, is subtle in terms of directing and elegantly assembled, to a great extent thanks to the handsome shooting by the Oscar-nominated Paweł Edelman.
At each of the three screenings of the film, screening rooms were fully occupied and the screenings were crowned with thunderous applause. The film was enthusiasthically received by the international audience. It was visible that the audience were moved by the fate of the protagonist and by the strength and precision of the film.
The audience was enraptured with the presence of Bogusław Linda who answered the questions of the enchanted public after the premiere screening. Asked by a CJG journalist about the key of playing Strzemiński, Linda answered: "I had to overcome physicality, which played an enormous role in the process of understanding the character. Strzemiński lacked one arm and one leg but he could go uphill the Śnieżka top with his students. What a strong psychological will! He had been through so much and he knew that he wouldn't be broken down by any authorities or censorship. He fought against himself much more than he did against external matters."
"Afterimage" will have a special screening during the Gdynia Film Festival as early as on 22 September. The Polish cinemas will start screening Wajda's film on 13 January.
One of the most outstanding filmmakers in the history of the cinema, the winner of numerous film awards, including an Oscar for his work as a whole – Andrzej Wajda – presents the story of a defiant man, Władysław Strzemiński, the pioneer of the Polish avant-garde, with the brilliant role of Bogusław Linda.
The main character is a great artist faithful to his own vision of art, who did not succumb to the pressures of socialist realism and faced dramatic consequences of his choices. "Afterimage" is an intimate record of the last period of life of the charismatic brilliant painter. It is a story of how the Communist authorities destroyed a defiant artist.

In an unusually subtle and at the same time universal way, Wajda creates, with artistically crafted images, a world in which beauty and art are oppressed.
Cast: Bogusław Linda, Bronisława Zamachowska, Zofia Wichłacz, Krzysztof Pieczyński, Szymon Bobrowski, Aleksandra Justa and others
Production: Akson Studio
Co-production: Telewizja Polska, EC1 Łódź – City of Culture, National Audiovisual Institute, Camerimage Film Festival – Tumult Foundation
The film was co-financed by the Polish Film Institute.