Andrzej Wajda's Films in International Film Poster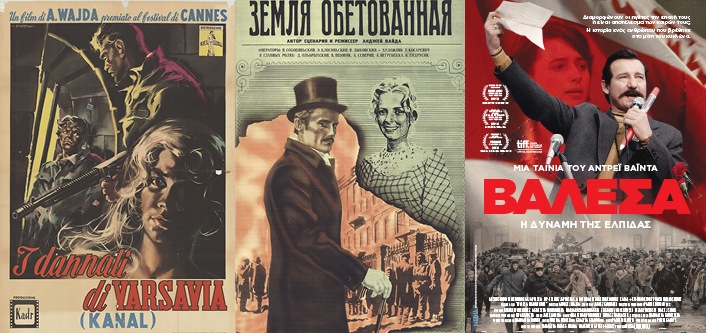 The "Andrzej Wajda's Films in International Film Poster" exhibition, organised by the Film Museum in Łódź, as well as the premiere of a Polish-English album will accompany the 39. Gdynia Film Festival (15-20 September). The Film Museum in Łódź has been gathering archival materials related to the life and work of the Polish artist for years. The abundant archive of the Museum includes the world biggest set of posters connected with Andrzej Wajda's works. The collection includes items printed in very small print runs, coming from various sides of the world, among others, from Japan, Argentina, Germany and France. Many of the posters presented are considered works of art and are made by great artists, Polish and foreign graphic artists (Wiesław Wałkuski, Jakub Erol, Cyprian Kościelniak, Andrzej Pągowski, Marek Freundenreich, Marcin Mroszczak, Rafał Olbiński, Rosław Szaybo, Peter Strausfeld, Alain Lynch, Dominique Guillotin, Otto Kummert, Milan Grygar, Pierre Collier, M. Ogasawar, Erhard Grutter), as well as the representatives of the Polish poster school: Roman Cieślewicz, Wojciech Zamecznik, Wojciech Fangor, Franciszek Starowieyski, Wiktor Górka, Waldemar Świerzy, Jan Lenica.
The exhibition, hosted during the 39. GFF in the Museum of the City of Gdynia, will be accompanied by a special event – a premiere of an album presenting over 420 posters from 36 countries.
The exhibition has been prepared for the occasion of this year's 60. anniversary of the feature film debut of the director – "Pokolenie" ("Generation"). Many partners from all over the world engaged in its implementation, among others: KinoArt Film Association, National Film Archive, Wilanów Poster Museum, Kino RP, Telewizja Kino Polska, SF Kalejdoskop, Hungarian National Digital Archive in Budapest, Narodni filmowy archiv in Prague, British Film Institute in London, Academy of Motion Pictures Arts and Science Margaret Herrick Library in Los Angeles, Filmová galanterie Terryho Ponožky w Pradze, Cinematheque Francais in Paris, the National Film Archive in Tel Aviv as well as numerous galleries and individual collectors – Andrzej Cebula and Pavel Rajcan.
A part of the exhibition was presented for the first time in the National Museum in Krakow during the last Krakow Film Festival. From 15 September to 5 October 2014 it will be available in its full shine in the Museum of the City of Gdynia. "The project was accepted by Andrzej Wajda with great enthusiasm. The director declared his full help at its creation and his substantive supervision," the organizers of the exhibition say.
The official opening of the exhibition will take place on 16 September 2014.
The exhibition keepers: Krystyna Zamysłowska, Piotr Kulesza
Graphic design of the project : Sławomir Bit
The project was implemented from the resources of the Minister of Culture and National Heritage, the Polish Film Institute and the Film Museum in Łódź.
Honorary patronage : Bogdan Borusewicz – the Marshal of the Senate of the Republic of Poland, Bogdan Zdrojewski – the Minister of Culture and National Heritage