Artistic Director of the Polish Film Festival about Green Film Festivals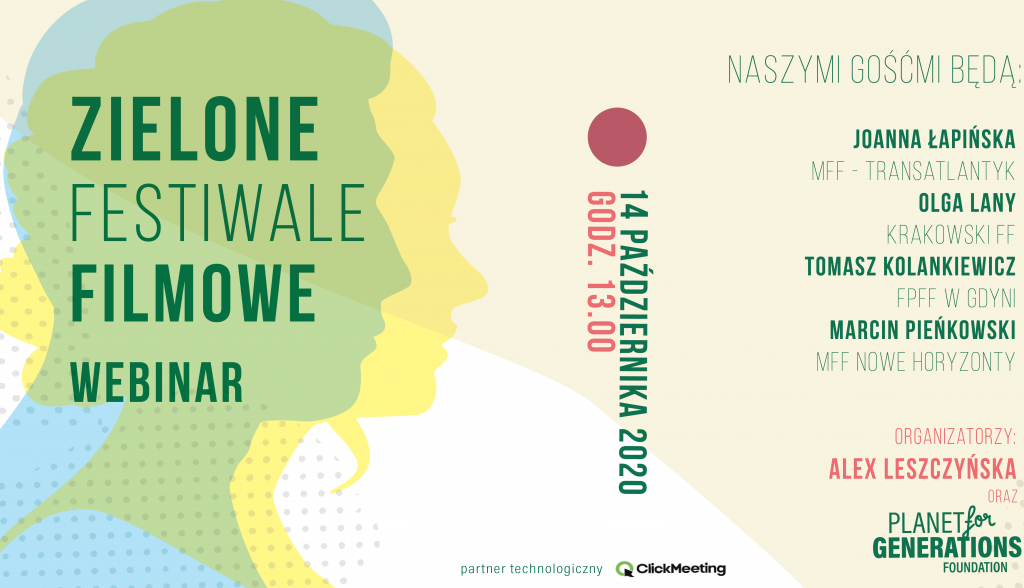 The Green Film Festivals webinar is another event organized by Małgorzata Kiełt from the Planet for Generations foundation in Gdynia, this time in cooperation with the producer and green activist, Aleksandra Leszczyńska. Gosia and Alex join forces to change the Polish audiovisual industry to a greener one. Tomasz Kolankiewicz, Artistic Director of the Polish Film Festival, will take part in the on-line conversation, scheduled for October 14, 2020.
The festivals organized each year are inseparable and extremely important events for the entire film industry, both for authors, producers and the audience. Like any human activity, they have an impact on the natural environment. Preparing the festival involves not only a selection of films and guests, but also a series of logistic, marketing, advertising and financial decisions, which may be more or less eco-friendly. What influences it?
People who have been planning and successfully running subsequent editions of the festivals for years were invited to participate in the event: Joanna Łapińska from Transatlantyk or Marcin Pieńkowski from New Horizons. The group of speakers also included the new Artistic Director of the Polish Film Festival in Gdynia, Tomasz Kolankiewicz, who is in the process of organizing its first edition, and Olga Lany, Krakow Film Festival's spokeswoman.

What are the green challenges facing festival organizers? Is it possible to organize the festival in a sustainable way? To print catalogues or not? Do festivals already use any green solutions? If so, what are they?

The speakers together with the lecturers will look for answers to the above issues on October 14, 2020 at 13:00. The webinar will be available through the Clickmeeting platform, which is the technical patron of the event. The link to the event will be provided before the event.

The title of the webinar: Zielone Festiwal Filmowe (Green Film Festivals)
Dates: October 14, 2020 (Wednesday)
Time: 13.00

Form: each speaker has 10 minutes to speak, after which a moderated discussion will take place + questions from the audience
Duration: 45 minutes + 15 minutes Q&A

Audience: Polish film industry, current and potential sponsors, partners, festival audience.