Books and exhibitions at the 44th Polish Film Festival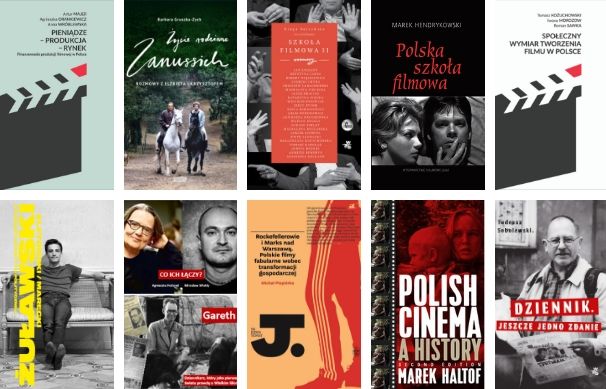 As every year, the Polish Film Festival in Gdynia is an opportunity to present to the readers of the film industry and a wider audience the latest publications devoted to cinematography – the creators and the history and theory of cinema, as well as selected films. There will also be exhibitions on film themes, which can be seen both in festival venues and outdoors.
Author's meetings will take place at the Gdynia Film Center Gallery and in a new place on the festival map: on the Riviera Stage in Riviera Shopping Centre, near the festival Helios Cinema. Admission to all meetings is free. More information about the presented books can be found on the Festival's website: LINK.
"Money – production – market. Film production financing in Poland", Artur Majer, Agnieszka Orankiewicz, Anna Wróblewska
Author's meeting at the GCF Gallery: Tuesday, September 17 at 15.00
"Polish Film School", Marek Hendrykowski
Author's meeting at the GCF Gallery: Tuesday, September 17 at 18.00
"Social aspect of the film creating process in Poland", Tomasz Kożuchowski, Iwona Morozow, Roman Sawka
Author's meeting at the GCF Gallery: Wednesday, September 18 at 15.00
"Zanussi'S family life. Conversations with Krzysztof and Elżbieta", Barbara Gruszka-Zych, Krzysztof Zanussi, Elżbieta Zanussi
Author's meeting at the GCF Gallery: Wednesday, September 18 at 16.30
"A Journal. One more sentence", Tadeusz Sobolewski
Author's meeting at the GCF Gallery: Wednesday, September 18 at 18.00
"Polish Cinema: A History", Marek Haltof
Author's meeting at the GCF Gallery: Thursday, September 19, at 16.30
"Film School 2", Kinga Burzyńska
Author's meeting at the GCF Gallery: Thursday, September 19, at 18.00
"Rockefellers and Marx over Warsaw". Polish feature films towards the economic transformation, Michał Piepiórka
Author's meeting at the GCF Gallery: Friday, September 20, at 16.30
"Gareth Jones. A man who knew too much", Mirosław Wlekły
Author's meeting on Riviera Stage (Riviera Shopping Centre): Monday, September 16, at 18.00

"Żuławski. Shaman", Aleksandra Szarłat
Author's meeting on Riviera Stage (Riviera Shopping Centre): Wednesday, September 18, at 19.00
"Only sadness is beautiful. A Tale of Mieczysław Kosz", Krzysztof Karpiński
Author's meeting on Riviera Stage (Riviera Shopping Centre): Thursday, September 19, at 18.00
"Loving Vincent", Dorota Kobiela, Hugh Welchman
Meeting with directors on Riviera Stage (Riviera Shopping Centre): Thursday, September 19, at 19.00
"Żuławski. Interview", Andrzej Żuławski, Piotr Kletowski, Piotr Marecki
Author's meeting on the Riviera Stage (Riviera Shopping Centre): Friday, September 20, at 18.00
Award ceremony of the Polish Society for Film and Media Studies
Ceremony in the GCF Gallery: Thursday, September 19 at 15.00
For the third time the Polish Film and Media Research Association has awarded its Awards in the Best Book Competition. The winner was Justyna Czaja's book "Ekranowe życie mitu", devoted to the subject of the Warsaw Uprising in the Polish feature film. In the Debut of the Year category, the winner was Barbara Szczekała's book "Mind-game films. Gry z narracją i widzem".
Ten thematic exhibitions and installations will be presented at the 44th Polish Feature Film Festival.
FILM BY GRZEGORZ KRÓLIKIEWICZ
Gallery of the Gdynia Film Centre
Opening: Tuesday, September 17 at 17.00
The exhibition is the first such opportunity to find out about the director's portfolio and an attempt to showcase his distinct artistic personality. The audience can take a look at diverse film set documentation, pieces from private family archives, and audio-visual materials presenting the director's work in the context of his film space theory.

KOMEDA'S TIME. FILM POSTERS EXHIBITION
Musical Theatre New Stage Foyer
To commemorate the 50th anniversary of the composer's premature death, UNESCO has declared 2019 a year of Krzysztof Komeda. The exhibition at the 44th Polish Film Festival in Gdynia features a selection of posters from the vaults of Museum of Cinema in Lodz for films with music composed by Krzysztof Komeda. Thus, the exhibition is also a review of works by prominent poster designers, such as Jan Lenica, Andrzej Pągowski, Rosław Szaybo, Waldemar Świerzy and Jan Młodożeniec.

WARSZAWA CINEMA AND OTHER VENUES THAT TURNED INTO SUPERMARKETS
Gdynia City Museum
Opening: Tuesday, September 17 at 18.00
Thirty years ago, Poland went through a political change. A turn from a centrally planned economy to a free market resulted in a huge socio-economic change. The architecture mirrors needs, habits, hopes and aspirations of people at that time – its change is significant. What does it tell us about ourselves as a society? The second edition of Venues That Turned into Supermarkets tells the history of Warszawa Cinema, a long-closed spot and a cult place for generations of Gdynia citizens.

FILM POSTERS. POLISH FILM INSTITUTE CONTEST EXHIBITION
Foyer of the Musical Theatre, ground floor
Opening: Tuesday, September 17 at 20.30
Film Poster is one of the nine categories in the 12th edition of the Polish Film Institute Awards. The exhibition features all works competing in a PFI contest that aims to popularise artistic film poster and its use in the promotion of Polish cinema as well as endorse artists and creators who contribute to this form of advertising.

FILMMAKERS IN PORTRAIT
Foyer of the Musical Theatre, ground floor
Rafał Placek – a photographer, graduate of the Krzysztof Kieślowski Faculty of Radio and Television of the University of Silesia, invites directors, actresses and actors to join his project. The cycle attempts to capture the atmosphere of a given picture and remodel it through a photographer–director relationship built on a photo set.

HOME CINEMA
Tłok Cafe
Tuesday, September 17 at 19.00
Tłok Café revisits the Festival programme. This year, come and see Home Cinema, a photo exhibition by young artist Kuba Owczarek. His photographs depict us, the audience, in our private screening rooms juxtaposed with related screenshots from famous films. Each situation was double-captured: from the point of view of the audience and the screen. Cinema beyond cinema. That's how we watch films in 2019.

GYMNASIA
Grunwaldzki Square
The 44th Polish Film Festival in Gdynia hosts the Polish premiere of Gymnasia. By entering a pavilion that echoes children's voices humming nursery rhymes, you step into a strange world. The tent changes into a classroom with frolicking puppet children projected on walls by a giant doll. There are familiar wooden school desks. One of them is occupied by a puppet waiting patiently for you to put on goggles and dive into the world of Gymnasia: a dark and mysterious animated daydream in the tone of Kantor's Dead Class, a play that inspired Szczerbowski and Lavis. The abandoned school building brings back childhood memories with picture and sound. Puppet theatre and stop motion animation mix with 3D video transporting the audience back in time.
ELLE CRYSTAL STAR EXIBITION
It's the nineteenth time ELLE, the biggest fashion magazine in the world, provides media sponsorship for the Polish Film Festival in Gdynia. The first ELLE Crystal Star was awarded in 2010. Since then, ELLE has observed how Polish cinema evolves and always supported the change. The exhibition tells a story about the winners of ELLE Crystal Star, photographed by the best Polish collaborators of the magazine, and celebrates ELLE Poland's 25th birthday.


LIGHTSENSITIVE POLAND
Park next to Hotel Mercure Gdynia Centre
As every year, Lightsensitive Poland invites you to its lightsensitive stand to watch the accounts of our film journeys across Poland, to meet filmmakers, talk to the project's initiators and get us invited to where you live. Every visitor will be able to take part in our special actions: Painting with Light and Painting in 3D in VR. Embracing new technologies, we are expanding our renowned action Paint with Light by taking it to the third dimension and virtual reality. This year, apart from the traditional painting with light by means of torches, using special VR goggles and a motion controller, but, above all, your imagination, it will be possible to create colourful compositions in the virtual world.


LEGAL CULTURE
Grunwaldzki Square
We can't imagine our Festival without Legal Culture Foundation, which runs a positive social campaign promoting conscious participation in culture. Traditionally, Legal Culture presents installations in the open air. One of them, dedicated to the winner of this year's Platinum Lions – Krzysztof Zanussi, presents photographs illustrating the winner's work, interesting information about his life and film achievements, and gives legal access to films. A similar installation is dedicated to Ryszard Bugajski, who died in June this year. In addition, three thematic installations are launched: one dedicated to film schools in Poland, the other offering access to musical works, and the third enabling virtual tours of world museums.

The 44th Polish Film Festival will be held on September 16-21, 2019 in Gdynia.
The organizers of the Festival are: Ministry of Culture and National Heritage, Polish Film Institute, Polish Filmmakers Association, Mayor of Gdynia, Marshal of the Pomeranian Voivodeship.
Co-organizers: Polish Television, Adam Mickiewicz Institute, National Center for Culture.
The Main Sponsor of the 44th Polish Film Festival is PKO Bank Polski.
The Strategic Partner is BMG Goworowski Authorized Mercedes-Benz dealer.
Main Partners: PKP Intercity, Dr Irena Eris, Nespresso, Gdynia Culture Center.
Polish Media Patrons: Polish Television, Radiowa Jedynka, Trójka – Program Trzeci Polskiego Radia, Rzeczpospolita, Kino periodical, Filmweb, Onet, ELLE, Gala, Super Express.

Local Media Patrons: Telewizja Gdańsk, Radio Gdańsk, Dziennik Bałtycki, Rzeczpospolita. Życie Regionów, Trojmiasto.pl.
More information: www.festiwalgdynia.pl.