Debate, exhibition and the ELLE Crystal Star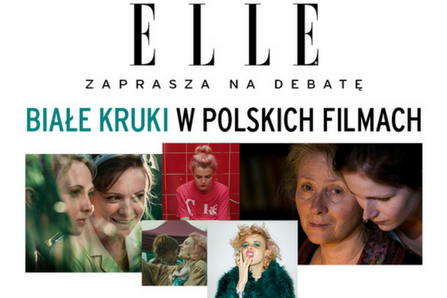 For a 17th time already, the ELLE magazine supports the Polish Film Festival. What will happen in Gdynia this year?
ELLE debates again, this time about the leading female roles in the Polish cinema. How many interesting proposals of female roles are there in the Polish cinematography? Are screenplays with a woman in the leading role interesting for directors and recipients? Which actresses are selected the most often, which role touch and move us? ELLE invites you to a female debate! Together with a group of recognized experts of the world of cinema, we want to initiate discussion on the leading female roles in the Polish cinema. Why are there so few of them? During a special ELLE debate, we will ask female experts related to the film industry about their reflections, observations and conclusions regarding the work of an actress, the position and role of women in the Polish cinematography. Prestigious guests will visit us. The debate "Białe kruki w polskich filmach" will be held on 22nd September 2017, at 2.00 pm, in screening room 8 of the Gdynia Multikino.
"The Birth of Stars" is the title of the outdoor photographic exhibition which will be presented in the Council of Europe Park during the Festival. It will present the effects of a photoshooting session with five young actors who debuted with significant roles on the silver screen. Zofia Domagalik, a student of the Warsaw Theatre Academy, showed up in Cannes this year, where a film with her role by Grzegorz Mołda, a graduate of the Gdynia Film School, "Koniec widzenia", participated in the short film competition. Aleksandra Domańska, although she has participated in many films and series, has played her first big role only recently. It was in Juliusz Machulski's comedy "Volta". Hanna Koczewska has been a successful model for years, and she has debuted on the silver screen in Katarzyna Rosłaniec's film "Satan Said Dance". Robert Gularczyk, an actor of the Helena Modrzejewska Theatre in Legnica, played the very Vincent van Gogh in the film by Dorota Kobiela and Hugh Welchman, "Loving Vincent", which will be distributed in 135 countries. And Julian Świeżewski, an actor of the Warsaw Teatr Powszechny, played in "Reconciliation" by Maciej Sobieszczański, next to Zofia Wichłacz and Jakub Gierszał.

Perhaps it is one of them who will receive the ELLE Crystal Star for the best debut, which will be awarded during the Festival Young Gala on Friday, 22nd September? The award will go to a young talented actor, director or operator whose talent will enchant the editorial the most. This year, the award will be given by the chairwoman of ELLE culture column, Wika Kwiatkowska.