Diamond Lions for the 40th anniversary of the Gdynia Film Festival!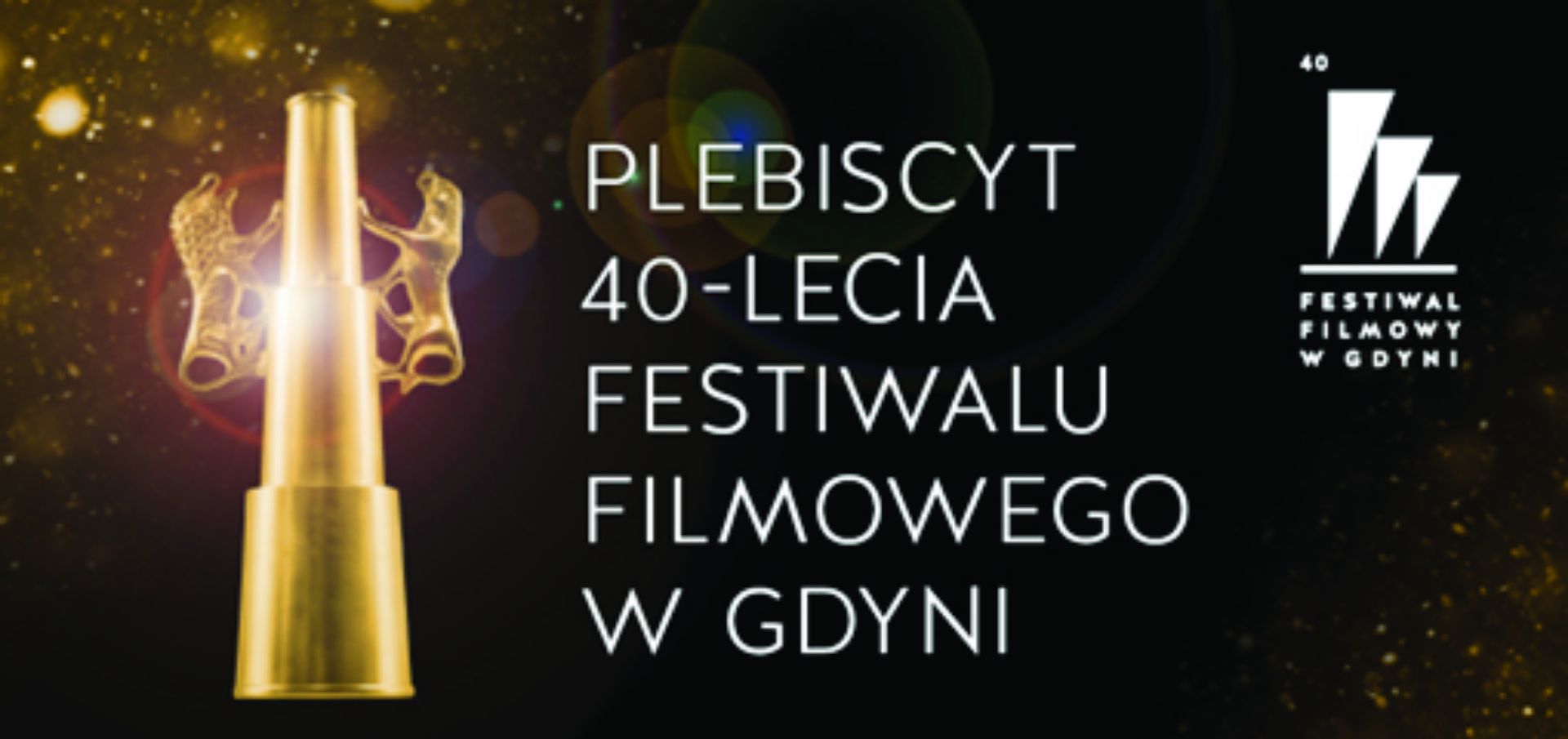 From 14th to 19th September 2015, the 40th Gdynia Film Festival will take place. The Opening Ceremony will be added splendour to by the Diamond Lions awarded by the Polish cinema lovers. The Diamond Lions will be awarded in four categories: for the best film, the best music, the best actress and the best actor. One film or one person from the list of awarded films, actors and composers can be chosen.
The first stage of voting will be held via the ONET portal. You can give your vote on the website:
VOTE IN THE PLEBISCITE OF THE 40TH GDYNIA FILM FESTIVAL
After three nominations in each of the four categories have been selected, the viewers and the Internet users will vote in the second stage, the details of which will be disclosed soon. The winners of the plebiscite – four prizewinners of the Diamond Lions – will be announced on 14th September 2015 during the official Opening Gala of the 40th Gdynia Film Festival. All the living Prizewinners related to the 40-year-long history of the Festival will be invited to the event.
The Artistic Director of the Festival, Michał Oleszczyk, emphasises the solemn character of the plebiscite and of the upcoming jubilee edition of the GFF: "We decided to honour all the Prizewinners of our event, inviting them to the Opening Gala. Each of them contributed to the successes of the Polish cinema and each deserves to feel a part of the great and long-term tradition on 14th September in the Musical Theatre. The Diamond Lions will in turn be given to the favourites of the audience, therefore as soon as now I encourage everyone to vote."
The full list of the nominees for the Diamond Lions:
The Best Film:
"The Deluge", dir. Jerzy Hoffman (1974)
"Nights and Days", dir. Jerzy Antczak (1975)
"The Promised Land", dir. Andrzej Wajda (1975)
"Camouflage", dir. Krzysztof Zanussi (1977)
"Rough Treatment", dir. Andrzej Wajda (1978)
"Passion", dir. Stanisław Różewicz (1978)
"Camera Buff", dir. Krzysztof Kieślowski (1979)
"The Beads of One Rosary", dir. Kazimierz Kutz (1980)
"Fever", dir. Agnieszka Holland (1981)
"The Inn", dir. Jerzy Kawalerowicz (1984)
"Woman in a Hat", dir. Stanisław Różewicz (1985)
"Axiliad", dir. Witold Leszczyński (1986)
"Mother of the Kings", dir. Janusz Zaorski (1987)
"A Short Film about Love", dir. Krzysztof Kieślowski (1988)
"A Short Film about Killing", dir. Krzysztof Kieślowski (1988)
"Escape from the »Liberty« Cinema", dir. Wojciech Marczewski (1990)
"All that Really Matters", dir. Robert Gliński (1992)
"Sequence of Feelings", dir. Radosław Piwowarski (1993)
"Case Pekosinski", dir. Grzegorz Królikiewicz (1993)
"Reverted", dir. Kazimierz Kutz (1994)
"Girl Guide", dir. Juliusz Machulski (1995)
"Love Stories", dir. Jerzy Stuhr (1997)
"History of Cinema in Popielawy", dir. Jan Jakub Kolski (1998)
"The Debt", dir. Krzysztof Krauze (1999)
"Life As a Fatal Sexually Transmitted Disease", dir. Krzysztof Zanussi (2000)
"Hi, Tereska", dir. Robert Gliński (2001)
"Day of the Wacko", dir. Marek Koterski (2002)
"Warsaw", dir. Dariusz Gajewski (2003)
"The Welts", dir. Magdalena Piekorz (2004)
"The Collector", dir. Feliks Falk (2005)
"Saviour Square", dir. Krzysztof Krauze, Joanna Kos-Krauze (2006)
"Tricks", dir. Andrzej Jakimowski (2007)
"Little Moscow", dir. Waldemar Krzystek (2008)
"The Reverse", dir. Borys Lankosz (2009)
"Little Rose", dir. Jan Kidawa-Błoński (2010)
"Essential Killing", dir. Jerzy Skolimowski (2011)
"In Darkness", dir. Agnieszka Holland (2012)
"Ida", dir. Paweł Pawlikowski (2013)
"Gods", dir. Łukasz Palkowski (2014)
The Best Music:
Stanisław Radwan, "Sędziowie" (1974)
Wojciech Kilar, "The Promised Land" (1975)
Wojciech Kilar, "The Quarterly Balance" (1975)
Piotr Figiel, "Foul Play" (1976)
Andrzej Korzyński, "Czerwone ciernie" (1977)
Wojciech Kilar, "Spiral" (1978)
Andrzej Kurylewicz, "Lekcja martwego języka" (1979)
Zbigniew Raj, "In an Old Manor House or The Independence of Triangles" (1984)
Henryk Kuźniak – "Point of No Return" (1985)
Henryk Kuźniak, "Woman from the Provinces" (1985)
Jerzy Maksymiuk, "Memoirs of a Sinner" (1986)
Jerzy Matuszkiewicz, "The Faithful River" (1987)
Jerzy Satanowski, "Upstairs, Downstairs" (1988)
Zygmunt Konieczny, "Escape from the »Liberty« Cinema" (1990)
Zygmunt Konieczny, "Lava" (1990)
Zygmunt Konieczny, "Burial of a Potato" (1990)
Tadeusz Nalepa, "Death of a Childmaker" (1990)
Michał Lorenc, "Pigs" (1992)
Tomasz Stańko, "Farewell to Maria" (1993)
Mateusz Pospieszalski, "Hot Thursday" (1994)
Jan Kanty Pawluśkiewicz, "Reverted" (1994)
Michał Lorenc, "Provocateur" (1995)
Jerzy Satanowski, "The Spindle of Time" (1995)
Marcin Pospieszalski i Tomasz Lipiński, "Bitter-Sweet" (1996)
Michał Lorenc, "Bastard" (1997)
Marek Kuczyński, "Other People's Happiness" (1998)
Michał Urbaniak, "The Debt" (1999)
Abel Korzeniowski, "The Big Animal" (2000)
Michał Lorenc, "The Spring to Come" (2001)
Michał Urbaniak, "Eden" (2002)
Zygmunt Konieczny, "Pornography" (2003)
Paweł Mykietyn, "Stranger" (2004)
Michael Nyman, "I Am" (2005)
Paweł Szymański, "The Saviour's Square" (2006)
Michał Lorenc, "All Will Be Well" (2007)
Paweł Mykietyn, "33 Scenes from Life" (2008)
Włodek Pawlik, "The Reverse" (2009)
Paweł Mykietyn, "Trick" (2010)
Paweł Mykietyn, "Essential Killing" (2011)
Piotr Dziubek, "Crulic – The Path to Beyond" (2012)
Jan Kanty Pawluśkiewicz, "Doll" (2013)
Mikołaj Trzaska, "The Mighty Angel" (2014)
The Best Actor:
Daniel Olbrychski, "The Deluge" (1974)
Henryk Bąk, "Uszczelka" (1974)
Jerzy Bińczycki, "Nights and Days" (1975)
Wojciech Pszoniak, "The Promised Land" (1975)
Roman Wilhelmi, "Hotel Pacific" (1975)
Krzysztof Majchrzak, "Koniec babiego lata" (1975)
Aleksandr Kalyagin, "Yaroslav Dombrovskiy" (1976)
Andrzej Kopiczyński, "I'm a Butterfly" (1976)
Zdzisław Kozień, "Convicted" (1976)
Franciszek Pieczka, "The Scar" (1976)
Franciszek Trzeciak, "Rounders" (1976)
Zbigniew Zapasiewicz, "Camouflage" (1977)
Janusz Gajos, "Millionaire" (1977)
Krzysztof Janczar, "Nie zaznasz spokoju" (1978)
Jerzy Stuhr, "Camera Buff" (1978)
Jerzy Stuhr, "Chance" (1978)
Roman Wilhelmi, "The Moth" (1980)
Michał Bajor, "In Broad Daylight" (1980)
Bogusław Linda, "Fever" (1980)
Krzysztof Zaleski, an honorary disctinction (1980)
Janusz Gajos, "The Pendulum" (1981)
Władysław Kowalski, "Kartki z podróży" (1984)
Jan Jankowski, "Alone Among His Own" (1985)
Krzysztof Pieczyński, "Wielki brzeg" (1986)
Krzysztof Pieczyński, "Lake of Constance" (1986)
Bogusław Linda, "The Magnate" (1987)
Bogusław Linda, "A Woman Alone" (1988)
Bogusław Linda, "Blind Chance" (1987)
Janusz Gajos, "Interrogation" (1990)
Janusz Gajos, "Escape from the "Liberty" Cinema" (1990)
Bogusław Linda, "Kroll" (1991)
Bogusław Linda, "The Scroundel" (1991)
Bogusław Linda, "In flagranti" (1991)
Bogusław Linda, "Pigs" (1992)
Franciszek Pieczka, "Johnie the Aquarius" (1993)
Bogusław Linda, "The Daddy" (1995)
Krzysztof Majchrzak, "History of Cinema in Popielawy" (1998)
Adam Ferency, "The Scroundel" (1991)
Zbigniew Zamachowski, "Reverted" (1994)
Marek Kondrat, "Colonel Kwiatkowski" (1995)
Jerzy Kamas, "A Gutter" (1996)
Til Schweiger, "Bastard" (1997)
Zbigniew Zapasiewicz, "Life As a Fatal Sexually Transmitted Disease" (2000)
Krzysztof Pieczyński, "Heaven Comes Tomorrow" (2001)
Marek Kondrat, "Day of the Wacko" (2002)
Andrzej Chyra, "The Debt" (1999)
Krzysztof Majchrzak, "Pornography" (2003)
Marian Dziędziel, "The Wedding" (2004)
Krzysztof Globisz, "Holiday Weekend" (2004)
Zbigniew Zamachowski, "Came the Uhlans…" (2006)
Andrzej Chyra, "The Collector" (2006)
Robert Więckiewicz, "All Will Be Well" (2007)
Robert Więckiewicz, "The State Witness" (2007)
Jan Nowicki, "Before the Twilight" (2008)
Borys Szyc, "Snow White and Russian Red" (2009)
Tomasz Schuchardt, "The Christiening" (2010)
Wojciech Zieliński, "The Christiening" (2010)
Marcin Dorociński, "Rose" (2011)
Robert Więckiewicz, "In Darkness" (2012)
Andrzej Chyra, "In the Name of…" (2013)
Tomasz Kot, "Gods" (2014)
The Best Actress
Ludmiła Kasatkina, "Remember Your Name" (1974)
Małgorzata Pritulak, "Her Portrait" (1974)
Małgorzata Pritulak, "Give Us This Day Our Daily Bread" (1974)
Jadwiga Barańska, "Nights and Days" (1975)
Maja Komorowska, "The Quarterly Balance" (1975)
Zofia Jaroszewska, "Dom moich synów" (1975)
Jadwiga Jankowska-Cieślak, "Face to Face" (1977)
Halina Łabonarska, "Provincial Actors" (1979)
Dorota Stalińska, "Without Love" (1980)
Mirosława Marcheluk, "The Pendulum" (1981)
Teresa Marczewska, "Shivers" (1981)
Dorota Stalińska, "The Scream" (1984)
Ewa Błaszczyk, "Custody" (1985)
Ewa Wiśniewska, "The Stranger" (1986)
Maja Komorowska, "At Full Gallop" (1996)
Magda Teresa Wójcik, "Mother of the Kings" (1987)
Maria Chwalibóg, "A Woman Alone" (1988)
Grażyna Szapołowska, "A Short Film About Love" (1988)
Karolina Czernicka, "Men's Business" (1989)
Krystyna Janda, "Interrogation" (1990)
Ryszarda Hanin, "Still Only That Forest" (1991)
Teresa Budzisz-Krzyżanowska, "Departure" (1992)
Anna Dymna, "Nothing But Fear" (1993)
Grażyna Błęcka-Kolska, "Miraculous Place" (1994)
Stanisława Celińska, "The List of Adulteresses" (1994)
Magdalena Cielecka, "Temptation" (1995)
Jadwiga Jankowska-Cieślak, "A Summon" (1997)
Maja Ostaszewska, "Shelter" (1998)
Katarzyna Figura, "Love ya" (1999)
Maja Ostaszewska, "I'm Looking at You, Mary" (2000)
Maja Ostaszewska, "The Primate" (2000)
Ewa Kasprzyk, "Bellissima" (2001)
Kinga Preis, "Silence" (2001)
Katarzyna Figura, "Ubu, the King" (2003)
Krystyna Feldman, "My Nikifor" (2004)
Krystyna Janda, "Several People, Little Time" (2005)
Karolina Gruszka, "The Lovers of Marona" (2005)
Jowita Budnik, "The Saviour Square" (2006)
Danuta Szaflarska, "Time to Die" (2007)
Swietłana Chodczenkowa, "Little Moscow" (2008)
Agata Buzek, "The Reverse" (2009)
Magdalena Boczarska, "Little Rose" (2010)
Roma Gąsiorowska, "My Name is Ki" (2011)
Agnieszka Grochowska, "In Darkness" (2012)
Agata Kulesza, "Ida" (2013)
Zofia Wichłacz, "Warsaw 44" (2014)