Festival volunteer recruitment has started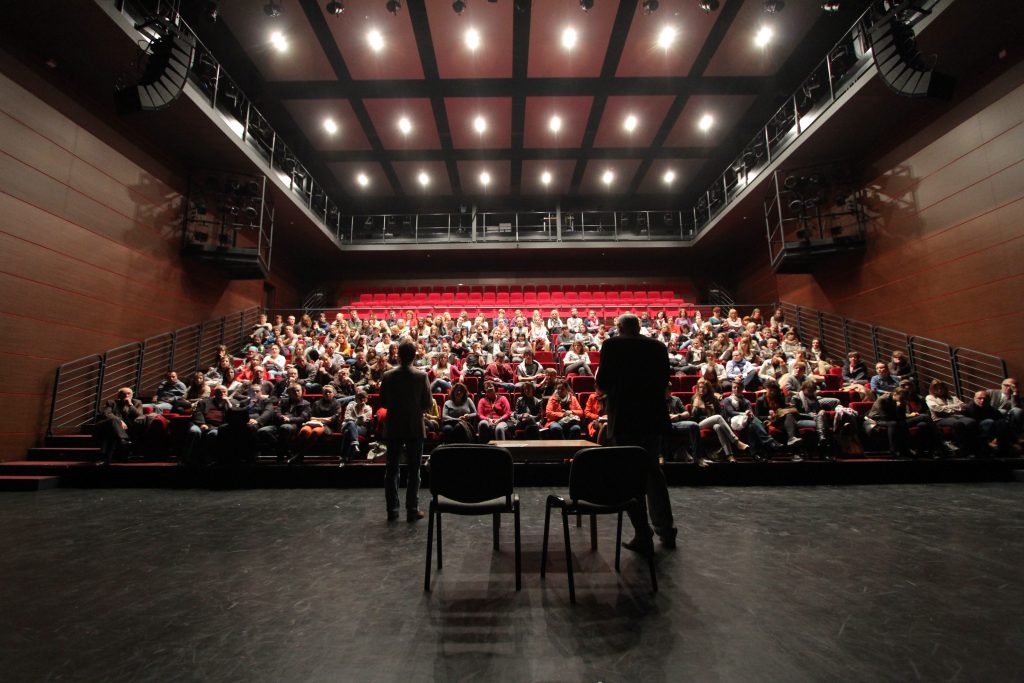 POMERANIAN FILM FOUNDATION IN GDYNIA
ORGANIZER
IS LOOKING FOR
VOLUNTEERS
We are looking for individuals willing to work at the Festival and participate in its organization.
We are currently recruiting for the following departments:
POLISH GUESTS SERVICE
FOREIGN GUESTS SERVICE
PRESS OFFICE
FESTIVAL NEWSPAPER
Gdynia Film Festival stands for more than 120 films, over 20 accompanying events in several festival venues, almost 50,000 viewers and a wide variety of interesting challenges! You are not required to be a film fan – we need all kinds of enthusiasts at the festival. We will definitely employ your strengths!
POLISH GUESTS SERVICE
Work in this department is one of the most pleasant but also most demanding tasks at the Festival. Film crew service, assisting the greatest Polish filmmakers and full participation in the team's current tasks as well as viewer service and active cooperation with other departments – these are just some of the challenges Polish Guests Office volunteers face every year.
FOREIGN GUESTS SERVICE
Volunteer work in the Foreign Guests Office includes such tasks as assisting groups of foreign guests, organization of their time and providing help in all current problems, conducting administrative and organization procedures as well as contacting guests regarding their stay at the Festival, accommodation or transport. Volunteers cooperate actively with the International Department team and other departments of the Festival.

PRESS OFFICE
Volunteers of the Press Office do not only support journalists' work but they also have an opportunity to gain an insight into reporter's work. Apart from distribution of press materials and helping during lectures, conferences, etc., volunteers independently describe the most important festival events. This is a real reporter's school in which you can polish your journalistic skills!
FESTIVAL NEWSPAPER
Volunteer work in the Festival Newspaper department includes writing reports on meetings and festival events as well as interviewing festival participants and guests. Moreover, volunteers participate in printing and distribution of the Festival Newspaper.
If you are:
• flexible,
• responsible,
• resourceful,
• sociable,
• a team player,
fill out the application form and send it to the Pomeranian Film Foundation in Gdynia:
by fax (+48 58 621 15 78); email (wolontariat@festiwalgdynia.pl) or by post (81-553 Gdynia; ul. Wrocławska 93) until 30 June 2013.
Volunteer work during Gdynia Film Festival is an activity suitable for everyone who enjoys extraordinary challenges, who is not afraid of working in several festival venues in flexible working hours scheme – sometimes until late evening.
In return for you active participation for the period of the event and attendance at obligatory meetings before the festival, we will provide you with memorable and unique experience which will become your future asset!
Apart from the opportunity of gaining experience, meeting many interesting people, having an incredible adventure and experiencing the biggest film festival in Poland from the inside, we also provide our volunteers with:
– tickets for festival screenings,
– festival gadgets,
– references and volunteer certificates with the superior's opinion.

We reserve the right to reply to selected applications only.