Film music, and not only that, at the 43rd PFF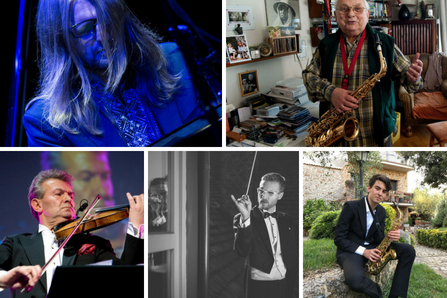 During the 43rd Polish Film Festival, next to numerous film screenings, unusual musical events will be held. Top Polish jazz musicians will pay tribute to Jerzy Duduś Matuszkiewicz on the 90th birthday of the artist. Leszek Możdżer will come to Gdynia with his own recital. Vadim Brodski, a master of the violin, accompanied by Capella Gedanensis, will perform the hits of pop music. And L.U.C., together with an international band Rebel Babel Ensemble, will perform their "100 years of film music" programme.
THANK YOU FOR THE MUSIC! TO DUDUŚ WITH THANKS FROM THE YOUNG WAVE
A living legend of Polish jazz, also known as the lion of the saxophone, or—simply—a jazzman and a film score composer. Jerzy 'Duduś' Matuszkiewicz is celebrating his ninetieth this year, and we have decided to mark the occasion with a unique concert to be held at the GSF and Wajda School's banquet at this year's edition of PFFF.
What would we make of Yanosik, A Forty-Year-Old, How I Unleashed World War II, or 4 Alternatywy but for Jerzy 'Duduś' Matuszkiewicz's score? A sax player, and—with Krzysztof Komeda—a co-founder of Melomani, a band, has been one of the most popular and successful score writer, with a total catch of films and TV series in his bag stretching beyond 200. It was also 'Duduś' who wrote the music for such evergreens as Czterdzieści lat minęło, Jeszcze w zielone gramy, Nie bądź taki szybki Bill or Wojna domowa. He has been known for years for his ability to blend "chartworthiness" with the riches of music written to illustrate films, which mustn't go unnoticed at the festival of the Polish film in Gdynia. What really comes to the fore, however, is the fact that he has written so many fantastic pieces, and his works are household names with the older and younger generations.
That is why we say "Thank You for the Music! To Duduś with Thanks from the Young Wave" and invite you to join as at the film school night, whose point of departure is the body of work of the eminent jazzman and score writer. Just on this occasion, our invitation to join forces with us in celebrations was accepted by the following goliaths of the Polish jazz scene: Jan "Ptaszyn" Wróblewski (saxophones), Zbigniew Namysłowski (saxophones), Przemek Dyakowski (saxophones, host), Wojciech Karolak (organ), Piotr Lemańczyk (double bass), Marcin Wądołowski (guitars, vocals), Adam Czerwiński (percussion, music direction), Sonia Bohosiewicz (vocals), Joanna Knitter (vocals), L.U.C. (vocals, rapping, electronics), Vadim Brodski (violin), DJ J and invited guests.
The concert takes place on Thursday, 20 September, as part of the film schools banquet, the latter an annual event at PFFF. The organisers are: GSF and Wajda School. The event is by invitation only, yet a limited pool of those is available to the general public at the festival box office.
LESZEK MOŻDŻER
A yet another opportunity to see and hear Leszek Możdżer deliver a piano programme at PFFF in Gdynia. The artist has won a number of accolades and prizes, including Ad Astra, awarded by the Minister of Culture and National Heritage, Fryderyk, awarded by the Polish music industry, and Polityka's Passport, bestowed by an opinion weekly. He has also been awarded a number of further accolades in popular opinion polls and music competitions, including Jazz Juniors, Jazz Melody Men, Jazz Oscars, or Jazz Forum—a bimonthly—awards. He has been collaborating for years with leading film score writers, Jan A.P. Kaczmarek and Zbigniew Preisner to name but a few. As a soloist, band member or a sideman, he has had his hand in more than 80 studio albums, and toured the world far and wide, calling at the US, Brazil, Argentina, and Canada. He has worked with such performers and groups as Marcus Miller, Wojciech Pilichowski, David Gilmour, Jacek Olter, Zbigniew Namysłowski, Lester Bowie, Adam Pierończyk, Kazik Staszewski, Michał Urbaniak, Tomasz Stańko, Anna Maria Jopek, Pat Metheny, L.U.C., and many others.
On Friday, 21 September 2018, the New Stage of the Music Theatre plays host to the artist's rendition of a specially prepared programme. The concert starts immediately after the Youth Gala and admission is by a separate invitation only.

VADIM BRODSKI AND CAPPELLA GEDANENSIS
Vadim Brodski, a virtuoso violinist, performs at the Witold Gombrowicz Municipal Theatre in Gdynia on Thursday, 20 September 2018 at 19:00. He will be joined by Capella Gedanensis, a vocal and instrumental outfit from Gdańsk. As a special, marking the centenary of Poland regaining independence, the audience will be treated to the artist's renditions of a variety of the polonaise.
Moreover, the artists promise to present a cross-epoch section of popular music. Some of the truly famous music pieces will include Sarsate's Gypsy Airs, Massenet's Meditation, and Saint-Saëns's Rondo Capriccioso. You will also have an opportunity to listen to some renditions of music by Phil Woods, Walter Murphy, all of which will be performed with a band or with the virtuoso's son, a saxophonist.

Vadim Brodski was born in 1950. He is a descendant of the fabulous Adolf Brodski, the premiere performer of Pyotr Tchaikovsky's Violin Concerto. As a mere 11-year-old, he performed as a soloist in a concert with Kiev Philharmonic Orchestra, and played a Dmitry Kabalevsky's concerto under the baton of the composer himself. In the late 1970s, Mr Brodski moved to Warsaw, and as of 1986 he made Rome his home. He won first prizes in all the international violinist competitions he has entered, including the 1977 edition of Henryk Wieniawski Violin Competition.