From "The Deluge" to "Ida": the winners of the online Festival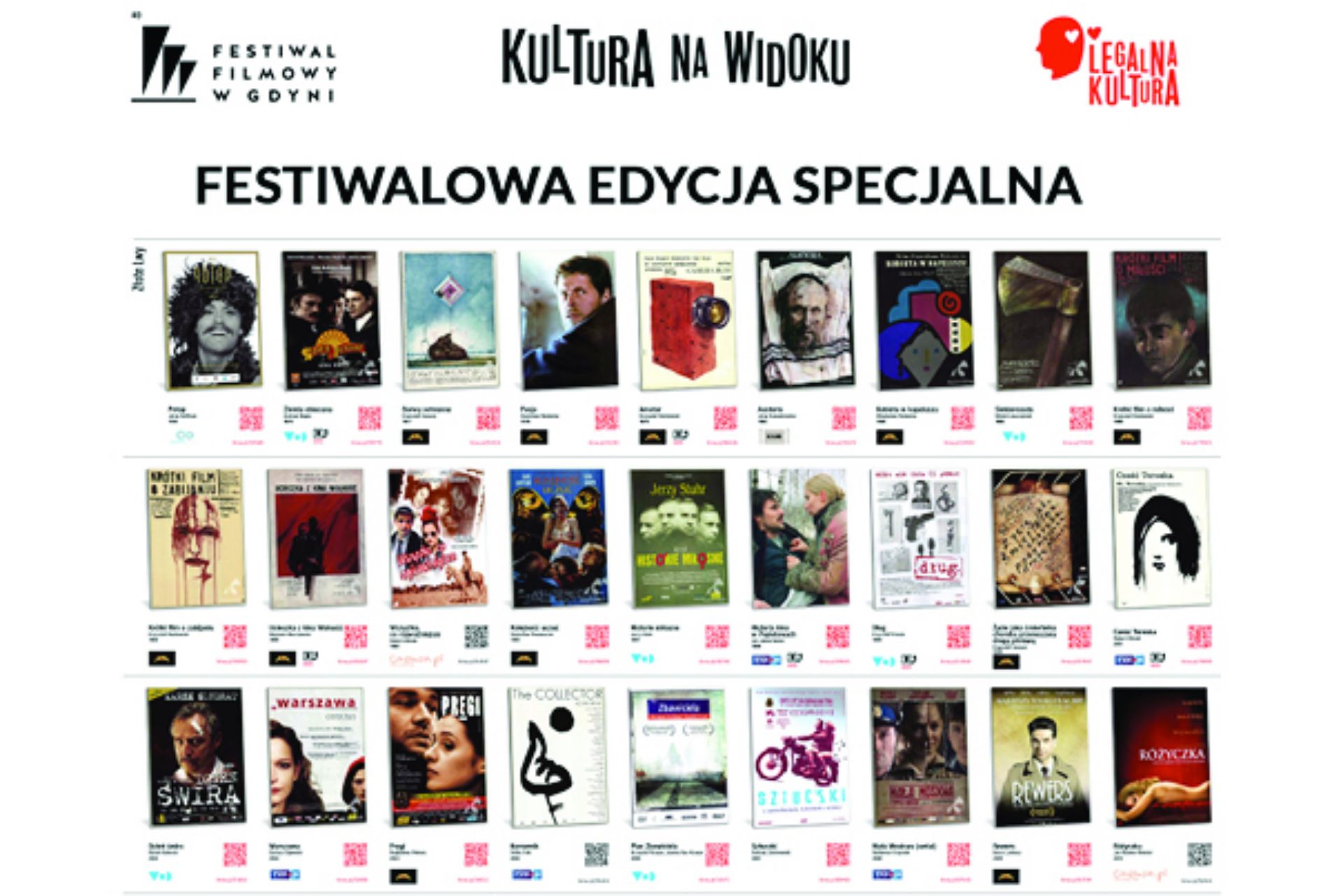 Films, music, books and archive materials just for the asking. More than 900 digital titles will wait on the installation Culture On View opposite the Musical Theatre. Among them, the installation FILM – the special edition presenting the Festival winners!
Celebrating the jubilee of the Gdynia Film Festival, Legal Culture brings back the winners of all 40 editions by making their works available. The project Culture On View will open access to over 100 films online. On a special bookcase you can find feature films raging from the first Festival winner "The Deluge" directed by Jerzy Hoffman to 2013 "The Golden Lions" holder "Ida" by Paweł Pawlikowski. The complete collection includes the winning titles of The Young Cinema Competition and representatives of Polish classics.
Most of the films from the jubilee edition are free and available (as all the materials on the installation) both through links or QR codes and on the web page kulturanawidoku.pl for the internet users throughout the country.
We invite you to enter this extraordinary film time machine which allows many of us re-experience the magic of Polish cinema and makes it easier for the youth to discover the icons of Polish cinematography.
The list of films:
"The Deluge", dir. Jerzy Hoffman, 1974
"The Promised Land", dir. Andrzej Wajda, 1975
"Camouflage", dir. Krzysztof Zanussi, 1977
"Passion", dir. Stanisław Różewicz, 1978
"Camera Buff", dir. Krzysztof Kieślowski, 1979
"Austeria", dir. Jerzy Kawalerowicz, 1984
"Woman in a Hat", dir. Władysław Różewicz, 1985
"Siekierezada", dir. Witold Leszczyński, 1986
"A Short Film about Love", dir. Krzysztof Kieślowski, 1988
"A Short Film About Killing", dir. Krzysztof Kieślowski, 1988
"Escape from the Liberty Cinema", dir. Wojciech Marczewski, 1990
"All That Really Matters", dir. Robert Gliński, 1992
"Sequence of Feelings", dir. Radosław Piwowarski, 1993
"Love stories", dir. Jerzy Stuhr, 1997
"History of Cinema in Popielawy", dir. Jan Jakub Kolski, 1998
"Debt", dir. Krzysztof Krauze, 1999
"Life as a Fatal Sexually Transmitted Disease", dir. Krzysztof Zanussi, 2000
"Hi, Tereska", dir. Robert Gliński, 2001
"Day of the Wacko", dir. Marek Koterski, 2002
"Warsaw", dir. Dariusz Gajewski, 2003
"The Welts", dir. Magdalena Piekorz, 2004
"The Collector", dir. Feliks Falk, 2005
"Saviour Square", dir. Krzysztof Krauze, Joanna Kos-Krauze, 2006
"Tricks", dir. Andrzej Jakimowski, 2007
"Little Moscow" – serial, dir. Waldemar Krzystek, 2008
"The Reverse", dir. Borys Lankosz, 2009
"Little Rose", dir. Jan Kidawa Błoński, 2010
"Essential Killing", dir. Jerzy Skolimowski, 2011
"In Darkness", dir. Agnieszka Holland, 2012
"Ida", dir. Paweł Pawlikowski, 2013
"Hardkor Disko", dir. Krzysztof Skonieczny, 2014
"Jack Strong", dir. Własdysław Pasikowski, 2014
"Warsaw 44", dir. Jan Komasa, 2014
"The Mighty Angel", dir. Wojciech Smarzowski, 2014
"Bejbi blues", dir. Katarzyna Rosłaniec, 2013
"Life Feels Good", dir. Maciej Pieprzyca, 2013
"In the name of…", dir. Małgorzata Szumowska, 2013
"Crulic – the Path to Beyond", dir. Anca Damian, 2012
"You are God", dir. Leszek Dawid, 2012
"Manhunt", dir. Marcin Krzyształowicz, 2012
"Black Thursday", dir. Antoni Krauze, 2011
"The Mole", dir. Rafael Lewandowski, 2011
"Fear of Falling", dir. Bartosz Konopka, 2011
"The Mill and the Cross", dir. Lech Majewski, 2011
"Rose", dir. Wojciech Smarzowski, 2011
"Courage", dir. Greg Zgliński, 2011
"The Christening", dir. Marcin Wrona, 2010
"Erratum", dir. Marek Lechki, 2010
"The Dark House", dir. Wojtek Smarzowski, 2009
"Mall Girls", dir. Katarzyna Rosłaniec, 2009
"Snow White and Russian Red", dir. Xawery Żuławski, 2009
"All That I Love", dir. Jacek Boruch, 2009
"33 Scenes from life", dir. Małgorzata Szumowska, 2008
"The Offsiders", dir. Kasia Adamik, 2008
"Splinters", dir. Maciej Pieprzyca, 2008
"Before Twilight", dir. Jacek Bławut, 2008
"Twists of Fate", dir. Jerzy Stuhr, 2007
"Time to Die", dir. Dorota Kędzierzawska, 2007
"Preserve", dir. Łukasz Palkowski, 2007
"What the Sun Has Seen?", dir. Michał Rosa, 2006
"Extras", dir. Michał Kwieciński, 2006
"We Are All Christs", dir. Marek Koterski, 2006
"Persona non grata", dir. Krzysztof Zanussi, 2005
"My Nikifor", dir. Krzysztof Krauze, 2004
"Down the Colourful Hill", dir. Przemysław Wojcieszek, 2004
"The Wedding", dir. Wojciech Smarzowski, 2004
"Squint Your Eyes", dir. Andrzej Jakimowski, 2003
"Bellissima", dir. Artur Urbański, 2001
"Requiem", dir. Witold Leszczyński, 2001
"I'm Looking at You, Mary", dir. Łukasz Barczyk, 2000
"The Yellow Scarf", dir. Janusz Morgenstern, 2000
"One Week from a Man's Life", dir. Jerzy Stuhr, 1999
"Amok", dir. Natalia Koryncka-Gruz, 1998
"Snug as a Bug in a Rug", dir. Jacek Bromski, 1998
"In Full Gallop", dir. Krzysztof Zanussi, 1996
"Kroll", dir. Władysław Pasikowski, 1991
"300 Miles to Heaven", dir. Maciej Dejczer, 1990
"Interrogation ", dir. Ryszard Bugajski, 1990
"Fellow Citizen Piszczyk", dir. Andrzej Kotkowski, 1988
"The Young Magician", dir. Waldemar Dziki, 1987
"Magnat", dir. Filip Bajon, 1987
"Blind Chance", dir. Krzysztof Kieślowski, 1987
"Hero of the Year", dir. Feliks Falk, 1986
"Konopielka", dir. Witold Leszczyński, 1984
"Shivers", dir. Wojciech Marczewski, 1981
"The Sinful Life of Franciszek Bula", dir. Janusz Kidawa, 1980
"Inspection of the Crime Scene 1901", dir. Filip Bajon, 1980
"Coup d'État", dir. Ryszard Filipski, 1980
"Operation Arsenal", dir. Jan Łomnicki, 1978
"Death of a President", dir. Jerzy Kawalerowicz, 1977
"What It's Like to Be My Mother ", dir. Norah McGettigan, 2007
"Three for Sale", dir. Bartosz Konopka, 2008
"Aria Diva", dir. Agnieszka Smoczyńska, 2008
"Echo", dir. Magnus von Horn, 2009
"Don't Be Afraid of the Dark Room", dir. Kuba Czekaj, 2009
"Mazurek", dir. Julia Kolberger, 2013
"Mother", dir. Łukasz Ostolski, 2013
"Brotherdog", dir. Maria Zbąska, 2013