GDYNIA FALLS IN LOVE WITH POLO!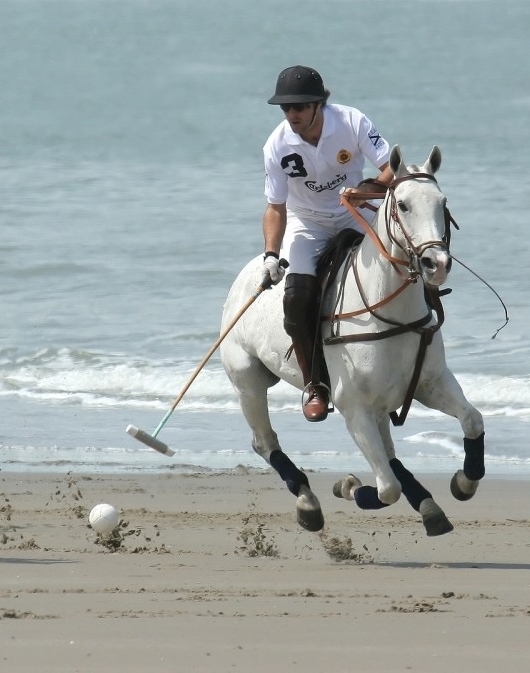 It will be the first Polo match on the beach of philantropic character in Poland. The date of the match – May 12 – is not chosen randomly. It is the last day of the
37th Gdynia Film Festival
, and the match is going to be its accompanying event. –
Our plans evoke positive reactions. We expect that many guests from business environment and – owing to our cooperation with the Festival – also many Polish cinema stars will attend the match. Above all, we are looking forward for the horse lovers to come
– said Filip Gołębiewski, the main organizer of the event and the president of the AnimalPro Foundation in Gdynia.
The Foundation specializes in arranging equestrian sports both for able-bodied and disabled people. Filip Gołębiewski is also the founder of Baltic Yacht & Polo Club. The polo pitch is being built next to Foundation's stables and golf driving range of Golf Park in Gdynia. The club and foundation both have also ambitious out of sports aims. AnimalPro concentrates also on curing young and older inhabitants of Gdynia. Therefore, the slogan of the first edition of Gdynia Beach Polo Cup will be "We are playing for hippotherapy". – The match will serve to collect funds for the gratuitous activity of the Foundation, especially for the hippotherapy of disabled people. Believing in a successful realization of the planned event, I would like to recommend the activity of the AnimalPro Foundation – said Michał Guć, the vice-president of Gdynia, emphasizing the support given to the event by the city of Gdynia.
A passionate polo player, Winston Churchill, stated that the game consitutes a passport to the world. The organizers emphasize that they intend to organize polo tournaments in Gdynia periodically. Matches may be played on the beach, grass pitch or even snow, which is proved by matches successfully played in Zakopane.
In Poland there have existed 6 polo clubs. Representatives of those clubs are going to promote their beloved sport. The basic rules of polo are simple. Two teams of horse riders compete on the basis of the code of honour. On a so called arena they try to score a goal with the use of special stick called mallet. A match consists of 4 parts called chukkers, each of them lasting 6 minutes 30 seconds. During this time a horse can use its speed and manoeuvrability to the maximum without any risk. Every minute above that period is too tiresome for the animal. During the match players change horses, therefore one player should have at least 2, and preferably 4 horses.
In less than one month everybody who comes to the beach in Gdynia will have a chance to see how spectacular sport it is and why Gdynia is an excellent place to play it. Additionally, there will be a possibility to support the AnimalPro Foundation and get to know more about hippotherapy. Just to remind you – it is hippotherapy we are playing polo for!

CONTACT
Filip Gołębiewski
515 317 988
klub@balticpolo.pl
Baltic Yacht & Polo Club
ul. Ruchu Oporu 11
81-474 Gdynia