Gdynia Industry: summary of the 1st day | 13th September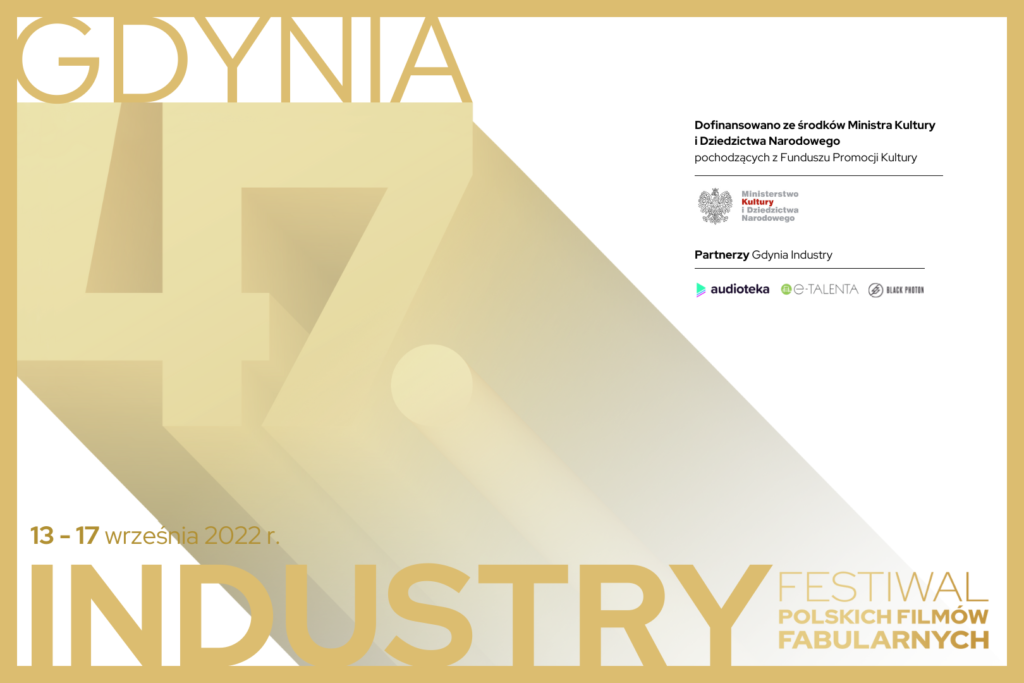 The Magic of Casting and its Disenchantment
The first day of the Gdynia Industry events was dedicated to casting, i.e. casting, its process and the myths that have grown up around it. The main protagonists of the talk were casting directors – the artists involved in creating the human landscape in film
For years, representatives of this profession have been fighting for its visibility and the recognition of their creative contribution to filmmaking. In June this year, the Polish Casting Directors Guild was established, and currently has 12 members, as Ewa Brodzka, its president, announced at the event. During the 47th Gdynia Film Festival, the Best Casting Award will be presented for the first time by the jury on Friday the 16th of September at the so-called Small Gala. In 2021, for the first time a casting director was awarded at the festival – the award for lifetime achievement went to Violetta Buhl.
How important it is for the industry not only to make the profession of casting directors more visible, but also to know more about the casting process itself, was demonstrated by the high attendance at the panel held at hotel Gdynia on the 13th of September. In fact, Tomasz Kolankiewicz, the festival's artistic director, greeted the event's guests with this observation. Partners of the meeting were; the Polish Casting Directors Guild and e-TALENTA, a European casting platform, whose representative Barbara Kowalski spoke at the beginning, encouraging the audience to use this specialised tool.
Representatives of various film professions talked about the details and creative aspect of the casting process during two panel discussions. Both discussions were moderated by film journalist Katarzyna Borowiecka.
The creative dimension of the work of casting directors
The first discussion was attended by casting director Julia Popkiewicz, producer Aneta Hickinbotham, actress Jowita Budnik, who has also worked as an actor's agent in the past and co-managed the casting process, and director Xawery Żuławski as well as the actor playing the lead in his new film Apokawixa, Mikołaj Kubacki. The topic of discussion was 'the creative dimension of the work of casting directors'.
Julia Popkiewicz pointed out that her work begins much earlier than during casting in front of the camera in the studio – it consists of inventing and proposing the cast on the basis of reading the script; she emphasised that the role of the casting director varies depending on the project, as it happens that the main director prepares the film or writes the script for a particular actor or actress. Aneta Hickinbotham referred as an example to Dark, Almost Night, produced by Aurum Film, which Borys Lankosz was preparing with Magdalena Cielecka in mind. But even when the lead role is cast, there is still room for work for the casting director – the remaining 'constellation' of actors needs to be created, as Julia Popkiewicz emphasised. Aneta Hickinbotham even added that she doesn't believe it's possible to complete a cast without a casting director or director. "Without good casting, you don't have good material," she admitted, and emphasised what a great job the casting professionals also did on two series produced by Aurum for Canal+ – The King and Minute of Silence. A telling indicator of the quality of the casting was that none of the casting proposals were challenged by the station.
The producer values the creative aspect of choosing actors – "I love it when a casting director shows me someone in a new light". She also emphasised how important it is for her to be independent in the final selection of the cast – when The Last Family was being made, she and Leszek Bodziak insisted that Zosia Beksińska be played by Aleksandra Konieczna, which not only resulted in an acting award at the Gdynia Festival, but also boosted the actress' career. Sometimes, added Aneta Hickinbotham, one waits until a role is found for a talented actor or actress – the casting process also serves as a way for her to look more closely at artists and offer them a role… in a completely different film. This is exactly what happened to Jowita Budnik – she was not chosen for the role she was auditioning for, because the production was looking for a 7-year-old and the actress was 4 years older at the time, but she got another proposal and so made her big screen debut (in Radosław Piwowarski's My Mother's Lovers).
Julia Popkiewicz admitted that sometimes casting directors 'fall in love' with actors and they are very keen to cast them. When this finally succeeds – after all, the casting director has an advisory, not a decision-making voice – they feel "great happiness."
The panel also talked about the meeting between the casting director and the actors during the casting search process. And – the characters. As Nikolaj Kubacki pointed out, during the casting process, the actor can 'catch' what is important about the character, understand it and get a feel for the material. He also stressed that it is important for the actor to feel comfortable and supported by those who are casting. Education plays a key role here – including education at the film school, where classes are taught by Nadia Lebik, who Mikolaj Kubacki said "helped me along the way when I was looking for an agency, she guided me."
Participating in casting can be learned, it is possible to become more resistant to stress, but the most important thing is to trust that the directors and casting directors are professional and that every element of the process has been prepared and consciously chosen by them. Jowita Budnik added that it can sometimes be helpful to tell actors who have little experience of casting what is expected of them – what is welcomed, and it can be little things like a less conventionally prepared self-tape. "Sometimes the fact that someone does something minimally differently, such as walking instead of sitting at a table, makes them memorable," the actress argued.
For casting directors, 'auditioning' actors is also difficult and demanding; it takes intuition, psychological skills, reading and sensing emotions, but also simply a lot of energy – they often open up to a dozen or a few dozen people in a single day; because the casting process is all about getting to know the actor, their potential and their abilities, an in-depth conversation that takes time and energy. "How many people are we able to consciously get to know well in one day?" asked Julia Popkiewicz rhetorically. In doing so, she added that the active participation of actors in casting can contribute a lot to the creative process – even if an actor is not cast, his or her ideas and sensibility can enrich the text. She jokingly admitted that casting directors also feel pressure to 'do well' by casting – because if they offer a good cast, they 'score' with the director.
There are challenges here, too – as Jowita Budnik pointed out, because, for example, the scene that actors prepare for casting, orchestrated and rehearsed in many ways, is later the most difficult to play in a film. Julia Popkiewicz added that sometimes such a scene is removed from the script or something is written specially for the casting.
The delicate issue of why an actor does not get a role even though they did well at casting was also raised – Jowita Budnik emphasised that an important aspect of casting is the chemistry within the cast, similar types of expression, or even physical resemblance when a screen family is created. Xawery Żuławski emphasised that, due to budgetary reasons, in Poland an important stage of casting preparation is often missing – the reading of the script by the entire acting ensemble. This is where you can check whether all the actors fit into their roles and each other. The situation is worse when an actor or actress has to be changed four days before shooting or even during the shooting of the first scenes. And because a cast is like a jigsaw puzzle, changing even one of these 'puzzle pieces' can entail further changes. But the most important thing – as Julia Popkiewicz pointed out – is that the goal is to make the best film possible.
Sitting on the side of the audience, casting director and Guild head Ewa Brodzka added that it is also important that the cast is loved by the audience. "But before that can happen, we have to shape this world (i.e. the cast) ourselves," and then offer a vision to the producers and directors "This is the main topic of our meeting – how to create a cast that is believable, relevant and will be successful," added Ewa Brodzka.
During the panel, it was also said that casting directors have a vast knowledge of the acting market and are constantly expanding it. Jowita Budnik even called them walking encyclopaedias of Polish acting – casting directors know both students of acting schools and employees of the smallest theatres. They travel all over the country, go to performances, read interviews with actors and keep up to date with their achievements. Xawery Żuławski, on the other hand, stressed that casting directors also know the taste of the main director, which makes the work very easy. He himself has been working with Marta Kownacka for years. "I trust Marta, and Marta trusts me," he concluded, adding that the importance of casting and working with it should not be ignored.
Who will be cast?
Two casting directors, Marta Kownacka and Nadia Lebik, proved how creative and interesting the casting process can be. During their speech entitled "Who will be cast?", they worked with the audience to create a list of casting proposals for… a new version of The Deluge. This was not just a game – the directors showed how they work, how they think and how they prepare casting. First they analysed the first cast, chosen by Jerzy Hoffman, and shared some interesting facts, such as that Małgorzata Braunek replaced Joanna Sokołowska after the first day of shooting, and that there were 9,000 candidates for the role of Oleńka.
Then, after a hypothetical conversation with the project's director, they decided on the character of the new adaptation of the novel – rogue, contemporary, daring, and then what the actors should be able to do – Kmicic, for example, should know swordsmanship and how to ride a horse. "We need to have a knowledge of what someone has an aptitude for and how much time they need to prepare," added Nadia Lebik. The directors then chose a scene for casting, which would show the range and abilities of the actors, as well as their understanding of the characters. Finally, they asked the room for casting suggestions. Various names were suggested: Kmicic could be either Tomasz Włosok or Krzysztof Daukszewicz, Oleńka could be Irena Melcer, Wiktoria Filus or Pola Błasik, and Wołodyjowski could be Marcin Hycnar. There was also a proposal for Zagłoba to be played by a woman – which further emphasised the main theme of Tuesday's event – the creative nature of the casting process.
Presentation of the e-TALENTA platform.
The functionalities of e-TALENTA were presented by Philipp Mogilnitskyi, the Polish representative of the platform.
Its creation was initiated in 2007 by Beatrice Kruger, a respected Italian casting director, who prepared the cast of such films as Marco Bellocchio's Good Morning, Night and The Religion Hour, and also collaborated on the Italian casting of Sam Mendes' Spectre and Ron Howard's Inferno. In 2012, e-TALENTA merged with castforward, a platform founded in 2008 by Andreas Dendorfer and Andreas Lademann. It is available in 40 countries and 7 languages. The database contains 60,000 profiles of professional actresses and actors, more than 2,000 agents and more than 3,000 casting industry representatives.As Mogilnitskyi half-jokingly emphasised, thanks to e-TALENTA, actors can rest easy, because if they have created their profile on the platform, casting directors already know about them. He also briefly explained how it can be used. Among the most important functionalities of e-TALENTA are: a search engine with more than 40 criteria, including, for example, a search for similar actors and actresses based on a photo, a Virtual Casting Studio, the publication of casting information (which can have a public, closed or protected status). Actors can create their profiles with graphic material, and they can also announce their availability at a given time. The e-TALENTA platform also helps with the administrative part of the casting process, as it allows projects to be created and collaborators to be invited to them – thus combining the functions of project management and communication software. It is also a helpful tool for casting international projects – Mogilnitskyi used his own example here, as he was given a role in the Czech Republic thanks to his e-TALENTA account.
How to prepare well for casting.
During the final panel on 'the benefits of good preparation for casting', the process was discussed by casting director Paulina Krajnik, Monika Stępień from the Gaża agency, actor Przemek Przestrzelski (The Wedding Day, The Silent Twins), Kondrad Michalak representing the Polish Actors' Trade Union and Philipp Mogilnitskyi from e-TALENTA.
Paulina Krajnik was the first to speak, stressing that it is important in the casting process that all participants – casting directors, agents, producers, actors – trust that they are all working toward the same goal and have a common objective. She also suggested that in the context of casting, it should not be referred to as 'winning' or 'losing'. "A role in the film is not given to the best person – there is no such category at all, because that suggests that others were inferior, and the point is that everyone is different," Paulina Krajnik emphasised. "It's a subjective artistic decision or suggestion as to who would be most interesting to play the role and why." – she added.An important thread of conversation during this panel was trust in casting directors. Paulina Krajnik explained why sometimes actors are given many pages of text to prepare and little time – "No one is going to enforce knowing 10 pages if you give them 2 hours before the casting," she supplemented. Monika Stępień added that sometimes the short preparation time for an actor is so that his or her proposal is the result of a first interpretation and is fresh. And those invited to the studio for casting have already been carefully screened – "from my point of view, this is an advanced part of the process".Przemek Przestrzelski added that he found it liberating when he stopped treating casting as an exam for drama school. "I thought they had to like me there, love me, but no – it has to be a dialogue, a conversation." Paulina Krajnik advised actors to also remember to prepare outside of the casting process, which means, for example, getting a good night's sleep, arriving early for the casting or walking a bit – whatever helps them focus when meeting the casting director. She added that, in collaboration with ZZAP, she trains actors on what their business cards or self-tapes should look like, which is also part of casting preparation. Monika Stępień also shared her knowledge on the subject – she advised that actors should take their photos against a neutral background and that the most important thing is video footage, which shows a person's temperament or energy. This could be a demo or even a fictional casting video. "I encourage you to present [footage] on a platform, agency website or YouTube," the agent added. She also explained her role in the casting process – she is a liaison between actors and casting directors, informs about casting, but, she stressed, does not forcefully propose to cast an actress or actor who does not have the key skills for the role.
Kondrad Michalak of ZZAP also called for trust in casting directors; he diagnosed that the lack of it is most often the result of ignorance. Here he emphasised the important role of organisations such as ZZAP or the Guild, through which knowledge is spread and information provided. "We have taken steps to disenchant casting," he said. "Many budding actors have a different idea of who a casting director is, it's like with psychologists – when we don't know what their job is, we think they read our minds," Konrad Michalak concluded. Nadia Lebik also joined the conversation and touched on the topic of feedback for actors – which can be helpful for professional development. She also highlighted the role of the agent in the process – "The agent is a buffer, but also a specialist in conducting the conversation with the actor. I've witnessed a lot of changes – in image and approach to casting […] it's a meeting that can teach something difficult, something needed," the casting director added. Due to the high workload of casting directors, the multitude of material they have to deal with, often combining it with other professional responsibilities, casting directors are not physically able to give each person feedback after a meeting, Paulina Krajnik noted.
The strength of the casting event was the variety of viewpoints presented, but the conclusions were clear – casting is a creative process, prepared professionally and thoughtfully, and any myths and fears about it stem from a lack of knowledge, which Tuesday's panel sought to address.
Summary prepared by: Ola Salwa
Gdynia Industry: 13th–17th September