Kieślowski, Sass-Zdort, Żuławski, Polański. Pure Classics at the 46th PFF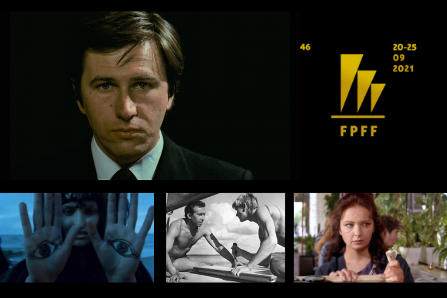 Presentation of digitally restored important films from the history of Polish cinematography and screenings devoted to deceased outstanding filmmakers have been important part of the Polish Film Festival programme for years. They will also be present during this year's 46th edition of the Festival.
Krzysztof Kieślowski (1941–1996), on the occasion of the 80th anniversary of his birth and the 25th anniversary of his death, will be commemorated by the screening of No End (1984), the first film made by Krzysztof Kieślowski, in cooperation on script with Krzysztof Piesiewicz.
The screening will be accompanied by a presentation of a short film produced by the Adam Mickiewicz Institute Talking Heads 2021 directed by Jan P. Matuszyński. The Institute's intention was to revive the idea of Krzysztof Kieślowski from his cult film from 1980 under the same title.
There will also be a meeting about the book KIEŚLOWSKI. Od bez końca do końca – an extended interview conducted by Mikołaj Jazdon with Krzysztof Piesiewicz – held by a film expert Diana Dąbrowska. Whereas the Gdynia Film Centre will host a part of multimedia exhibition of the National Centre for Film Culture in Łódź, prepared on the occasion of the 80th anniversary of Krzysztof Kieślowski's birth.
Screening of Nothing but Fear (1993) dir. Barbara Sass-Zdort (1936-2015), on the 85th anniversary of the director's birth, will be a starting point for a discussion about female protagonists in Polish cinema. The meeting will be hosted by a researcher of Polish film history and women's cinema – Monika Talarczyk.
Another figure to whom this year's edition of Pure Classics is devoted to is Andrzej Żuławski (1940–2016). Festival audience will have a chance to watch one of the director's most renowned films On the Silver Globe (1988). Also a documentary about the making of this first Polish science-fiction superproduction, the film Escape to the Silver Globe, will be presented during the Festival. Meeting with the director Kuba Mikurda and the producer Daria Maślona will be held by a film expert Michał Oleszczyk.
Recently deceased Zygmunt Malanowicz (1938-2021) will be commemorated by the screening of a film directed by Roman Polański Knife in the Water (1961). For the actor, the film was a famous cinema debut.
A significant film section within Pure Classics will be screenings and events related to the 100th anniversary of Andrzej Munk's birth. More information: HERE
The 46th Polish Film Festival takes place on 20th–25th September 2021 in Gdynia.