Map of the Polish Film Festival in Gdynia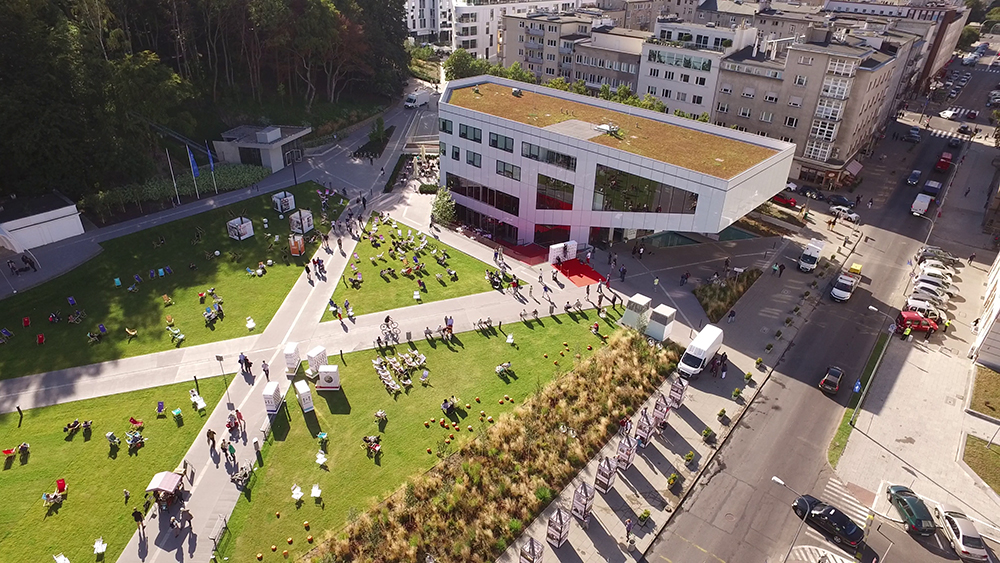 Musical Theatre, Gdynia Film Centre, Helios and selected cultural institutions in the city centre will host screenings of the 44th Polish Film Festival.
Helios, a multiplex in Riviera Centre, takes over from Multikino as the main Festival Cinema for the general public. The previous venue was a part of recently demolished Gdynia Waterfront Centre. In Helios, the audience will have an opportunity to meet artists whose films qualified for the Main Competition.
Musical Theatre remains the primary Festival venue. In each of its three auditoriums, namely Large Stage, New Stage and Chamber Stage, the audience can watch films competing at the 44th Polish Film Festival and participate in official Main Competition screenings with casts and crews.
As in recent years, neighbouring Gdynia Film Centre in Grunwaldzki Square is a go-to spot for visiting journalists keen to join press screenings of Main Competition films followed by Q&As with filmmakers. GFC is also the seat of Press Office. The remaining screening rooms Goplana and Morskie Oko will show in- and selected out-of-competition titles.
This year, a number of places add to the list of Festival venues: Witold Gombrowicz Theatre on Bema Street, Naval Museum by the Central Beach, and Consulate of Culture on Jana z Kolna Street, which already co-hosted the previous edition of the Festival.
Gdynia for Children, a section beloved by the youngest audience, moves to the auditorium of Pomeranian Science and Technology Park on Zwycięstwa Avenue.
"The increasing attendance we have observed in recent years is a considerable success of the Festival. In 2018, about 75 000 people participated in screenings, meetings and workshops. We do our best to cater to this immense interest and optimise Festival accessibility. Not only is it the biggest get-together of the Polish film industry. It has also become a major event for countless loyal viewers and enthusiasts of Polish cinema", says Leszek Kopeć, Director of the Polish Film Festival.
More details will be available once the Festival programme is released. We will make sure the screening schedule facilitates movement between the venues – majority of which are located within walking distance of each other – so that the audience can make the most of what the Festival has to offer.
A free Festival bus line will run between Helios and Grunwaldzki Square, connecting Riviera Centre to Musical Theatre and Gdynia Film Centre.
The 44th Polish Film Festival in Gdynia will take place on the 16th–21st September 2019.