Mobile Film Studio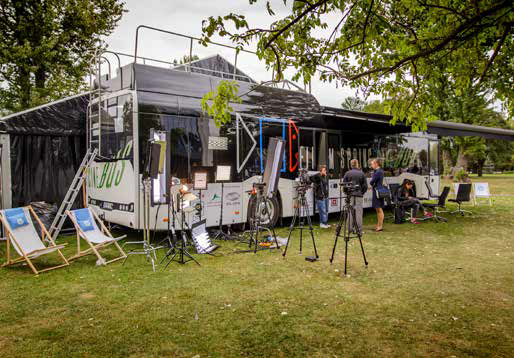 For a few days, in the neighbourhood of the Musical Theatre, a bus is
parked which can change the work of young filmmakers. It is the cinebus –
an authorship project of the film operator, Sławomir Idziak.
Cinebus is a mobile film studio on which we have been working for three years. All it is about is, within the resources at the disposal of young filmmakers, to make films in a cheaper way. And thanks to the new tools included in the cinebus, the studio enables it to them. With the help of this autobus, a film can be made from the beginning to the very end and this is the main assumption, says Sławomir Idziak, the initiator of the project.
The film autobus includes: a dressing room, a cutting room and a social corner. The tent in which the mobile studio is equipped offers the possibility of watching the material in a screening and lecture room, which can also become a studio equipped in a green screen.
The autobus enables the transportation of equipment, it can also become a centre of production on the film location and it enables the performace of initial post-production and sound processes. Does it have a chance of becoming an element of big productions?
That was never the plan. It can be a part of a big film but I am less interested in it. The production habits, especially of the experienced filmmakers, not necessarily allow for such solutions, the brilliant operator emphasises. The young generation wants to make films in an economical way, they look for new tools, it is easier for them to adjust to new trends and they are my priority.
KS
From: Festival Newspaper