Nespresso Talents. New deadline for submitting films to the competition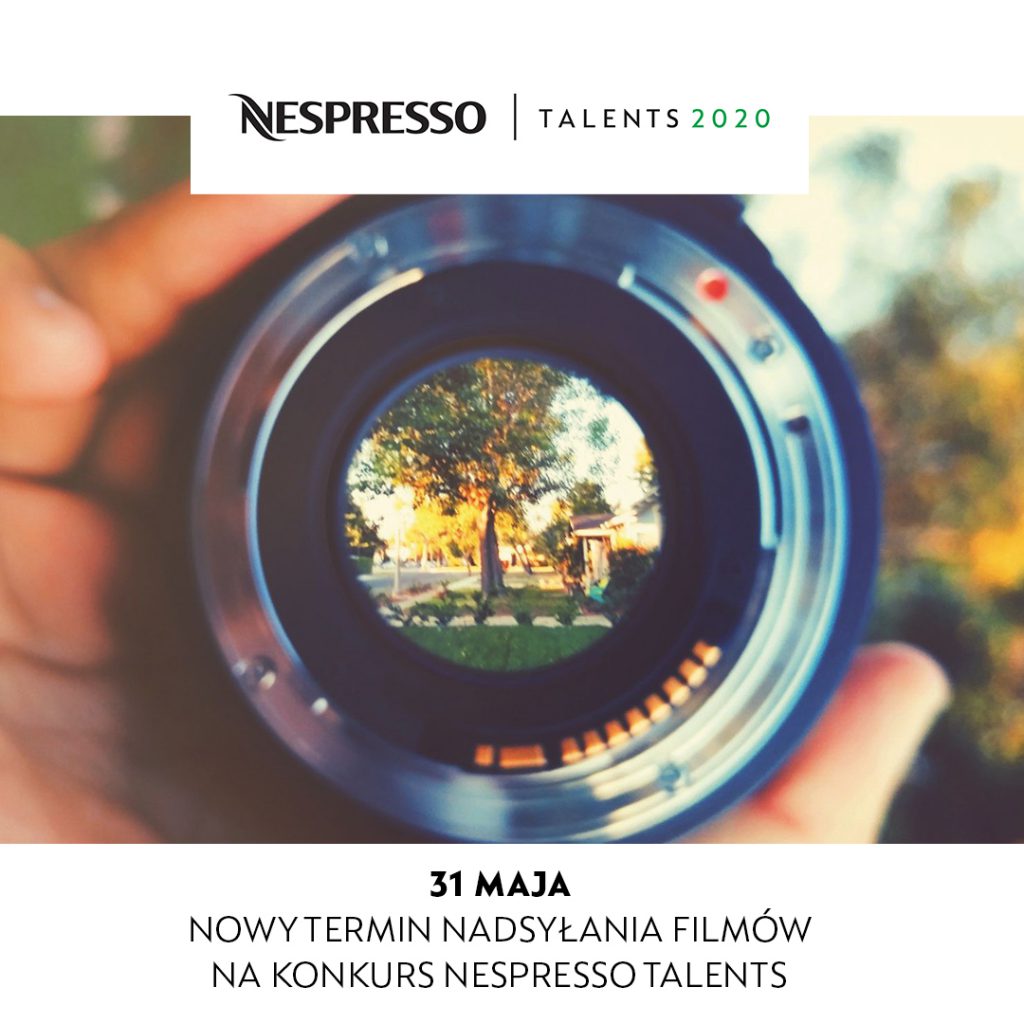 The deadline for submitting films for the Nespresso Talents international film competition has been extended to May 31. The slogan of the fifth edition is Virtuous Circles and is interpreted as circles of good. Jury members – Małgorzata Kożuchowska, Kinga Dębska, Anna Zoll and Łukasz Maciejewski – argue that the topic offers many interpretative possibilities.

The main prize is 5000 euros and an invitation to the Cannes International Film Festival. For the first time, the competition also has a Polish edition with a finale at the Polish Film Festival in Gdynia. Polish artists compete for the main prize of EUR 1,500. Films can be submitted on the competition platform.
Everyone can participate in creative competition, regardless of age, education or professional experience. This is an opportunity for all creative people who like to record movies, using even a phone camera and have an idea to tell an interesting story. Films must last 2 to 3 minutes and be in a vertical format (9:16).
The theme of this year's Nespresso Talents is Virtuous Circles, interpreted as circles of good. The world is getting better thanks to people who are not afraid to dream, get involved in socially important topics and are able to take matters into their own hands. These are the stories – authentic (taken from life) or fictitious (being the product of the creator's imagination) – trying to capture the process of change for the better, whose source may lie in an inconspicuous gesture, movement, event, should be told this year's films. Jury composed of: Małgorzata Kożuchowska, Kinga Dębska, Łukasz Maciejewski and Anna Zoll, winner of Nespresso Talents from 2018, encourage you to stay at home, but at the same time argues that also in this limited space you can make a winning film. It is important not to limit the imagination and carefully watch the surroundings.
Łukasz Maciejewski:
At the closing time, our competition opens. It opens hearts and souls and releases creativity. We are waiting for films that are written with goodness and values, but do not require large budgets or open air. We are waiting for movies filmed with a heart–also from the perspective of a room, sofa, bed or kitchen. Good is already there. Photograph them!


Kinga Dębska:
The world has changed, and you have to talk about it to get it somehow internally. Preferably through art. It is known that man is a creative being and can create anywhere – especially a 2-3 minute form can be shot from home or from your own balcony or window. See what is happening there, set the rhythm, assemble it creatively! Restrictions have always been inspiring for creators, why shouldn't it be like this now? Besides – it's the most sensible way to spend time – making a movie!


Małgorzata Kożuchowska:
Virtuous Circle, or this year's slogan of the Nespresso Talents competition, in English means a positive path of development. You think you can grow and broaden your horizons without leaving the house? Can you make your biggest dreams come true even though the next week is enclosed in four walls? It is definitely not easy! But it is not impossible! It requires courage, sensitivity and imagination! Requires heart! Do not waste this time and try to use it for activities that you have always missed! Take part in our contest! Make your short film. I wish you the main prize, but… even if you don't get it, you'll discover the power of your imagination, believe in yourself, discover something you didn't expect. This will be your potential. And when you leave the house you will think: I did not waste this time!

Anna Zoll:
The world is re-evaluating itself right before our eyes. We've lost our freedom, our plans and some dreams, but we haven't lost each other. We've gained time to think and be more creative. It is begged to close your eyes at home and create a fantastic script, and then film it in any technique. I close my eyes and swim in my fantasies every day.

Films for the Nespresso Talents competition can be submitted until May 31 at https://www.nespresso.com/talents/int/en/contest. By the end of June, shortlists will be announced in both the international and Polish editions of the competition. The finalists of the international edition will receive cash prizes: 5000 euros (first place), 3000 euros (second place) and 2000 euros (third place). In addition, the winners of the winning films will be guests of the Cannes International Film Festival, where the award ceremony will take place. On the other hand, the winners of the Polish edition will be honoured with prizes in the amount of: 1500 euros (first place), 1000 euros (second place) and 500 euros (third place), which will be presented during the Polish Feature Film Festival in Gdynia.
This year's edition of Nespresso Talents was also supported by Film Schools: Warsaw Film School; Wajda Film School; Mastershot Wrocław Film School; Lodz Film School; Krzysztof Kieślowski Film School at the University of Silesia; Institute of Film, Media and Audiovisual Arts at the Adam Mickiewicz University in Poznań; Gdynia Film School; AMA Film Academy.
By working with young filmmakers, Nespresso continues its commitment to tackle socially important topics and make changes for the better. It is also worth adding that this year every film sent to the competition will lead to the planting of ten trees by Nespresso in partnership with PUR Projet.

For more information on the Nespresso Talents competition, please visit: https://www.nespresso.com/talents/int/en/contest