Nominees for the Janusz Korczak Golden Lion Cubs Award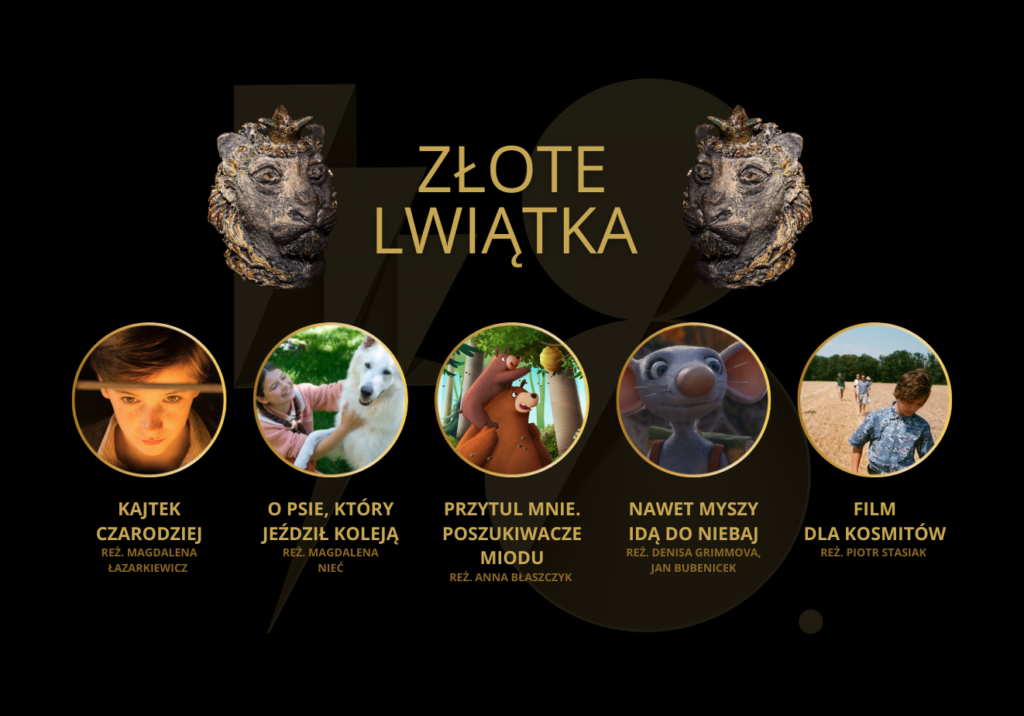 During the afternoon screenings in Helios cinema, young audience will have a chance to see five titles: Anna Błaszczyk's Hug Me. The Honey Seekers, Magdalena Nieć's The Travelling Dog, Magdalena Łazarkiewicz's Kaytek the Wizard, Jan Bubeničk and Denisa Grimmova's Even Mice Belong in Heaven and Piotrs Stasik's Film for Aliens. The audience will vote for the best film to receive the Golden Lion Cubs Award at the Young Gala.
– Gdynia for Children is an exceptionally gratifying part of the festival with its lively but demanding audience. Polish children's and youth films are currently in their prime. I'm glad we're showing not only the best productions of the past season but also brand new premieres in Gdynia. For the second time in festival's history we're awarding the young audience's award: Janusz Korczak Golden Lion Cubs. I'm keeping my fingers crossed for both creators and audience. The competition will be fierce! – says Joanna Łapińska, artistic director of the Polish Film Festival in Gdynia.
This year, Gdynia for Children presents the best and the latest achievements in this corner of cinema. To begin with, on the stunning Large Stage of the Musical Theatre, we will see two special premiers and long-awaited adaptations for the youth: Kaytek the Wizard, a film based on the famous novel by Janusz Korczak, and The Travelling Dog directed by Magdalena Nieć, a film inspired by the short story by Roman Pisarski. One wonders if the story about the heroic pet is a bigger tearjerker than the ending of The Paul Street Boys.
Czech-Slovak-Polish-French animation for the youngest Even Mice Belong in Heaven is one of the most successful European children's films, nominated for the European Film Award, César Award, and Czech Lion Award – with magnificent Polish puppets. For dessert, we serve a popular animation directed by Anna Błaszczyk in 2022, Hug Me. The Honey Seekers.
The nominees for the Janusz Korczak Golden Lion Cubs are:
Kaytek the Wizard, directed by: Magdalena Łazarkiewicz
The Travelling Dog, directed by: Magdalena Nieć
Hug Me. The Honey Seekers, directed by: Anna Błaszczyk
Even Mice Belong in Heaven, directed by: Denisa Grimmova, Jan Bubenicek
Film for Aliens, directed by: Piotr Stasik