Official poster of the 44th Polish Film Festival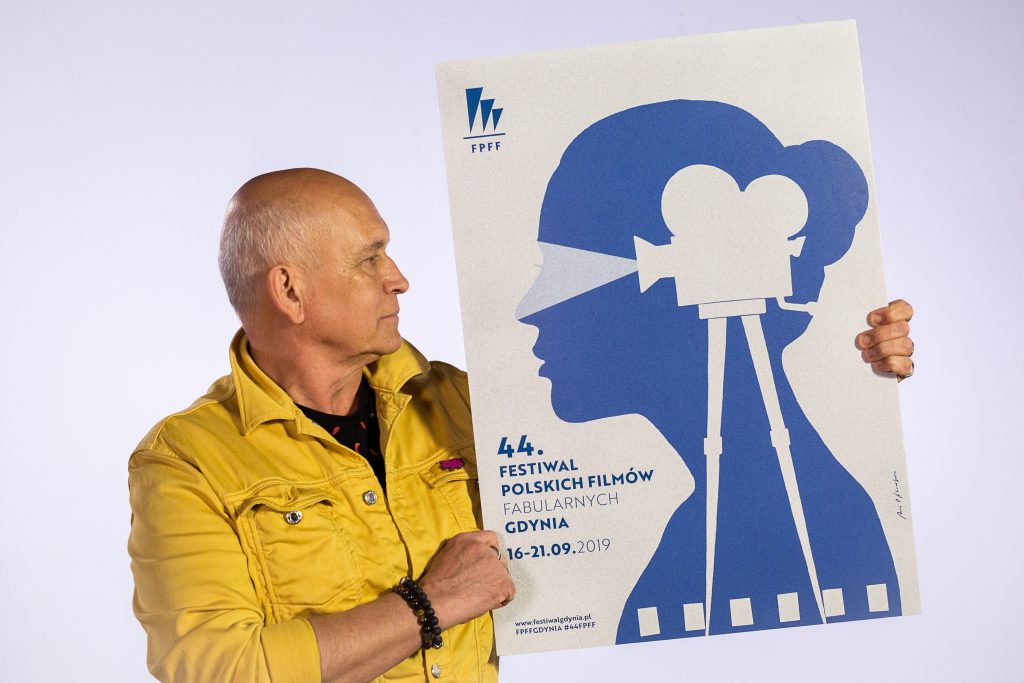 We are pleased to present the official poster of this year's edition of the Polish Film Festival in Gdynia. Its author is the acclaimed Polish poster artists – Andrzej Pągowski.
Andrzej Pągowski has over 1,400 posters published in print in Poland and abroad since 1977. Over 400 of them are associated with cinema. The artist collaborated with outstanding directors, creating posters for films by, among others, Krzysztof Kieślowski, Andrzej Wajda, Agnieszka Holland, Roman Polański, Janusz Majewski, Jerzy Kawalerowicz, Miloš Forman, and Robert Altman.
Andrzej Pągowski has already designed posters for the Polish Film Festival five times. The first festival poster of his authorship was created in 1987, for the 12th edition of the event. His works presented the Festival also in 1990, 1992, 1993 and 2008.
– I'm going back to Gdynia! I have always tried to refer to the situation of our cinema in my posters designed for the Festival. When the business sector started supporting film production, an elegant gentleman with a briefcase appeared on the poster, and when there were problems with the funds and not many films were made, the poster depicted a film director looking for a job. This time, I come back with a poster that is a tribute to women. I am happy to see how they bring new energy and sensitivity to cinema. I believe that it is women who can change and save our world – says Andrzej Pągowski.
The author of this year's festival poster is a graduate of the University of Fine Arts in Poznań, where he learned from one of the most prolific artists of Polish School of Posters – professor Waldemar Świerzy. In addition to the famous posters, Pągowski also worked on numerous record covers, theatre and television set designs, film and music video scripts. From 1986, he was the artistic and graphic director of many magazines, he stayed the longest with the Polish edition of Playboy. In 1989 he started working in advertising, while still continuing his graphic art career. He is the creative director and the owner of the Kreacja Pro company.
He is a laureate of several dozen Polish and foreign awards, including several top prizes for the Best Movie and TV Posters in Los Angeles, and several prizes at the Chicago International Film Festival. His works can be admired in the most famous museums in the world, including MoMA in New York and San Francisco, Centre Pompidou in Paris, V&A Museum in London, Museum of Art in Tokyo. The Metropolitan Museum of Modern Art has placed Andrzej Pągowski's poster Wolf's Smile among the 100 most important works of modern art in the collection of MoMA.