One is just being an artist – an interview with Kinga Dębska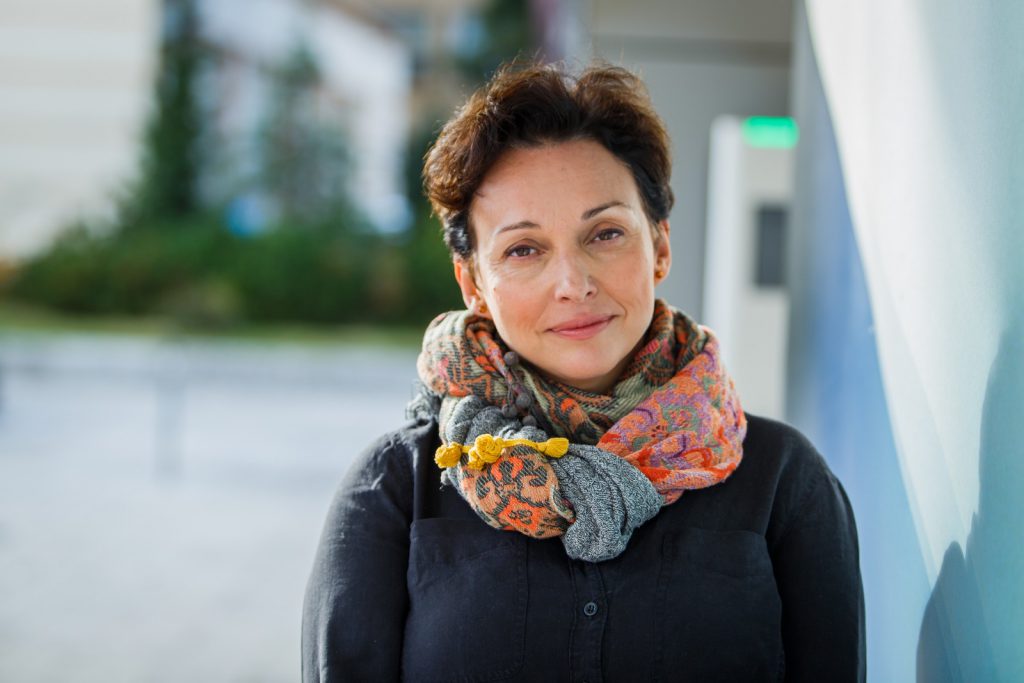 Last year, her film "These Daughters of Mine" stole the hearts of the viewers and won the Audience Award. The Festival success translated into attendance success. Today, we ask Kinga Dębska about her life after the Festival.


Kasia Siewko: One year ago, at the Gdynia Film Festival, your film "These Daughters of Mine" won the Audience Award. How is life after the Festival?
Kinga Dębska: – The film is doing fantastically well in the cinemas, at festivals and on DVDs, it enjoys popularity, it is having a blast in the world. I have the feeling that with "These Daughters", it is like with a snowball – it has gained momentum and only now, a year after the Festival, am I able to really go through the last year's emotions. Back then, I was as if having fever, a five-minute long standing applause, tears in the eyes of the viewers, I will never forget that. I think that neither Agata, nor Gabrysia or Marian had ever experienced something like that before. We all cried, the editor, even the distributor! All the emotions were honest, the viewers were giving a standing applause with tears in their eyes, it lasted so long that I told myself: "I will go crazy in a while". And we had not expected anything. It was a simple, cheap film. So this year, I go through the emotions that were too great for me last year.
Filmmakers often admit that an audience award is more important than the awards given by critics and the jury.
–Yes, the award turned out to be so accurate that the viewers actually chose this film in the cinemas. As a result, there are almost 800 thousand people who bought a ticket, so this is a huge success. The audience was right.
Does being a winner of such an award make you watch competition films in another way? Maybe you managed to find the key which allows a film to steal the hearts of viewers?
– Let's not exaggerate but for sure, I gained some confidence. That film wasn't supposed to be so wide. After its reception in Gdynia, and later its success in the cinemas, I understood that I make the cinema of the centre which people like. I have the viewers and that is a certain responsibility. Because that Viewer already expects something, and on the other side, I would like to make authorship films. I think that when a film is made out of the need of the heart, it is visible. That is why I decided not to separate myself from people. Cinema is supposed to bring us pleasure, not only be, like my friend says, "a Polish valley", that is, be boring and speak of sad events in dark colours. The cinema can also bring joy. It is no shame to make a good romantic comedy. We could say that I matured to be able to do something I wouldn't allow myself for a year ago, that is, to make a film about feelings. But I still want to make my authorship cinema. I also have the ambition of making a good authorship series.

What is there to television that you like doing it? Not everyone admits it.
– Directing is my profession, my craft. After the first film, "Hel", I worked in series because I had no idea for another film. Working in television makes you kind of get to grips with it all. I would have never met so many actors, had it not been for making all those series: "Na dobre i na złe", "M jak miłość", "Barwy szczęścia"… I'm not ashamed of it, because one is just being an artist from time to time. This taught me a lot. Although later, when making the film, I asked all the collaborators to grease my palm whenever I wanted to take shortcuts. Because in series, you often take shortcuts. Nowadays, series can be great. We all watch "Homeland", "House of Cards" and if I was to say what my professional dream is, it wouldn't be a film but an episode of a "Homeland".
You have also made a great documentary: "The Actress" about Elżbieta Czyżewska. Are you attracted to the documentary?
– I don't like the documentary too much. It's a task for patient people. I made "The Actress" not on my own but with Maria Konwicka. I think that the documentary is less graceful a genre than the feature. You have to wait until something happens, you don't get to say: move away, or say something else. We just record the reality.

And the very person of Elżbieta Czyżewska, are you in favour of promoting women in the film? What is it like, being a woman director?
– The world is changing. More women are on top positions. We are presidents, corporation bosses, and it's very good. I think that in an ideal world, there would be as many women as men on top positions, in all areas. This is the harmony. The world as seen by the man and the woman is not the same. I have been feminising myself a bit recently because I think that to us, women, it is harder. We are the house ladies, mothers. Biology makes us able to give birth to children to a certain age, so then we have to cut off. I also had a baby shortly after studies, it is already grown up now, and of course, this slowed me down and threw me away from the track of career for some time. However, I think that we are doing better and better and I myself really cannot complain. I get plenty of offers after "These Daughters of Mine" and I don't feel to be treated in a worse way as a female director. I love such past events on the film shooting plan, when some macho actor comes, looks at me, so small, and says: "So you are the director? Really?". I say, "yes", and then, through the radio, I give him a good kicking: "once more, one more retake" and this macho dissolves himself, vanishes… And that is a moment of truth. You don't have to shout or speak with a hard voice. All it takes is knowing what you want. No matter, men or women, an actor always needs a director.

Can we expect you with a new film next year at the Gdynia Film Festival?
–I surely would like that very, very much. There is something being planned already.
KINGA DĘBSKA
A director

She worked on a few popular series:
"M jak miłość",

"Barwy

szczęścia",

"Na dobre i na złe ".

She made two feature films:
"

Hel" (2009)

"

These Daughters of Mine" (2015)

and a few documentaries, including one about Elżbieta Czyżewska "The Actress" (2015).
by: Martyna Kiedrowska
source: Festival Newspaper