Piekiełko in your home. Concerts at the 45th PFF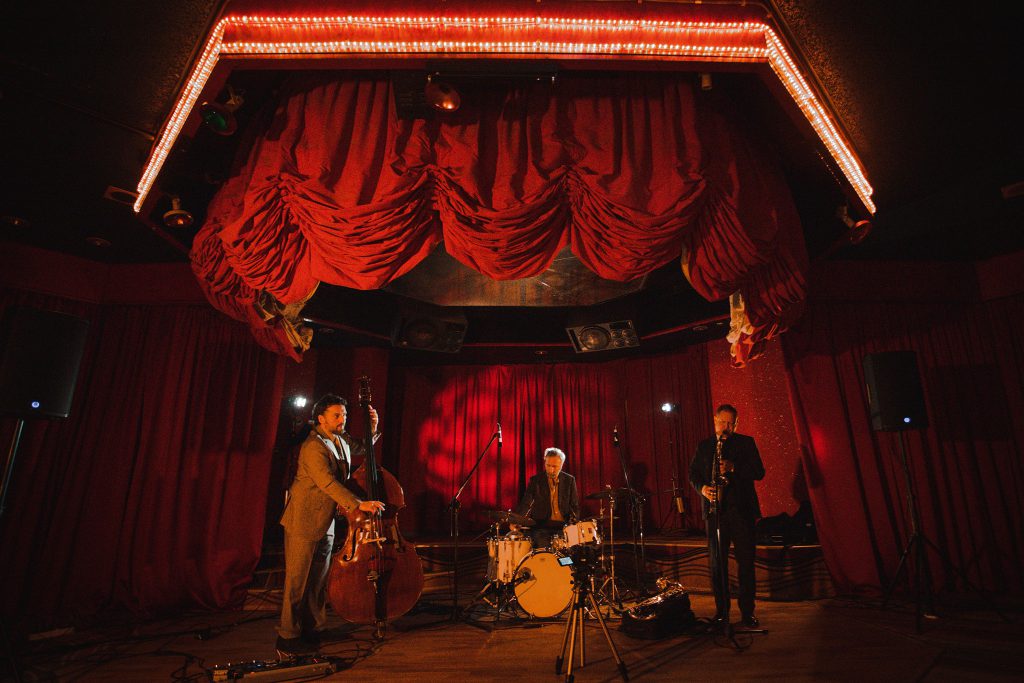 A series of music video sessions from the iconic club at the Mercure Gdynia Centrum Hotel is one of the attractions of this year's Polish Film Festival. There is no Gdynia Festival without a visit to this place, even if it is held online. This year, each cinema and music lover will have a chance to experience Piekiełko in their own home three times.
We have invited film music composers who are also at the forefront of the Polish avant‑garde scene to participate in the music sessions. We have prepared three video sessions that we will present during the 45th PFF in the social media of the Polish Film Festival.

WE WILL HEAR:

December 8, 2020, 9PM: Hubert Zemler

The drummer will create sound spaces inspired by music from science fiction movies and thrillers from the second half of the 20th century.

Hubert Zemler – amplified metallophone, synthesizer and sampler

December 9, 2020 at 9PM: DJ Lenar / Bartłomiej Tyciński

The duo will perform music composed for the film "1970", directed by Tomasz Wolski, which tells about the process of pacification by the authoritarian regime of workers' strikes during the December events on the coast. The premiere of the film will take place on December 14 on TVP.

Bartek Tyciński – guitar, Soviet synths (Polivoks Formanta)
djLenar – gramophone, tape DJ Lenar / Bartłomiej Tyciński

10 December 2020 at 9PM: Mikołaj Trzaska / Olo Walicki / Macio Moretti

A trio of representatives of the Polish improvised scene who met in various lines, incl. Shofar and a thud. They will play their own compositions and film music that appears in films by Wojciech Smarzowski.
Mikołaj Trzaska – saxophones
Olo Walicki – double bass
Macio Moretti – drums

ARTISTS
Hubert Zemler
Drummer, composer and improviser. A respected interpreter of new music, author of solo albums on the border of avant-garde, electronic, jazz and ethnic music, and creator of soundtracks for films and animations. He has collaborated with, among others, Felix Kubin, Evan Ziporyn, John Tilbury, Wacław Zimpl, the Hashtag Ensemble and the Mitch & Mitch group. The author of music for films, incl. The Stone, Eastern, The Day of Chocolate and Moloch.
Bartłomiej Tyciński
Musician, guitarist, composer, producer. Co-founder of bands such as Mitch & Mitch, Starzy Singers, Slalom and New Cage, member of Der Father, Alte Zachen, Warszawska Orkiestra Rozrywkowa, Paristetris, Kwadrat and many others. Author of film music, incl. The Art of Loving: Story of Michalina Wislocka, Diagnoza and theatrical "Alexanderplatz" and Złota Skała by Studio Theatre and Bromba i inni by Guliwer Theater.
DJ Lenar

Composer, sound designer, turntable player. Works with film and theatre music. Sound director, author of the sound installation as part of the project "Hotel Polonia. Budynków życie po życiu", winner of the main Golden Lion award at the 11th International Architecture Exhibition in Venice in 2008. Winner of awards for the best sound for the film Interior by Marek Lehki at the 44th Polish Film Festival, for the film The Lure at the "The Youth and Film" – The Festival of Film Debuts in Koszalin
Mikołaj Trzaska
Composer, saxophonist, bass clarinettist. He plays with the celebrities of the European and American jazz scene. He co-founded the Miłość band, one of the pillars of the yass scene. collaborated with Robert Brylewski, Marcin Świetlicki, Tymon Tymański. He is a co-creator of Shofar, Ircha Clarinet Quartet, Riverloam Trio and Langfuhrka. Author of music for plays and films, incl. The Dark House, Rose, Hatred, Clergy, Pity, and Foam at the Mouth.
Olo Walicki
Double bass player, composer, producer. Creator of the projects Kaszebe, The Saintbox, Zespół Cieśni i Tańca. Plays improvised music, composes for theatre and film performances. Collaborated with Tymon Tymański, Mikołaj Trzaska, Tomasz Gwinciński, Gaba Kulka, Wojtek Mazolewski and Andrzej Sweryn, and played with Leszek Możdżer, Zbigniew Namysłowski and in the bands Łoskot, Szwagierkolaska and Oczi Cziorne.
Macio Moretti

A graphic artist, producer, co-founder of the Zgniłe Mięso and Lado ABC labels. He co-created and co-creates, among other bands such as Starzy Singers, Mitch & Mitch, Shofar and Paris Tetris. Played with musicians such as John Zorn, Paul Wirkus, Mikołaj Trzaska, Tymon Tymański, Wojtek Mazolewski, Fisz and Emade, Christophe Monniot, Jurij Andruchowicz and Tatsuya Yoshida. A laureate of, among others, Fenomen Przekroju and Paszporty Polityki awards.
Realization: Kulczyński.Filmlab

The 45th Polish Film Festival is held online on December 8-12, 2020.