"Piekiełko" of the Gdynia Film Festival!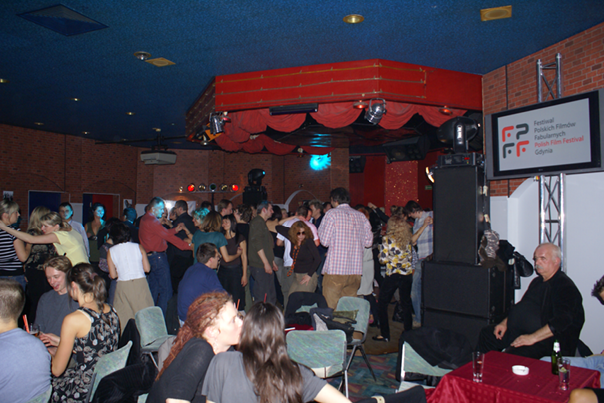 On account of the reappearing numerous queries and doubts with regard to the availability of the legendary "Piekiełko" night club, we are pleased to inform that the 40th edition of the Festival will be taking advantage of the club for the purposes of the organisation of the Festival life. "Piekiełko" will be open from Tuesday 15th September to Saturday 19th September.
"Piekiełko", the night club located in the Gdynia hotel, is a legendary place. As the Silver Lions Prizewinner Marcin Wrona mentions in the book "A Film with a View to the Sea. 40 Years of the Gdynia Film Festival", "Gdynia Film Festival brings out countless associations with situations, the majority of which is not eligible for publishing". Cezary Harasimowicz, in the first monograph devoted to the Festival and issued 10 years ago, recollected: "The idiosyncracy of "Piekiełko" consists in, among other things, the fact that time is subject to some miraculous entanglement there. You enter for a quarter and you leave… at six AM". One of the perceptive observers of the Festival life, Radosław Piwowarski, explains the essence of the phenomenon in deeper terms: "It is a matter of honour to celebrate your award with your friends in the bar. It is an attempt at showing that I'm not giving myself airs, I'm with you guys even though it was me who received the Award. I really like when this is on me, so the custom appeals to me. If I don't win, I invite and payment is on me anyway. I've noticed that I enjoy great respect of the bartender".
Despite the flowing of time, the legend of the place remains. The young prizewinners of the Festiwal also emphasise the significance of the club for the life of the whole event. Małgorzata Szumowska quite sentimentally recollects her first visit in the club in 2000: "I remember "Piekiełko" and the striptiz ladies. All in all, it's a pity that the tradition didn't reach today. "Piekiełko" was a kind of a relic of the Polish People's Republic, in which consumption, delicatessen, Vodka and striptiz shows ruled. It was amazing, as a young person, I was quite astonished. This wasn't how I had imagined a film event. Today, however, I look back at it with great nostalgy".
As Tomasz Schuchardt says, "What matters is that the Festival life does not evolve into Russian suburbs with drunk faces. Every once in a while, "Piekiełko" is necessary too. Every time you mention Gdynia, you mention "Piekiełko". You can call it rough but on the other hand, the Festival would lose its charm without it". The young director Maciej Buchwald goes even further, formulating the thesis: "One way or another, all ways lead to "Piekiełko" in the end".

The Artistic Director of the Festival, Michał Oleszczyk, adds: "As long as I have any say on the matter, 'Piekiełko' (or: 'Little Hell') will stay open during the festival. I consider it a magical space, with all its communist-era roughness and definite patina. I consider those features as part of our Central European heritage. At 'Piekiełko', there's no tension and no strain to act in a 'Western' way. No one is pretending to be anyone else, everyone is driven by sense of fun and community. I will never forget my last year's first visit in "Piekiełko" when I heard kind words about my work from people who used to criticize me strongly before. It seems it is only in Gdynia where you can truly say that "Little Hell" ("Piekiełko") can be a space of reconciliation."
Phot. A. Kędzierska SFP