Polish War Heroes – Project Comparison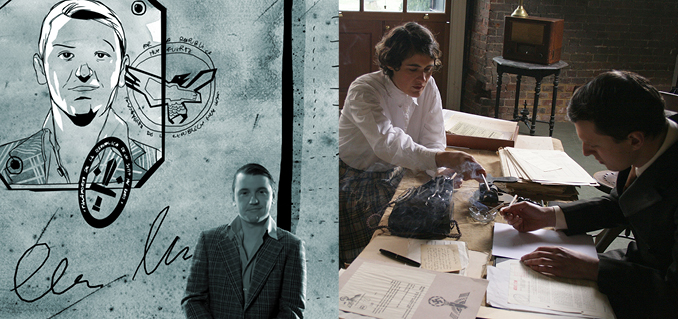 The 39. Gdynia Film Festival invites to the event "Polish War Heroes – Project Comparison", which is an opportunity both to familiarise yourself with interesting television films devoted to the II WW and to confront two approaches to similar issues and two artistically different conceptualisations of the topic.
The Festival will present two different projects to the audience: a British documentary series and a Polish creation cycle, both devoted to the figures of Polish war heroes. Within the meeting, the viewers will watch an episode of the Polish series "Wartime Portraits" devoted to Jan Zumbach and an episode of the Polish-British series "Heroes of War – Poland" devoted to the cryptanalysis of the Enigma machine by Polish mathematicians.
The films are currently being introduced to the television distribution in Poland. The British series was broadcast in Poland by the HISTORY channel belonging to A+E Networks, and TVP1 will broadcast it at the end of the year, while "Wartime Portraits" will be presented in TVP2 from September 2014.
By the comparison of the two projects, the organisers want to take up discussion on the Polish history and the way of showing it on the screen. After the screening, which will take place on Friday 19 September 2014 at 12.00 in room 3 in Multikino, a discussion with the producers of the two series has been planned. It will be attended by the producers of the Polish-British series, Rachel Job from A+E Networks UK and Anna Poullain-Majchrzak from Sky Vision, as well as Dawid Janicki and Katarzyna Sarnowska, the producers of "Wartime Portraits". The meeting will be held by the film critic Sebastian Smoliński.
The event is an author idea of the Artistic Director of the Festival, Michał Oleszczyk, who emphasises the value of such comparisons between Polish and world projects: "The Polish history is often considered by ourselves as impossible to be told outside and too complicated. The British series that we will present will show that it is a completely false judgement, and the Polish series only proves that – they both take up the topic of Polish war heroes and approach it completely differently, yet each time the result is brilliant: the viewer receives a passionate screen tale and at the same time a great history lesson. The episode about the Enigma is breathtaking, and the story of Zumbach received a modern shape, bringing the figure closer to the younger audience," says Michał Oleszczyk.
The National Centre for Culture is the co-organiser of the "Polish War Heroes – Project Comparison" section.