Polonica at the 46th PFF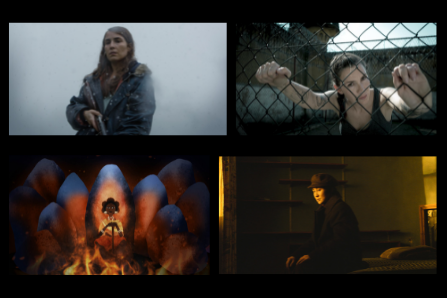 Four international film productions made with significant participation of Polish filmmakers will be presented in this year's Polonica section at the Polish Film Festival in Gdynia.
Along with the Main Competition, Polonica is the oldest festival section. For years, it has been a review of selected new international co-productions made in cooperation with Polish producers and filmmakers. Audience of the 46th Polish Film Festival in Gdynia will have an opportunity to watch four films presented in that section.
Lamb (2021, Iceland/Sweden/Poland ) dir. Validmar Jóhannsson
The film, with a Swedish actress Noomi Rapace in a leading role, was awarded with the prize of originality in the Un Certain Regard section of this year's Festival de Cannes. Co-producers: Klaudia Śmieja-Rostworowska, Beata Rzeźniczek, Bogna Szewczyk, Jan Naszewski. Edited by: Agnieszka Glińska.
Wolka (2021, Iceland/Poland) dir. Árni Ólafur Ásgeirsson
The film was directed by a graduate of Lodz Film School, who died this year. The drama is set in Iceland and it stars Polish actors: Olga Bołądź, Anna Moskal, Eryk Lubos, Jan Cięciara in the leading roles. Production: Stanisław Dziedzic and Klaudia Śmieja-Rostworowska. Casting by: Paulina Krajnik, director of photography: Marek Rajca, production design: Marta Luiza Macuga, edited by: Mateusz Rybka, make-up: Katarzyna Wilk.
Nzara – Hunger (2021, Zimbabwe/Poland) dir. Klara Wojtkowska
Mythical, musical, feature length animated film, written and directed by Klara Wojtkowska. Music also by Klara Wojtkowska – founder and director of Mhondoro Dreams Mystery School and Ceremony Theatre. Illustration, animation, directors of photography and edited by: Justyna Rosa, Weronika Rosa, sound: Maciej Kubera.
A Woman at Night (2021, Great Britain/Poland/China) dir. Rafał Kapeliński
The second feature length film of a Polish director, whose Butterfly Kisses (2017) was awarded by Youth Jury Generation 14plus with Crystal Bear for the Best Film at the Berlinale. Director of photography: Marcin Koszałka, co-producer: Klaudia Śmieja-Rostworowska. Among others, Piotr Adamczyk in the cast. Sound design: Zbigniew Malecki.
The 46th Polish Film Festival takes place on 20th–25th September 2021 in Gdynia.