Practical information for journalists accredited to the 46th PFF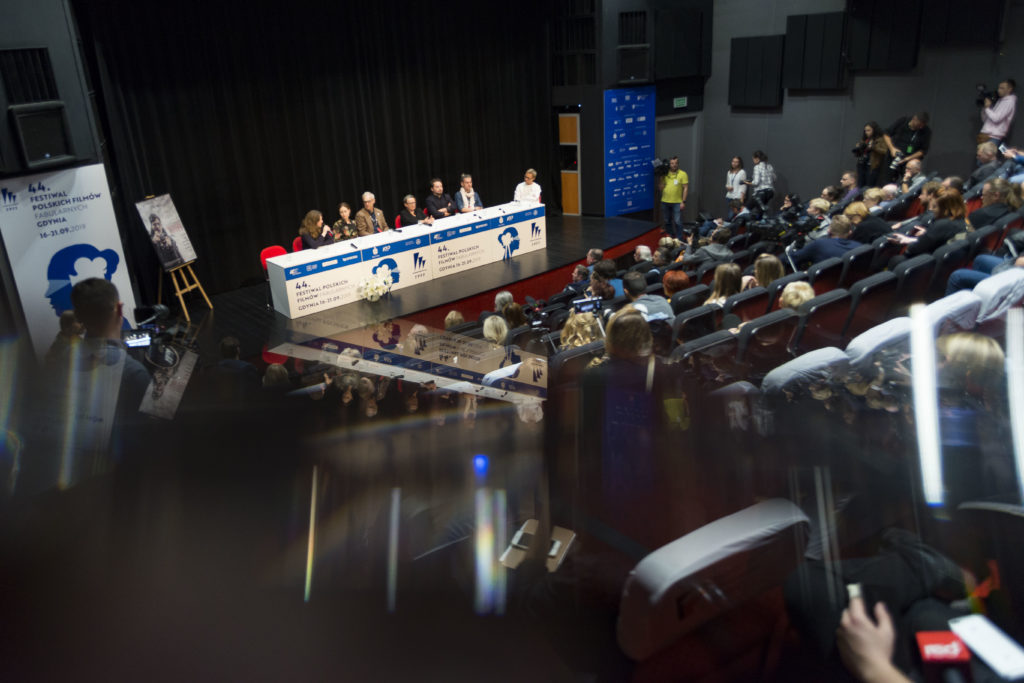 The 46th Polish Film Festival is held onsite in Gdynia. Films will be screened in the Musical Theatre in Gdynia, the Gdynia Film Centre and all screening rooms of Helios Cinema (Riviera Centre).
Throughout the Festival a free bus line will be running between Helios Cinema and Grunwaldzki Square, where the Musical Theatre and the Gdynia Film Centre are located. Festival audience is obliged to disinfect hands and cover their mouth and nose, also during screenings. Here are some more information for Festival participants.
PRESS ACCREDITATIONS: IMPORTANT RULES
All Festival accreditations, including those specified as MEDIA, are personalised identifiers. They need to be collected at the Festival Front Desk in the Musical Theatre, starting from Sunday, 19th September 2021, between 3:00 p.m. and 9:00 p.m. Throughout the entire Festival, the Front Desk will be open 8:30 a.m.–9:00 p.m.
All types of accreditations entitle their holders to enter film screenings prior to which the holders are required to make online reservations. Reservations can be made from 7:30 a.m. on the day preceding the screening until the beginning of the screening. The first day of the Festival is an exception. Reservations can be made from Monday, 20th September 2021, from 7:30 a.m.
All types of accreditations have been programmed for 34 points: one point corresponds to one film screening. Should you decide not to take part in the screening, please cancel your reservation. Failure to cancel the reservation up to 15 minutes prior to the screening will automatically result in deduction of 4 points from accreditation.
An accreditation does not entitle its holder to make reservations for the Festival opening and closing ceremonies. Entrance to the ceremonies by invitation only. Media accreditation is the only type of accreditation that entitles its holder to make reservations for press screenings.
FESTIVAL PRESS OFFICE
Press screenings of films from the Main Competition and press conferences with participation of filmmakers are held in Warszawa screenings room in the Gdynia Film Centre, first floor. This year, the hosts of the conferences – also with live stream in the Festival social media – are: Katarzyna Borowiecka and Łukasz Maciejewski.
Press Office is located next to Warszawa screening room. Accredited journalists have at their disposal: information point, and Silence Zone with access to WiFi, that is, a room for work in silence. This year, due to pandemic reasons, we recommend using your own laptops.
To provide journalists and film crews with comfortable work conditions, we offer access to the Interview Zone. It covers the space arranged in the Film Studio of the Gdynia Film School. The Zone is intended most of all for journalists recording interviews in front of cameras. We also offer a separate room in which, in comfortable conditions, you can record a radio or press interview using a recorder. Special zones can be booked for an exclusive use, making such a request in the Press Office.
Information on films and film events are available at festiwalgdynia.pl in PROGRAMME section. Additional Festival materials – stills, multimedia, competition films press books, as well as photos from the Festival – can be downloaded free of charge from the Festival cloud. Link is available at festiwalgdynia.pl in MEDIA section.
JOURNALISTS AWARD
We invite all accredited journalists to deliberations of the Journalists Jury held on Friday, 24th September 2021, directly after the last scheduled press conference, that is, about 3:30 p.m. We meet, traditionally, in the Press Office.
We also invite you to the lunch of accredited journalists on Saturday, 25th September 2021, between 1:30 p.m.–3:00 p.m. in Vinegre Restaurant in the Museum of the Polish Navy building, next to the Gdynia central beach.
See you in Gdynia!