Press Conference of Andrzej Wajda Studio and Film School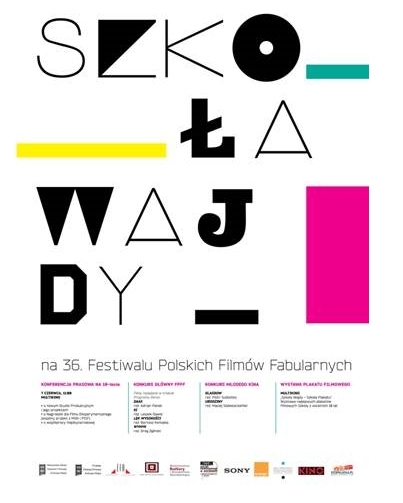 The following guests, among others, will take part in the conference: Andrzej Wajda, Wojciech Marczewski, and Marion Döring (Director of European Film Academy).
The main topics will be:
the founding of a new production studio – Wajda Studio and its first production planned for 2011
Award for an Experimental Film – i.e. the project of the Museum of Modern Art and Polish Film Institute
The international cooperation of the School: about EKRAN and a new Polish and Russian documentary project
Projects developed at the School and selected for the Main Competition of the 36th PFF: DAAS by Adrian Panek, KI by Leszek Dawid, FEAR OF FALLING by Bartek Konopka, and COURAGE by Greg Zglinski.

7 June 2011, 11 am, Multikino

EXHIBITION OF ANDRZEJ WADJA SCHOOL
6th – 11th June, Multikino
To celebrate its 10th anniversary, Andrzej Wajda School will present in Gdynia a selection of its best film posters. Among them we may find the posters prepared for films directed by Bartek Konopka, Marcin Sauter and Agnieszka Smoczyńska.
The role of Andrzej Wajda School is not limited to developing the projects prepared by the Programme participants. Neither is it limited to film production. The School makes every effort to promote its films in a professional manner. Despite the low budget, the Schools places particular emphasis on preparing the posters that convey as far as possible the uniqueness of feature and documentary films, at the same time reflecting the close cooperation between the graphic artist and director. In this manner, Andrzej Wajda School refers not only to the idea of Film Teams, but also tries to follow the tradition of the Polish School of Posters.