"Producer and director: creative duet"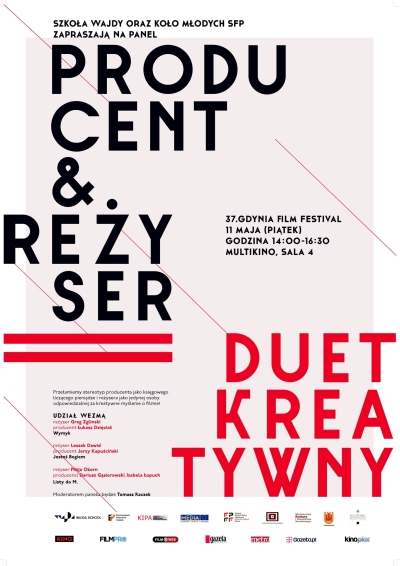 The creative partner-like duets will take part in the panel discussion — the twosomes standing behind the respective successes of such films as "Courage", "You Are God", and "Letters to Santa". Each duet is different, but there is one all-important feature they all share: a good cooperation and mutual understanding. Films created under such conditions stand out owing to their high artistic value, the appeal of the subject, originality, grand style, the precision of their realization, and — last but not least — popularity amongst the audience. We wish to present the history of their creation.
"COURAGE" – director: Greg Zglinski, producer: Łukasz Dzięcioł
"YOU ARE GOD" – director: Leszek Dawid, producer: Jerzy Kapuściński
"LETTERS TO SANTA" – director: Mitja Okorn, supervising producer: Dariusz Gąsiorowski, producer: Izabela Łopuch
The panel will be moderated by Tomasz Raczek, and is under the special patronage of the quarterly magazine PRO Film. After the panel, we invite you to enjoy refreshments in the Coco Club in the Gemini Centre. Those who are willing to participate in the seminar are kindly asked to send their applications: mkoszalinska@wajdaschool.pl The panel is organized within the Programme for Creative Producers conducted by Wajda School. Recruitment for the third edition starts soon!
May (Friday)
2 p.m. – 4.30 p.m.
Multikino, screening room no. 4