Special screenings at the 48th Polish Film Festival: 75th anniversary of Lodz Film School, Solaris Mon Amour and The Dancing Hawk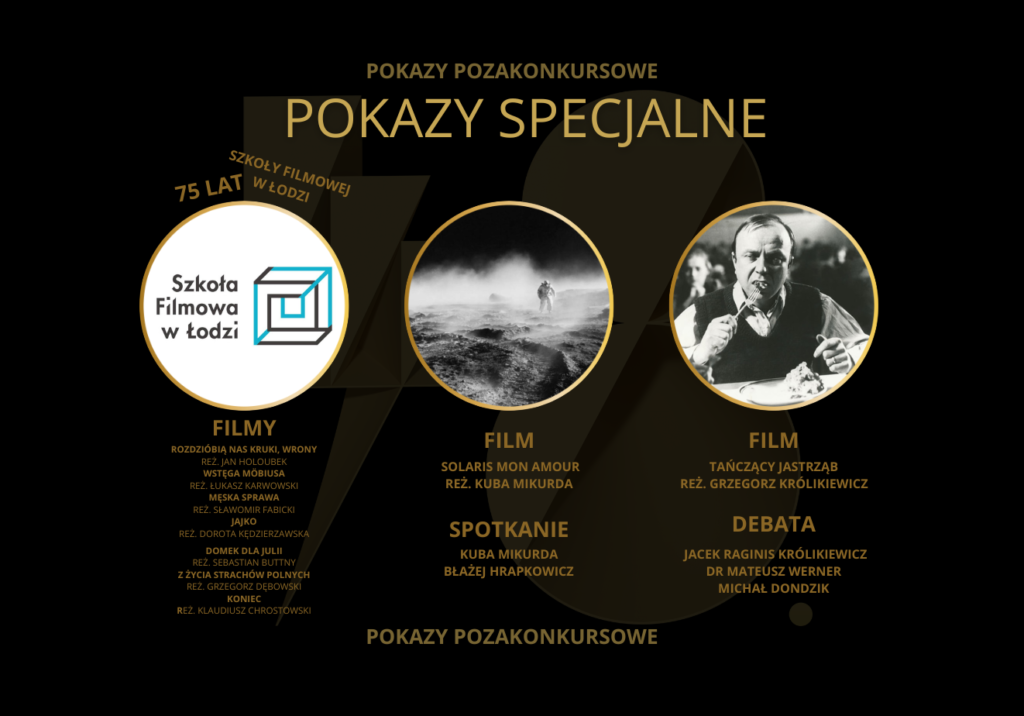 There would be no Polish Film Festival without the special screenings. This year we invite you for three events with the help of our special partners.
Lodz Film School will celebrate its 75th anniversary at the 48th PFF! On this occasion there'll be screenings of student films by graduates, whose films are nominated to this year's Main Competition and Short Film Competition. The following titles made it on the list: Ravens and Crows Will Peck Us to Pieces by Jan Holoubek, Möbius Strip by Łukasz Karwowski, A Man Thing by Sławomir Fabicki, The Egg by Dorota Kędzierzawska, House for Julie by Sebastian Buttny, From the Life of Scarecrows by Grzegorz Dębowski and The End by Klaudiusz Chrostowski.
Educational Film Studio and Adam Mickiewicz Institute present a film Solaris Mon Amour directed by Kuba Mikurda. A found-footage documentary inspired by Stanisław Lem's novel, Solaris. The film comprises fragments of seventy films produced by the Educational Film Studio in Łódź in the 1960s and the first radio adaptations of Solaris. It's a personal account of loss, grief and memory.
National Film Archive – Audiovisual Institute invites you to an evening with Grzegorz Królikiewicz. In the programme there's a press conference with NFA director Robert Kaczmarek, premiere of the digitally restored The Dancing Hawk and a debate about both fictional and documentary works of the director with Jacek Raginis Królikiewicz, the director's son, and Mateusz Werner, PhD, a philosopher of culture and film expert, moderated by film expert Michał Dondzik.
Special screenings at the 48th Polish Film Festival:
Solaris Mon Amour, directed by: Kuba Mikurda | after the screening a meeting with the director, lead by Błażej Hrapkowicz | event's partners: Educational Film Studio and Adam Mickiewicz Institute
Screenings of student films from Lodz Film School for its 75th anniversary:
Ravens and Crows Will Peck Us to Pieces, directed by: Jan Holoubek
Möbius Strip, directed by: Łukasz Karwowski
A Man Thing, directed by: Sławomir Fabicki
The Egg, directed by: Dorota Kędzierzawska
House for Julie, directed by: Sebastian Buttny
From the Life of Scarecrows, directed by: Grzegorz Dębowski
The End, directed by: Klaudiusz Chrostowski
The Dancing Hawk, directed by: Grzegorz Królikiewicz | after the screening a debate with Jacek Raginis Królikiewicz and Mateusz Werner, PhD, lead by Michał Dondzik | event's partner: National Film Archive – Audiovisual Institute
The 48th Polish Film Festival in Gdynia will take place on 18th–23rd September 2023