The 43rd Polish Film Festival is about to begin!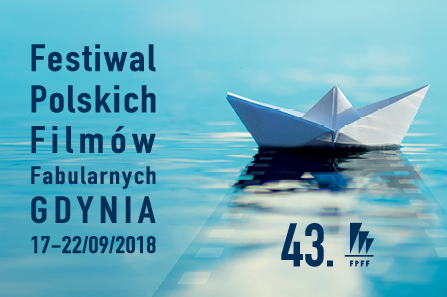 The 43rd Polish Film Festival in Gdynia will start on 17th and end on 22nd September 2018. The Musical Theatre in Gdynia, Gdynia Film Centre, Multikino, Helios, Municipal Theatre, Mercure Gdynia Centrum and the newly opened Consulate of Culture are the main venues for all competition, out-of-competition and special screenings as well as debates and meetings. The full screening schedule is available on the Festival website.
Sixteen films qualified for the Main Competition and eight for the Visions Apart Competition. During the 43rd PFF, eight films from the Main Competition and one from the Visions Apart Competition will have a Polish premiere. Twenty-six films submitted by film schools, Munk Studio and independent producers qualified for the Short Film Competition. Admitted works will be scrutinised by three official juries, but there will also be other teams of experts such as the Young Jury (winners of the competition "Criticise!") and Film Discussion Clubs Jury who will give out-of-competition awards.
This year's recipient of the Platinum Lions for Lifetime Achievement is Jerzy Skolimowski. The director will be the special guest at a special screening of his film "Deep End".
The programme of the 43rd PFF is rich with out-of-competition sections. You can watch international co-productions with a considerable Polish contribution in the oldest festival section called Polonica.
We will commemorate eminent Polish filmmakers with their selected works in two sections, Pure Classics – In Memoriam and Special Screenings – In Memoriam. The Festival will pay tribute to those who passed away in the recent year – Wojciech Pokora, Piotr Szulkin, Tomasz Stańko, Wojciech Wójcik, Antoni Krauze, Alina Janowska, Kazimierz Karabasz, Władysław Kowalski – and remind the masterpieces by Andrzej Wajda, Wojciech Jerzy Has and Andrzej Munk.
Pure Classics is one of the most popular sections. This year, the audience will have an opportunity to see digitally restored classics by Agnieszka Holland, Kazimierz Kutz, Krzysztof Zanussi and Jerzy Skolimowski. In Pre-War Cinema Treasures, a section organised with the National Film Archive – Audiovisual Institute, we will show films starring Pola Negri and the pre-war blockbuster "Daredevils" by Leonard Buczkowski with live music to celebrate a 100 Years of Independence. The programme of this special, jubilee section comprises more than a dozen historical feature films and documentaries, from Buczkowski, Wajda and Kawalerowicz to Smarzowski and Komasa. Plus, the audience will see a few episodes of "History in Moving Pictures", an on-going series produced by the Documentary and Feature Film Studios. 50 Years After March 1968 also harks back to important historical events. In this section, we will screen films by Janusz Kijowski, Radosław Piwowarski, Marcel Łoziński, Andrzej Krakowski, Maria Zmarz-Koczanowicz and Jonathan Rozenbaum.
As usual, the Festival will not be short of Special Screenings. Digitally restored "The Gateway of Europe" by Wojciech Wójcik will be one of the highlights of the 43rd Polish Film Festival during the evening hosted by Telewizja Polska SA. The audience will also have an opportunity to compare both recent films featuring Polish pilots of 303 Squadron. In the section Films from Gdynia, we will show three documentaries and one short feature made by directors closely associated with the host city. Thanks to the cooperation between the Polish Film Festival and the Krakow Film Festival, the audience in Gdynia can watch selected films awarded this year in Krakow. There are five of them, the best documentaries and an animation, in the section Krakow Film Festival Catching Waves.
Each year, Gdynia for Children is one of the most crowded sections. During its jubilee 15th edition organised by the Polish Filmmakers Association, young people can watch the latest Polish films for children and teenagers, classics of Polish family film and selected titles from the world cinema as well as participate in workshops and meetings with filmmakers.
All Festival guests, Tricity dwellers and tourists are invited to free-of-charge Outdoor Screenings in the Grunwaldzki Square, where they can watch feature films awarded in Gdynia and the best recent Polish shorts. The section is organised with Telewizja Kino Polska.
Film screenings of the 43rd Polish Film Festival will be accompanied by a number of events. For the third time, we invite everyone concerned to prestigious Gdynia Industry meetings. Thematic panels are specifically addressed to artists, producers, professionals and film school students. In this year's programme: a presentation of TVN and Polsat on opportunities for cooperation between the TV and film industry; the 10th anniversary of Regional Film Funds; a presentation of Maltese offer for international collaboration; a presentation of the Warsaw Kids Film Forum and the Association of Polish Animation Producers; a discussion celebrating the 10 years of Munk Studio – Polish Filmmakers Association; a debate on international promotion and distribution of Polish audiovisual works hosted by Law Firm Leśnodorski Ślusarek i Wspólnicy; and "Women in Film 50/50 by 2020" – a conference on the situation of Polish female filmmakers in the light of the European Commission directive passed to equal chances of female and male professionals.
The Festival will also host such industry events as "Face to Face" Debate with Director of the Polish Film Institute Radosław Śmigulski, an open meeting of the PFI Council – an institution that sets new directions for the Institute and approves operational programmes, a media meeting on the Gdynia Animation Centre – a project currently in development, the oldest event at the Festival – Polish Filmmakers Association Forum, the first fictionalised historical VR spectacle in Poland – "A Note from the Uprising" produced by the National Centre for Culture, and Małgorzata Potocka's acting workshop. During the Festival and shortly after, a research financed by the National Centre for Culture will be conducted to profile an average film tourist accompanied by marketing assessment of the Festival audience. The Festival will also host the Polish Film Institute Awards Ceremony.
Conference "Post-2005 Contemporary Polish Historical Film" and subsequent debate with Polish directors and producers "A 100 Years of Independence" will undoubtedly be the two events especially important for the industry and film experts. During the conference, Polish Society for Film and Media Studies will give the awards for the Best Book.
The Festival also arranged events promoting literature devoted to Polish films and filmmakers. Authors of 11 books – some of them popularising, some scientific, biographies and albums – will meet with the audience and Festival guests. The neighbouring outdoor space will form a backdrop to eight thematic exhibitions on the past and present of Polish cinema.
Every year the National Film Archive – Audiovisual Institute comes up with an impressive programme for film education of the young audience. This year the offer entails film debates "Criticise!", lectures based on the festival films, film reportage classes School Film Archive Studio, Film City Game, training for the 3rd edition of the School Contest on Knowledge of Film and Mass Communication and curator tours of festival exhibitions.
The 43rd Polish Film Festival will bring about very special music events: leading jazz musicians will pay tribute to Jerzy "Duduś" Matuszkiewicz to celebrate his 90th birthday; Leszek Możdżer will have a recital; violin virtuoso Vadim Brodski will perform smashing hits of popular music with Capella Gedanensis; and L.U.C. will come with a unique programme "A 100 Years of Film Music" accompanied by his international band Rebel Babel Ensemble.
Festival Newsreel will capture emotions and events during the entire Festival week. Supervised by Jerzy Rados, this year's team comprises students of the Gdynia Film School, Wajda School and Faculty of Radio and Television, University of Silesia in Katowice.
The Festival promo was directed by Robert Turło; visual artist Mateusz Kozłowski is the author of the animation, and the music was composed by Marek Kuczyński. The Festival poster that inspired the video was created by Adam Żebrowski.
Festival Organisers: Ministry of Culture and National Heritage, Polish Film Institute, Polish Filmmakers Association, President of the City of Gdynia, Governor of the Pomerania Province. Co-organisers: Telewizja Polska, Adam Mickiewicz Institute, National Centre for Culture. Main Sponsor of the 43rd PFF: PKO Bank Polski.
Strategic Patron: BMG Goworowski – Mercedes-Benz Authorised Dealer. Main Patrons: PKP Intercity, Dr Irena Eris, Gdynia Culture Centre, Reserved. Red Carpet Patrons: Vistula, Orushka. Nationwide Media Patrons: Telewizja Polska, Rzeczpospolita, Elle, Gala, Kino, Onet, Polish Radio One, Polish Radio Three, Super Express. Local Media Partners: Dziennik Bałtycki, Radio Gdańsk, Rzeczpospolita, Życie Regionów, Trojmiasto.pl, Telewizja Gdańsk.
Festival passes and single tickets for screenings are still available. This year – apart from traditional discussions at the Musical Theatre – we scheduled additional meetings with casts and crews of the Main Competition films immediately after selected screenings at Multikino.
For more information go to www.festiwalgdynia.pl