The debate "Women in Cinema: How to Break Into the Big Time in a Men's World?"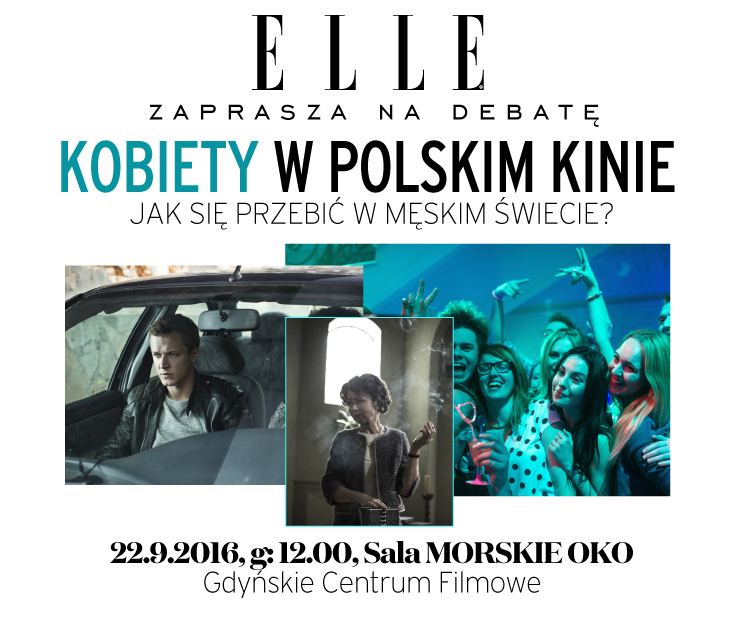 With the debate "Women in Cinema: How to Break Into the Big Time in a Men's World?", Gdynia Film Festival and the years-long partner of the event – the "Elle" magazine want to initiate discussion on the issue of the presence of women in the film environment. What difficulties do they face? What adversities do they fight?
The debate will be held in the Gdynia Film Centre, in "Morskie Oko" room, on Thursday, 22 September, at 12:00 P.M. – 1:30 P.M.
This year, the Main Competition of the Gdynia Film Festival involves films produced by women, among others: "Red Spider" by Agnieszka Kurzydło, "Kamper" by Natalia Grzegorzek, or "All Those Sleepless Nights" by Marta Golba. For yet another time – after the double term of Agnieszka Odorowicz – a woman, Magdalena Sroka, is the Chairperson of the Polish Film Insitute, the most important institution financing the Polish cinema. The time of brilliantly qualified women has come, or perhaps – as some reckon – it is the specificity of the times? Are there really more women dealing in directing and production? Let us have a look at statistics: how many women and men apply for film studies, how many projects per year are signed by women and how many by men?
Do women feel that gender influences their reception and the attitude of the environment, as well as, position building, the opportunities for development and accomplishing aims? Does gender awareness exist in the film competition and does it matter in forming achievements? Are women and men faced with the same requirements? Do women – apart from showing the fact that they are good – feel that they still have to prove that they are better than their male colleagues? Gdynia Film Festival and "Elle" invite to the debate and to asking those questions to ourselves and others.
Michał Oleszczyk, the Artistic Director of the Festival: "The debate about the presence of women in the Polish cinema flared up a few months before the Festival, which already shows that the industry feels the need for a conversation about the topic. Perhaps Gdynia should be a place of conversation about the topics that are important to the Polish filmmakers and the Polish culture, that is why I welcomed the initiative of "Elle" for a conversation and dialogue with joy."
The panel will be attended by Monika Talarczyk-Gubała, Małgorzata Sadowska, Agnieszka Kurzydło and Katarzyna Klimkiewicz.