The Hollywood Oscar in Gdynia only on the Festival Tuesday!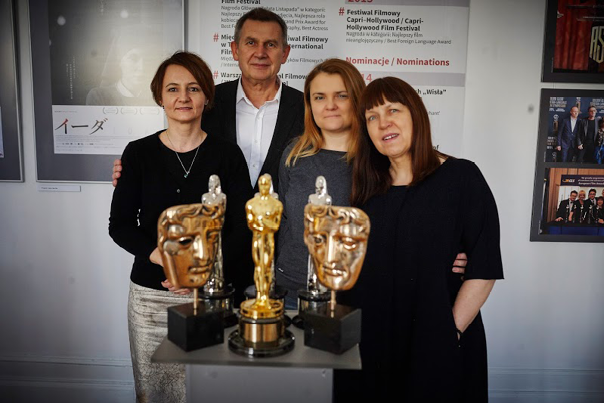 Only on Tuesday, 15th September 2015 from 10.00 AM to 8.00 PM, the visitors of the "#IDATHEFILM" exhibition organised by the Film Museum in Lodz will be able to see "live" the world most famous film award – the Oscar.
The statue has been made available thanks to the kindness of the film's director, Paweł Pawlikowski. The multimedia exhibition is an invitation to the world of the film "Ida" in its
preparation period, test shots and work on the set. In the exhibition we will see how the filmmakers were creating the magic of the cinema of the highest quality, honoured with five European Film Awards. The presentation dedicated to Paweł Pawlikowski's film also includes photos, posters and awards that "Ida" received all over the world.
GDYNIA FILM CENTRE GALLERY, EXHIBITION OPEN FOR VISITORS FROM 13TH TO 20TH SEPTEMBER 2015, 10:00 AM – 8:00 PM.
In the photograph: Piotr Dzięcioł, Magdalena Malisz, Ewa Puszczyńska, Marzena Bomanowska. Phot.: Marcin Stępień