The Jury of the 41st Gdynia Film Festival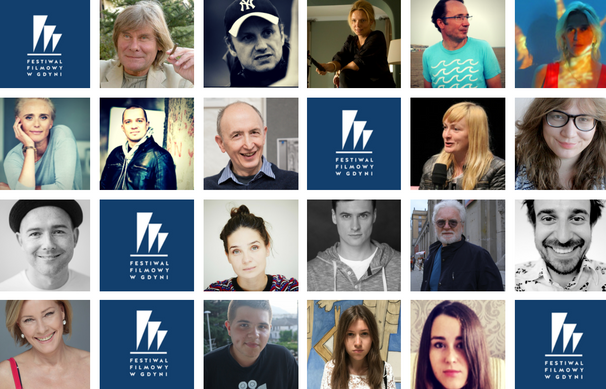 The 41st Gdynia Film Festival hereby presents the jury of: Main Competition, Visions Apart Competition, Young Cinema Competition and Short Film Competition:
Main Competition:
Filip Bajon (Chairman)

Lenny Abrahamson

Magdalena Górka

Bartosz Karczyński

Ola Maślik

Łukasz Orbitowski

Kinga Preis

Gary Yershon
Visions Apart:
Monika Strzępka (Chairwoman)
Elżbieta Benkowska
Marcin Bortkiewicz
Young Cinema Competition and Short Film Competition:
Agnieszka Smoczyńska-Konopka (Chairwoman)

Mateusz Damięcki
Andrzej Krakowski
Adam Palenta
Małgorzata Potocka
Young Jury:

Dagmara Cioska
Łucja Olszewska
Czarek Orłowski
Main Competition – Jurors' Profiles
Filip Bajon
Director, screenwriter, film producer, writer. Director of over twenty feature films, several documentaries, TV series. He also directs for the theatre and TV Theatre. Winner of numerous awards, incl. for "Aria for an Athlete", "Inspection of the Crime Scene 1901", "Shilly-Shally", "Daimler-Benz Limousine", "The Magnate", "Poznan 56". His most significant films also include "Engagement" (TV), "The Spring to Come", "The Foundation", "Maiden Vows" and "Damaged". He has recently finished filming his latest production – "Kamerdyner ". He has published several novels and collections of short stories. Lecturer at the Radio and Television Faculty of the University of Silesia and the Łódź Film School, in the years 2008-2016 Dean of the Directing Department of the latter. Graduate of Law from the Adam Mickiewicz University in Poznań and of Directing from the Łódź Film School. Member of the Board of the Polish Filmmakers Association. In the '90s, head of the DOM Film Studio, since 2015 – the Director of the KADR Film Studio.
Lenny Abrahamson
Director. While studying physics and philosophy at Trinity College Dublin, he directed short videos with the Trinity Video Society, which he co-founded with Ed Guiney. His first short film, "3 Joes", won the Best European Short Film Award at the 1991 Cork Film Festival and the Organiser's Award at the 1992 Oberhausen Short Film Festival.
Before making his feature-length debut, he directed numerous commercials for television. His first feature film, "Adam & Paul", won the Best First Feature award at the 2004 Galway Film Fleadh and the Grand Prix at the 2005 Sofia International Film Festival.
"Garage", another collaboration with writer Mark O' Halloran similarly to his debut, was selected for Director's Fortnight at the 2007 Cannes Film Festival and won the CICAE Art and Essai award. The film also won the awards for Best Film, Best Director, Best Script and Best Actor at the 2008 Irish Film and Television Awards (IFTAs).
"What Richard Did", his third feature, premiered at the 2012 Toronto International Film Festival and was also selected for the 2012 BFI London Film Festival and the 2013 Tribeca Film Festival.
In his next feature Lenny cast Domhnall Gleeson, Michael Fassbender, and Maggie Gyllenhaal. "Frank" premiered to great praise at the 2014 Sundance Film Festival.
Lenny's latest film, "Room", starring Brie Larson and Jacob Tremblay, was nominated for four Academy Awards: Best Picture, Best Director, Best Actress for which Brie Larson won and Best Adapted Screenplay. In addition, "Room" won the People's Choice Award at the 2015 Toronto International Film Festival, was one of the AFI Awards Movies of the Year, and appeared on numerous critics' top ten lists.
Lenny is developing a number of projects including "The Little Stranger", a film based on Sarah Waters' novel, and "Neverhome", an adaptation of Laird Hunt's civil war novel.
Magdalena Górka

Cinematographer. Graduate of the Łódź Film School (2000). Her talent and experience have gained world-wide recognition. She has been the director of photography of feature and documentary films, TV series, music videos and international advertising campaigns. She is very flexible changing among the many carriers available on today's film market. A high-class specialist in filming action scenes and car commercials. Her area of expertise includes action films, baroque studio scenes requiring complex camera moves and filming vast landscapes, but also recording the emotions of film characters.
The films with her cinematography ranked high in the box office, e.g. "Paranormal Activity 3" directed by Henry Joost and Ariel Schulman or Władysław Pasikowski's "Jack Strong". Her music video for Katy Perry's "Unconditionally" (2013) has been viewed by two hundred and eighty million people up to date.
Her works also include Henry Joost and Ariel Schulman's "A Brief History of John Baldessari", Jerzy Śladkowski's "Two Rembrandts in the Garden" and Casey Affleck's fictionalised "I'm Still Here", Mark Edwin Robinson's feature "The Levenger Tapes", Jim Tassopulos's "The Appearance of Things", Frank Robak's "Statistics", Ezra Buzzington's "Outta Sync", Władysław Pasikowski's series "Glina 2", Elton John's music video directed by Brent Bonacorso "Home Again" and advertising campaigns for Mercedes Benz AMG, Audi A4, Ford, Corvette, Google, BNY Mellon, XBOX, Goya, New Balance, BCBG, Max Azria, Tyskie, MKCafe, CTIA, Converse, Johnnie Walker, Milka, Lunchables, WalMart, Unilever.
She lives in Los Angeles, California.
Bartosz Karczyński

Film editor. Graduate of the Film and Television Academy in Warsaw. In the profession since 1996. For many years he has been involved in the production of TV shows ("Agent", "Big Brother", "Idol") and documentary series ("Pierwszy krzyk", "Real Cops"). He has worked on feature-length films ("The Magic Tree", "Felix, Net i Nika oraz teoretycznie możliwa katastrofa", "These Daughters of Mine"), series ("The Magic Tree", "Na dobre i na złe", "Barwy szczęścia", "Ojciec Mateusz") and documentaries (incl. Maria Konwicka and Kinga Dębska's "Aktorka", Eagle – Polish Film Award 2016 for Best Documentary). In 2016 he was nominated for the Eagle – Polish Film Award for editing "These Daughters of Mine".
Enthusiast of films for children and young adults, windsurfing and skiing.
Ola Maslik
Production designer. Graduate of Graphic Design from the Academy of Fine Arts in Wroclaw (2000), MFA from Yale School of Drama (2006). Awarded by the Donald and Zorca Oenslager Fellowship and the Elder Scholarship for International Design Students.
After exploring puppets design she worked with Richard Foreman at the Ontological-Hysteric Theater in New York City.
She worked as a production designer on many films, including Craig Johnson's "The Skeleton Twins", Cherien Dabis's "May in the Summer", Chris Nelson's "Ass Backwards" presented at Sundance Film Festival.
She recently wrapped two seasons on the CBS TV show "Madam Secretary" created by Barbara Hall and Morgan Freeman and directed by Eric Stolz, Tony Phelan, Denny Gordon, Charlotte Brandstrom.
Previously, Ola's work was also featured in Ryan O'Nan's "Brooklyn Brothers Beat the Best", which had its premiere in 2012 at the Toronto Film Festival.
Ola Maslik is originally from Poland, she lives in New York City.
Łukasz Orbitowski
Writer and journalist. He specialised mainly in horror literature and fantasy prose, but recently made himself known as an astute observer of reality. Graduate of Philosophy from the Jagiellonian University. He made his debut with a collection of short stories "Złe wybrzeża". He published collections of short stories and six novels: "Horror Show!", "Święty Wrocław", "Widma", "Tracę ciepło", "Szczęśliwa ziemia", "Inna dusza". For "Szczęśliwa ziemia" nominated for Nike Literary Award and Passport of "Polityka". He received the latter for "Inna dusza" published in 2015, which has also been nominated for the Gdynia Literary Award and the Nike Award.
As a critic and columnist he has collaborated with e.g. "Nowa Fantastyka", "Przekrój", "Lampa", "Mówią Wieki", "Gazeta Wyborcza".
He hosts a programme "Dezerterzy" on the TVP Kultura channel. Always travelling, he gets lost in between cities. His friends call him the Monster.

Kinga Preis
Film and theatre actress. Graduate of the Academy for the Dramatic Arts in Wrocław. In the years 1995-2012 associated with the Polski Theatre in Wrocław. In cinema, after some supporting roles, she shone in Witold Adamek's "Monday" (1998). She starred in the films directed by Rosa, Wosiewicz, Falk, Cywińska, Kwieciński, Wojtyszko, Smarzowski, Wajda, Skolimowski, Holland, Smoczyńska. She is among the most talented and acclaimed Polish actresses. She has received prestigious awards, including Zbyszek Cybulski Award and Gold Duck, she has been nominated for the Polish Film Award eleven times and won the Eagle award five times ("Silence", "Tuesday", "The Collector", "In Darkness", "The Mighty Angel"). Awarded at the Gdynia Film Festival three times ("Monday", "Silence", "The Collector"). She has presented the scope of her talent not only by means of her outstanding performance in Jerzy Skolimowski's "Four Nights with Anna", Wojciech Smarzowski's "The Dark House" or Agnieszka Holland's Oscar-nominated "In Darkness" but also in her ingenious interpretations of songs. In 2010 she was decorated with the Gold Cross of Merit.
GARY YERSHON

Theatre and film music composer but also writer, translator, musical director and teacher.
For forty years he has been creating music for the leading UK theatre companies, West End and Broadway productions, radio, television and film. He has been collaborating with the Royal Shakespeare Company and since 2016 – the Old Vic company as an Associate Artist. He co-operates with the National Theatre, theatre companies in the West End (including premiers of Yasmina Reza's plays) and on Broadway (2009 Drama Desk nomination for "The Norman Conquests").
His movie work has been for Mike Leigh ("Topsy-Turvy", "Happy-Go-Lucky", "Another Year", "Mr Turner"). For "Another Year" (2010) he was nominated for the European Film Award, for "Mr Turner" (2014) he won the Best Orchestral Score award at Grand Scores 2016, as well as nominations for Ivor Novello, ASCAP Composer's Choice and Academy awards. Curator of the "Oscar©-Winning Scores" exhibition at London's Barbican Centre.
He has written for BBC radio since 1979: songs for "Midweek" (Radio 4), music for plays ("The Odyssey", "Gawain and the Green Knight", "The Theban Plays", "The Winter's Tale", "The Eve of St Agnes", "Three Men in a Boat"). He received the Sony award for his music for Louis MacNeice's "Autumn Journal". For Radio 3 he also translated and dramatised Pushkin's "Ruslan and Lyudmila", and contributed a new work, "Orwell on Kipling", to the live performance show "The Verb".
He also writes for TV (a detective drama "Trial and Retribution IX & X", children's cartoon series "James the Cat", "Painted Tails", "Ebb and Flo" with the animator Kate Canning).

Visions Apart Competition – Jurors' Profiles

Monika Strzępka (chairwoman)
Theatre director. Born 1976. She made her debut in 2004 with Mark Ravenhill's "Some Explicit Polaroids" on the Polish Stage in Czech Teschen. Her next projects were created in Bydgoszcz, Gdańsk, Jelenia Góra. Since 2007 she has been working in a duo with the playwright Paweł Demirski. Their first performances prepared together were "Forefathers' Eve. Exhumation" (Polski Theatre in Wrocław, 2007) and "There Was a Pole, Pole, Pole and the Devil" (Drama Theatre in Wałbrzych, 2007). Their most significant performances include "There Was Andrzej, Andrzej, Andrzej and Andrzej" (Drama Theatre in Wałbrzych, 2010), "In the Name of Jakub S." (Drama Theatre in Warsaw, 2011), "Un-Divine Comedy. I Will Tell God Everything!" (National Stary Theater in Krakow, 2014). In 2015 she directed an eight-part TV series "Artyści" which is to be broadcast in autumn 2016 on Channel 2 of Telewizja Polska.
Winner of numerous awards, including "Polityka" Passport Award 2010 (with Paweł Demirski) in the Theatre category.

Elżbieta Benkowska
Born in the Year of the Dragon, a daughter of a shipyard worker and an accountant, sister of a mathematician, granddaughter of three Cashubians and a citizen of the Free City of Gdańsk, who decided to become a film director. She graduated from the Gdynia Film School in 2013 and is writing her Ph.D. thesis at the University of Gdańsk on Polish and Serbian football fans. Her graduation film "Olena" received numerous awards, including a nomination for Palme d'Or in the Short Film Competition at 66th IFF in Cannes.
Benkowska directed the first part of "New World", a film triptych produced by Akson Studio. She is currently working on a screenplay of her feature-length debut.
Marcin Bortkiewicz
Director, screenwriter, film and theatre actor.
Graduate of the University of Gdańsk and Wajda School. He made his debut with a short documentary "Early Learning", which received a Special Mention of the Jury at the Krakow Film Festival in 2009. His "Drawn from Memory" made at the Munk Studio as part of the 30 Minutes Programme was presented in the Directors' Fortnight section at the International Film Festival in Cannes in 2012. In 2015 he made his debut with a feature entitled "Walpurgis Night" which received many awards at Polish festivals, including the Golden Claquer Award for the longest applauded film at the Gdynia Film Festival.
Young Cinema Competition and Short Film Competition – Jurors' Profiles:

Agnieszka Smoczyńska (chairwoman )
Director, screenwriter. Graduate of Culture Studies from the University of Wrocław, Directing from the Radio and Television Faculty of the University of Silesia and master courses from Wajda School. Author of short documentaries ("Artykuł 567", "Viva Maria!") and feature shorts ("Kapelusz", "3 Love", "Aria Diva") which won numerous awards at film festivals in Poland and abroad.
Holder of the scholarship of the Minister of Culture and National Heritage for outstanding artistic achievement. Winner of the programme "My Talent for Poland", winner of the Golden Pen award granted by the President of the Republic of Poland.
In 2015 she made her feature-length debut "The Lure" in which she experimented with the genres of a musical and a horror film. Awarded for Directing Debut at the Gdynia Film Festival, named the Polish Film Awards Discovery of the Year. Apart from that, "The Lure" has won dozens of awards around the world, including in Fantasporto, Sofia, Montreal and Vilnius and also at Sundance Film Festival where she received the Special Jury Prize for "unique vision and design". This year, invited by Sydney Film Festival, "Variety" and European Film Promotion, she participated in the European Cinema: Ten Women Filmmakers to Watch programme.
Mateusz Damięcki
Film, theatre and TV actor. Graduate of the National Academy of Dramatic Art in Warsaw. He began his career as a child in Jerzy Łukaszewicz's series "Wow", he also appeared on Jerzy Gruza's "40-latek. 20 lat później", Juliusz Machulski's "Mothers, Wives and Lovers" and a cinema feature "Hunter" directed by Jerzy Łukaszewicz. He has been playing in Polish and foreign productions since 1999, including a Russian-French costume film "The Captain's Daughter" (Russkiy bunt), Filip Bajon's "The Spring to Come", Giacomo Battiato's biographical "Karol. A Man Who Became Pope", Michał Kwieciński's "Jutro idziemy do kina", Dominik Matwiejczyk's "Black" (Special Mention in the Independent Film Competition at the 2009 Gdynia Film Festival and the Polish Independent Cinema Jan Machulski Award in the Best Actor category in 2010), Jacek Lusiński's "Pixels", Bruce Parramore's musical "Love and Dance". As a leading man he partnered Alice Dwyer in a German war melodrama "Remembrance" directed by Anne Justice.
He has starred in popular series "The Officer", "Egzamin z życia", "Now or Never!", "Na krawędzi", "Na dobre i na złe", "Bodo" and many others. He played a leading role in a Russian sitcom "How I Became Russian" (Kak ya stal russkim) for CTC station. Mateusz Damięcki also took part in documentaries: "Ocalony świat" and "Mapa ginącego świata".
His most significant dubbing roles include the character of Christopher Robin in "The New Adventures of Winnie the Pooh".
Since his studies, associated with Warsaw theatres: Nowy and Współczesny (2004-06). He currently performs in "Onegin" directed by Irena Jun at the Studio Theatre and in "Spank! The Fifty Shades Parody" directed by John Weisgerber at Teatr Polonia.
Member of the Programme Council of the Institute KOSMOPOLIS – the Science, Culture and Education Foundation.

Andrzej Krakowski
Director, screenwriter, film producer, teacher, writer and cartoonist. Professor of the City University of New York, doctor of film arts. He studied Directing at the Łódź Film School. In 1968 he emigrated from Poland and continued his studies at the American Film Institute. He has made over sixty films and TV series. Director of the awarded "Looking for Palladin", "Farewell to My Country", "Campfire Stories", "The Politics of Cancer". Producer of e.g. the Oscar-nominated "California Reich", winner of two Emmy awards for the series "We Are New York" and the popular Broadway musical "King David". Author of screenplays of eighteen films and of books, including "Pollywood: jak stworzyliśmy Hollywood" [Pollywood: How We Created Hollywood], "Pollywood II: uciekinierzy w raju" [Pollywood. Volume II. Refugees in Paradise] and "The World Through the Eye of a Screenwriter".
In the eighties he was a cartoonist of the "Business of Film" magazine issued simultaneously in London and Los Angeles. Recently his cartoons have appeared on the blogs "Foreign Confidential" and "Reunion '68".
Adam Palenta
Cinematographer, director, photographer and screenwriter. Graduate from Multimedia Communication at the University of Arts in Poznan, Cinematography at the Krzysztof Kieślowski Faculty of Radio and Television at the University of Silesia in Katowice, Photography at the Silesian University in Opava and Wajda School in Warsaw. Awarded at festivals in Poland and abroad. Grant holder of the Ministry of Culture and National Heritage (Młoda Polska, 2010). His films (e.g. "Freestyle Life", "House on Its Head") and cinematography (e.g. "Don't Be Afraid of the Dark Room") have been presented and acclaimed at the DOXA Documentary Film Festival, Palm Springs International Short Fest, Vilnius International Short Film Festival and Krakow Film Festival. His feature-length cinematographic debut "Baby Bump" directed by Kuba Czekaj won the Queer Lion Award Special Mention at the 72 nd Venice International Film Festival and a special mention in the Visions Apart Competition at the 40 th Gdynia Film Festival.
Małgorzata Potocka
Actress, director, producer, manager. Having graduated in Acting and Directing from the Łódź Film School, she began working at the Educational Film Studio and made documentaries. In 1979, together with Józef Robakowski, she opened a private Exchange Gallery which became a venue for lectures, workshops and study visits of artists from the opposition milieu. In the eighties she was the originator and organiser of artistic events, including Konstrukcja w Procesie festival, closed on 13th December 1981. Scholarship holder of the Millennium Film Workshop (1986).
Owner of MM Potocka Production film company which has produced nine feature films for Ted Turner Television, Channel 4, BBC and Canal+. For Telewizja Polska she produced concerts of stars at the International Song Festival in Sopot, while at the Polish Song Festival in Opole she created the Stage of Young Talents. Co-author and first artistic director of the Dialog 4 Kultur Festival. Organiser of mass cultural events, rock concerts and theatre performances.
Director of festival-awarded documentaries, a feature "Oko Ra" and two series for young adults.
Adviser to the minister of culture on media, director of media education at the National Broadcasting Council. At the Adam Mickiewicz Institute she developed projects promoting Polish culture: the Year of Poland in Ukraine, the Polish Season in France. Director of the TVP Centre in Łódź (2006-10). Vice-president of Europejska Fundacja Edukacji Audiowizualnej DISCE. Member of the Programming Council of the Museum of Contemporary Art in Łódź. She conducts classes on the basics of acting at the Directing Department of the University of Social Sciences in Warsaw.


Young Jury – Profiles
Dagmara Cioska – a student of second grade of the 2nd high school in Opole. She made her first short film as soon as in junior high school. Currently, she experiments with animation. She is also interested in literature and psychology. Her eye is wary, her character tough, and her language harsh. She herself says she is a very strict critic but she learns to translate cutting remarks into constructive and spicy reviews.
Łucja Olszewska – a student of the 3rd grade of a convent high school in Rzeszów. She is interested in the history of the twentieth century and literature. Above all, she likes spontaneous journeys into the unknown. She spents her moments of out-of-school freedom in the cinema, most happily watching films that are non-obvious, philosophical and full of meaningful symbols; that is why Luis Buñuel is her favourite director.
Czarek Orłowski – a student of the 3rd grade of the 42nd junior high school in Szczecin. A real omnibus – he knows Michael Jackson's music inside out, he could write a voluminous monograph about the history of the royal family, and when woken up in the middle of the night, he quotes Shakespeare. He is inspired by the people of theatre and film, with whom he holds interviews. To him, cinema is a respite; he values most the universal cinema which incites deep reflections and revaluations.