The Polish Film Festival in Gdynia awaits young jurors!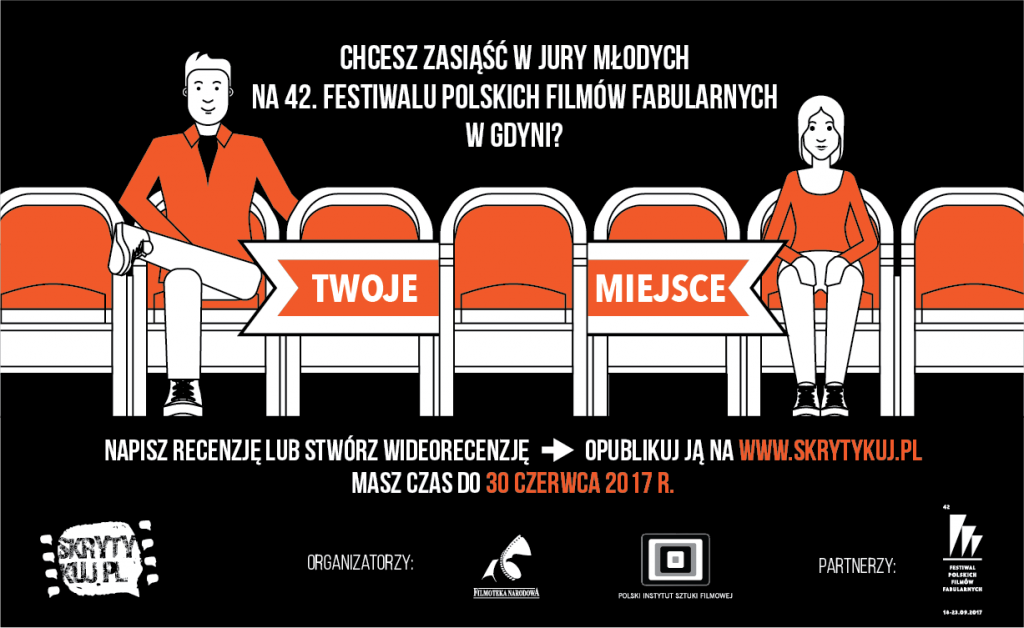 Are you a teenager interested in the cinema? Would you like to watch the most recent Polish films, discuss them and award the most interesting production? Take part in the contest of the National Film Archive and gain new experiences at the most important Polish film festiwal! You have time until 30th June 2017.
The contest is directed to pupils of the last grade of junior high schools, secondary schools and to graduates of secondary schools of school year 2016/2017.
Young Jury
During the 42nd Polish Film Festival in Gdynia, for yet another time, the Young Jury will assess the films from the Main Competition. By participating in the work of the Jury, the pupils who are able to express their opinion in an interesting and substantial manner will be able to perfect their skills and gain unusual experiences.
Applications
To become a young juror, one has to write a review or create a videoreview of a film of their choice. The reviews can be published at the www.skrytykuj.pl website until 30th June 2017. Results will be announced by 10th July 2017. Please make sure to read the Rules and Regulations available at the www.skrytykuj.pl website.
The 42nd Polish Feature Film Festival in Gdynia will be held from 18th to 23rd September 2017. Travel and accommodation costs are covered by the organisers.
The contest is organised as part of the "Skrytykuj.pl" action implemented by the National Film Archive with the suport of the Polish Film Institute.
Contact:
Agata Sotomska – Project Co-ordinator
Email: asotomska@fn.org.pl
Tel.: (22) 542 10 75
www.skrytykuj.pl