The Prizewinners of the 8th edition of the Polish Film Institute Awards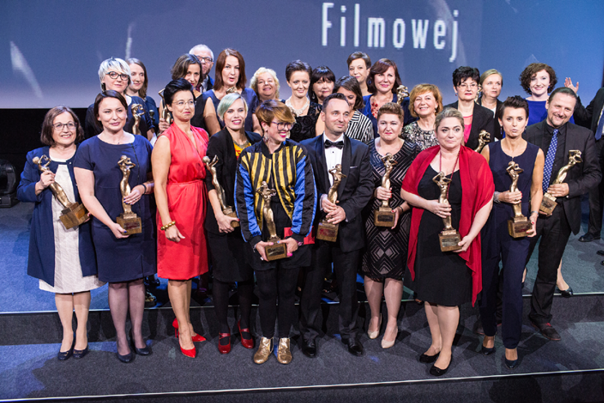 During the 40th Gdynia Film Festival, the Polish Film Institute (PISF) Awards were given out for the eighth time. The PISF awards have been given out in several categories since 2008 in recognition of significant achievements in the popularisation and promotion of the Polish cinema.
During the 8th PISF Awards Gala, the Minister of Culture and National Heritage, professor Małgorzata Omilanowska passed on a symbolic stone to Agnieszka Odorowicz, the Director of the Polish Film Institute, as a token of gratitude for the 10-year-long term on the position of the institution's Director as well as handed in a nomination for the new Director of the Polish Film Institute to Magdalena Sroka. The new PISF Director will take on her duties on 3rd October 2015.
The 8th PISF Awards Prizewinners:
Cinema
Film events within the country
Internet Portal or Film Blog
Legal Culture social campaign for the Legal Culture portal
Discussion Film Club

DKF Kinochłon in Augustow

Non-commercial foreign film distribution in Poland

Against Gravity for the distribution of "Lewiatan", dir.

Andriej Zwiagincew
Film Audition

Tomasz Raczek and Kaja Klimek for the "Weekendowy Magazyn Filmowy" programme in TVP 1
Polish film distribution
Next Film for the distribution of "Warsaw Uprising", dir.

Jan Komasa

"Gods", dir. Łukasz Palkowski

International promotion of the Polish cinema
Opus Film in cooperation with the ACME PR agency for the promotion of the Oscar-nominated feature film "Ida", dir.

Paweł Pawlikowski
Book on film topics
Jerzy Armata and Anna Wróblewska, authors of the book "Polski film dla dzieci i młodzieży", published by Fundacja Kino
Professional education programme
Film Spring Open Foundation for Film Spring Open Air
Digital reconstruction of the Polish cinematography masterpieces
Orka Sp. z o.o. production studo for the digital reconstruction and colourisation of newsreels from the Warsaw Uprising, made by the cinematogrphers of Biuro Informacji i Propagandy Armii Krajowej in 1944
Young viewer education
School Film Archive Leaders: Iwona Baldy (opolskie), Jarosław Basaj (mazowieckie), Justyna Całczyńska (mazowieckie), Katarzyna Czubińska (wielkopolskie), Kinga Dolatowska (zachodniopomorskie), Krzysztof Fortuna (zachodniopomorskie), Agnieszka Grzegórzek-Zając (małopolskie), Ewa Jakubowska (kujawsko-pomorskie), Piotr Kalitka (wielkopolskie), Anna Karp (świętokrzyskie), Aleksandra Kędra (łódzkie), Ewa Klonowska (śląskie), Ewa Magdziarz (lubelskie), Jolanta Manthey (pomorskie), Małgorzata Miszczak (lubuskie), Ewa Musiał (podkarpackie), Magdalena Nogaj (opolskie), Anna Równy (mazowieckie), Magdalena Rudnicka (warmińsko-mazurskie), Ewelina Waląg (dolnośląskie), Mariusz Widawski (małopolskie), Katarzyna Zabłocka (podlaskie), Emilia Żuber (lubelskie).
Congratulations to all the winners!